This is a very special weekend for Noah (and us!) Yesterday was Noah's first time on an airplane, but what's even cooler than that is where he was taking the airplane to!
This weekend we flew to Missouri to have an early Christmas with my wife's grandmother, and my in-lawns (who flew in from Colorado.) Noah's grandparents were in town for the Buddy Walk a few weeks ago, but the last time he got to hang out with his fun cousins was last summer. With all of us living in different states we don't get to see each other as often as we'd like, so it was great to be able to spend an entire weekend together.
One of the most special things about this weekend was that Noah got to meet his great grandmother for the first time. It was fun watching her face light up when she held him for the first time.
I really think this kid knows what a camera is….He always seems to give me that look like, "Yah, I know, I know…" when I pull my camera out. 🙂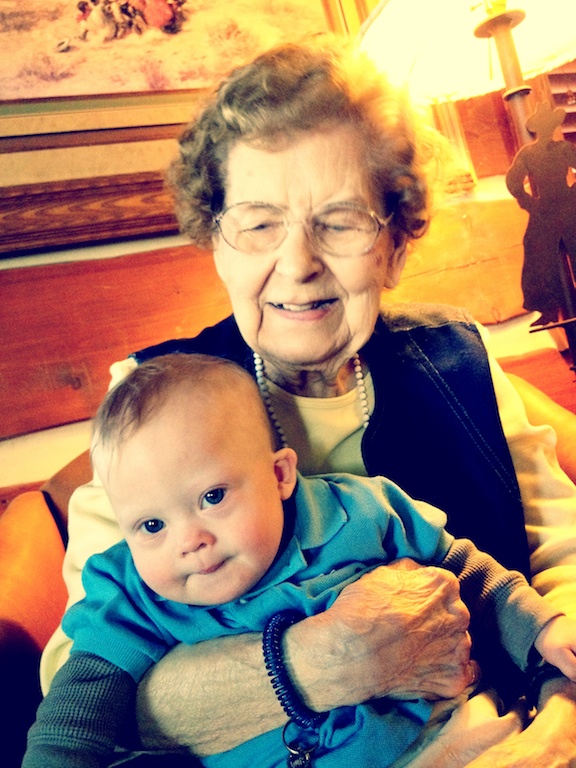 Two birthdays are better than one!
Since we were all together we decided to celebrate Guy (Noah's cousin) and Noah's birthday. (It's hard to believe Noah's about to be 1 year old. Wow!) One great thing about celebrating two birthday's at the same time is that there are two birthday cakes…..and who doesn't like any party where there are two birthday cakes!
You may wonder why Noah's birthday cake is so small compared to his cousins. Well, as you'll see in our next post we decided to give Noah his first smash cake. (Which was a mess, but totally worth it just for the amazing pictures I was able to snap!) Be sure to check back tomorrow to see our son looking like smurf (aka – covered in blue icing.)
One of my mother in laws friend's hand made this awesome texture blanket / crawling mat. I wish you could see this entire thing, it's amazing! It's very bright and fun, and covered with various textures for Noah to grab. I seriously couldn't believe someone hand made this; she seriously needs to go in the crawling mat making business!
On a side note, this is the 2nd hand made gift Noah has received. Our friend made Noah a texture blanket which he also enjoys a lot, and is also great for sensory development! Since Noah is still learning how to crawl, we really appreciate these sorts of gifts.
Family love…
After the cake, and presents, we spent of the rest of the day hanging out with family. Noah's so huggable so everyone wanted a piece of those huggable hugs of his. 🙂
Noah had a great time playing with his adorable little cousin!
One sleepy little boy…
After a long day full of fun and family, Noah was asleep long before we even got back to the hotel from dinner. (Don't you love his cute little bear jacket?) 🙂
A huge congrats to my mother!
I had to make a tough decision this weekend. After planning the trip, buying airplane tickets, hotel rooms, etc we realized that we had a mix up on when we thought my mother's college graduation was. Ugggg…..I hate when that happens.
One of the main reasons we planned this trip was to introduce Noah to his 98 year old great grandmother, and realistically this weekend may be the only opportunity for that to happen. So we had to make a tough call and miss my mom's graduation. Thankfully she's very gracious and understanding and encouraged us to take Noah to see his great grandmother.
However, thanks to the magic of technology we were able to video chat with my brother live during her graduation so we could still be a part of it…in a cyber kind of way. I'm so proud of my mom for going back to school as an adult and getting her degree. It's a lot of work, and she nailed it!
Also this was her associates degree, and she's now working on her bachelors', which means we'll have a chance to watch her graduate again in a few years!
We love you mom and are so proud of you! We knew you could do it!
How does your family use technology to stay in touch? Also have you ever "double booked" with your family? Tell us about it in the comments below.