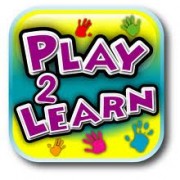 As a parent (and an Apple geek) I'm always on the look out for fun (and free) educational iPhone / iPhone apps. I mean who isn't!? That's why I'm excited to giveaway 5 copies of a new learning app that isn't just fun, but helps your child learn to talk and read as well. Talk about a double win!
The app (Play 2 Learn) was created by a speech therapist who was inspired to create the app while working with one of patients; a little girl who born with Neurofibromatosis-1 (NF1.) (How cool is that!?) I think the fact that this app was created (and is being used) by an actual speech therapist is especially important. It's nice to know there's actually research and development behind the app, and that it's goal is to help your child learn!
Play 2 Learn will help your child learn to read and talk by making learning fun as it integrates technology, colorful images, and fun sounds.f It works on all iPhones, iPads, and iPod touches, and we've got 5 copies to give away!
I can't wait to get this awesome app into your hands!
Here's a few details about the app:

Play 2 Learn: What Sound? is a fun and educational game that teaches your child to discriminate one sound from another. Being able to match a sound and the corresponding picture addresses your child's auditory discrimination skills-this means your child's ability to understand the differences between sounds and the ability to discriminate one sound from another. This motivating game will help to improve your child's ability to discriminate the sounds in English, which will help speech development as well as literacy skills. The vibrant pictures and stimulating sounds provide a motivating activity so that your child will learn as they play!
And here's a few screen shots of the app:
Grab a free copy, here's how!
We've got 5 copies of Play 2 Learn to give away, and we've made it super simple for you to enter to win of of them….for free! In fact there are several ways for you to enter to win and you can do as many of them as you want. The more ways you enter, the better chance you have of winning!
The contest will run from today until Aug 14, 2012 at 12:01 am, EST. (In other words today through the end of Monday) and winners will be announced on Tuesday, August 14th!
Just click on the Rafflecopter box below to see all the ways you can enter to win a free copy of this app!
Update: This giveaway has ended. Congratulations to our 5 winners, and thank you to everyone who entered. Be sure to stay tuned for other giveaways.