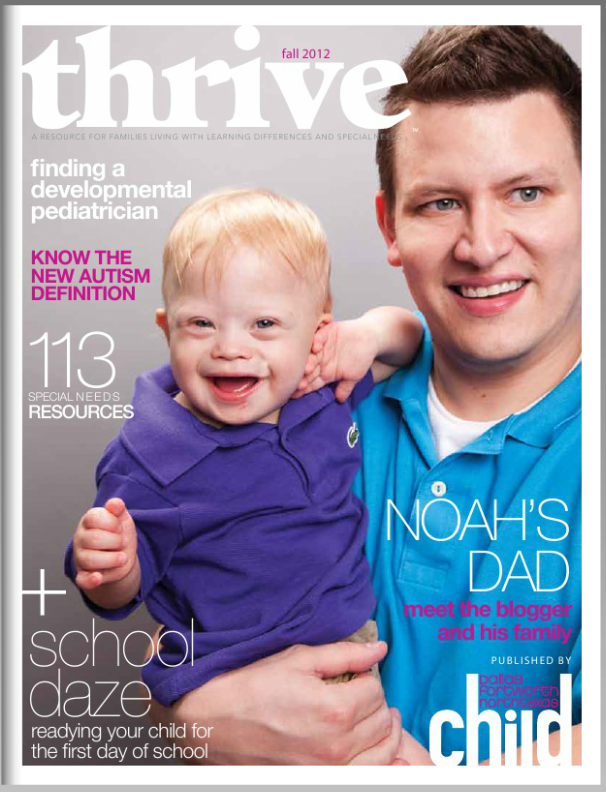 Thrive magazine contacted my wife a few months ago asking if we would be interested in doing an interview with them for their "Mom Next Door" series.
Well, actually they decided to unofficially change the name from "Mom Next Door" to "Couple Next Door" for their fall issue since they wanted to write about our entire family, and well because, umm…I'm not a mom. 🙂
I had actually just saw an article they had recently published about Matt Chandler and his family, and I liked what I read on their website about the purpose behind their publications so we agreed to do the article.
"[Thrive Magazine is a] publication that serves as a resource for families living with learning differences and special needs. More than 117,600 children living in North Texas have special needs; in that 117,600 are children with Down syndrome, cerebral palsy, autism, those who are blind, deaf, are in wheelchairs, have Asperger's, attention or sensory issues. Thrive assists parents of children with special needs by reporting on issues directly related to their lives, building community among families of children with special needs, and promoting acceptance."
One of their writers, Nicole Jordan, came to our home and spent some time hanging out with us, learning about our story, how we're using social media to help connect other families raising children with Down syndrome, and understanding more about why we started this blog. (I use the word "blog" very loosely since this site has become much more than that, it's become a community for literally thousands of people all across the world.)
A few weeks later we connected with them again and did a photo shot for the article. Although I'm not sure why Noah looks so zoned out in the picture they selected, but he's typically much expressive…and happy. Maybe all the strobe lights, and clicks from the camera freaked him out. 🙂
Big thanks to Thrive Magazine!
We were very happy with the article and think Nicole did a great job telling our story and about our passion to help the world see that people born with Down syndrome are worthy of life. Thank you Nicole and the entire the staff at Thrive Magazine for all that you do to help show the world that children like Noah are so worth it!
It's so important for the media to keep publishing stories about people with special needs, and helping the culture to exchange inaccurate and outdated stereotypes with true and accurate ones. I want to thank all of the news organizations that have leveraged their influence to do just that. From a father raising a little boy born with Down syndrome, thank you. Every positive article you write helps the world understand, and understanding goes a long way.
By the way, if you are a member of the media looking to write a story, I'm encourage you to drop by our Facebook page and connect with some of the almost 20,000 people there; many of whom are parenting a child with Down syndrome, or special need, and would LOVE another opportunity to brag on their awesome kids! 🙂
Please continue to help us tell these stories.
A few quotes from the article:
"Noah Smith is an Internet sensation. At 18 months old, he is changing lives worldwide. His blog has received millions of hits, and his Facebook page has a network of more than 16,000 families. Noah has Down syndrome and, with the help of his dad Rick and mom Abbie, he's on a mission to show the world that it's OK."
"internet sensation"….I think I'll keep this to myself. The last thing we need is a 19 month old with a big head. 🙂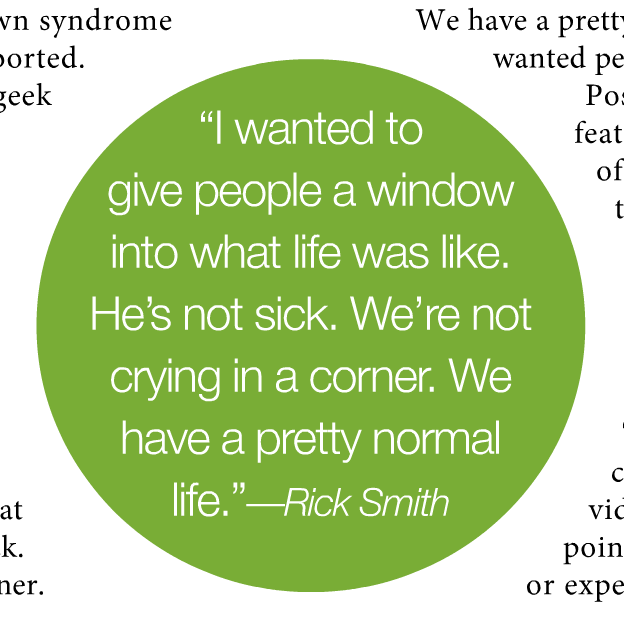 Check out their web article about Noah's Dad, or you can view the entire fall issue for free! (Which you should be the way because it's great.)
Each of you have a story to tell!
By the way, I wish articles and stories could be written about so many of you; the thousands of incredible families raising children with Down syndrome that we get to meet every day through this blog, Noah's Dad's Facebook page, Noahs Dad's Twitter stream, Noah's Dad's Youtube channel, and all of the other places we get the opportunity to connect with you online.
Each you of you encourage us more than you'll ever know. As I say often, there's power in your story.
Never stop telling it.
And also never stop forgetting that God is telling a powerful story through your family and even though it may feel at times your story has no impact, it does! The world is watching, and each of you are the biggest and best advocate in the world for your family!
So keep blogging. Keep facebooking, tweeting, instagram'ing , Youtube'ing, hanging out with your neighbors, going on play dates, or whatever it is you do.
Just keep doing it.
Keep telling your story. You are making an impact rather you see it or not. You are. No family is perfect, but every family has a story to tell. Keep telling (and sharing) yours!
Thanks for sharing your family and your story with us. We truly consider it an honor, and greatly enjoy getting to know (seriously, know!) so many of your stories. And know this; we consider you much more than just "internet friends," even though we've gotten to know so many of you online (and many others off-line) we very much consider you real-life-friends. Thanks for your friends, support, and encouragement.
Together we are sending a message to the world. Collectively we are helping the world see that Down syndrome is ok!
-Rick, Abbie, and Noah.