After a busy of week full of physical therapy appointments, and sitting marathons it was nice to simply hang out and home and enjoy the sweetness of fatherhood.  Some of my very favorite times of the day is the time right before Noah goes to sleep.  When my wife and I just hold and cuddle our wonderful son.  I love it!
Time Flies When Your Having……
I don't about you, but our days seem to fly by.  It's hard to believe that in just a few short weeks the local department stores will laced with holiday decorations, and shoppers will be setting their alarm clocks extra early in order to assure their spot in the Black Friday lines.
It's also hard to believe that in the midst of all of that Christmas shopping and holiday fun, our little boy will be turning one year old.  Wow.
Time really does go by fast, which is why it's so important that we are intentional about slowing down and enjoying the sweetness of parenting.
Fatherhood Is Sweet
I love being dad.  Seriously. Before Noah was born I would dream about what fatherhood would be like.  It all seemed so awesome: The thought of having a little boy (or girl) living with us.  Having toys scattered throughout our house.  Being able to sneak into his nursery late at night and watch him sleep.  Teaching Him about The Bible.  Giving him gifts.  All of the laughing.  The fun.  The cuddling.  It all seemed so surreal to me.  So fun.  So great.  I couldn't wait!
When my wife was pregnant I suddenly became very aware of parents out with their children.  I'd see dads at the mall with their kids and it seemed like they'd give anything to not be there (or be with them.)   I'd talk to dads at the driving range who were there not to hit golf balls, but to "escape" their wife and kids. (That reminds me, I haven't touched my clubs since Noah was born.  It's all good.)  And I can never forget the numerous times I saw parents screaming at the top of their lungs for their children to, "Put that down!" while we were at Toys R Us buying items for Baby Noah's arrival.
I understand that sometimes kids need to be corrected, and that parenting is often difficult and tiring;  but come on.  Can't we agree it's still sweet?  Very sweet!
I wish I had a time machine and could go back to the future to see those same parents when they were registering for baby items (perhaps at the same store) for the same children they are screaming at now.  Their faces full of joy in anticipation of their beautiful baby that would soon be here.  I wonder if they would have ever guessed in a few short years they'd be back at that same store, but instead of joy, their faces would be covered in frustration?  I bet not.
It's Hard Work, But It's Sweet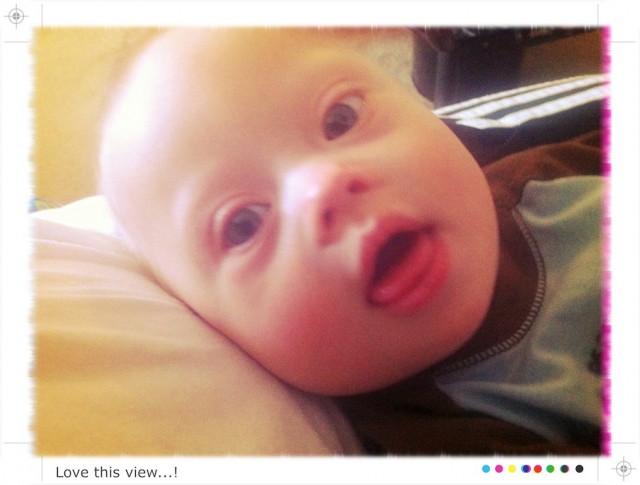 Parenting is hard work, and being a parent to a child born with Down syndrome brings with it additional responsibilities and challenges, but it's sweet. Sweeter then a Cinnabon with two extra icings.  Don't every forget that.  When times get hard, and stress seems to be the only visitor knocking at your door, don't take it out on your children.  Take time to stop, and remember what you saw your precious little child for the first time.  Maybe take a look at some of those old photos or home videos again. (Just not the one of you having the baby.  I still don't know why people record that…does anyone actually go back and watch that?  Seriously..? )
No matter how tough, stressful, or busy things become, parenting is a sweet privilege.  Will you take a few minutes today to stop and remember the sweetness of parenthood?
Parents, what are some of your best tips and tools for other parents who need some help in this area?  How do you stay calm, and not take your stress and frustration out on your children?  What keeps you fouled on the sweetness of parenthood?