Today we had a blast hanging out at Noah's friend Miss T's first birthday party. We met Miss T's parents through the Down Syndrome Guild of Dallas and have become good friends with them over the last year. Their little girl was also born with Down syndrome and a month younger than Noah, so it's a lot of fun watching them play together.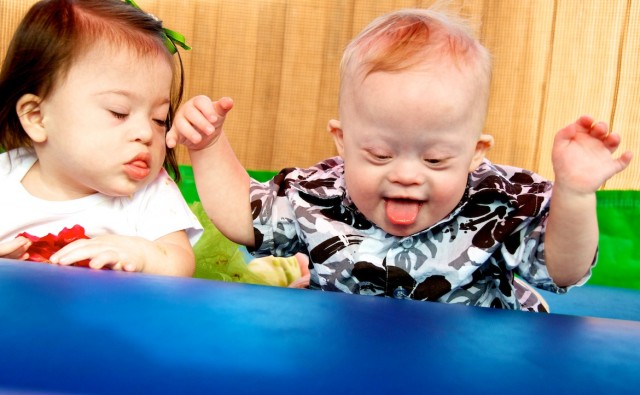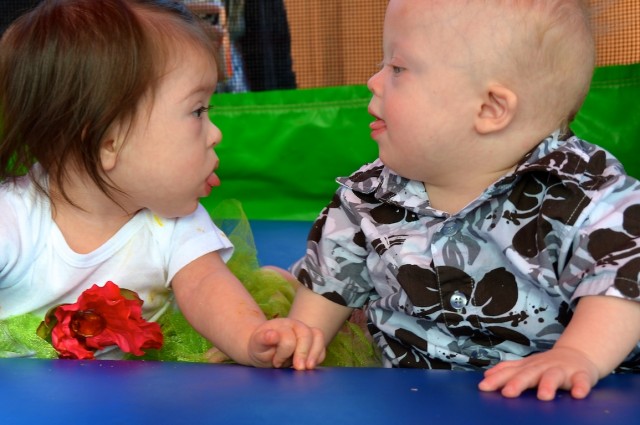 By the way, don't you just love Noah's cute little Hawaiian shirt? This was a Hawaiian themed birthday party, so he had to rock one! 🙂

One awesome thing about having children is all of the birthday parties you can attend now (without looking like a creeper.) Birthday parties = cake. And cake = good. That's what I call a parenting win!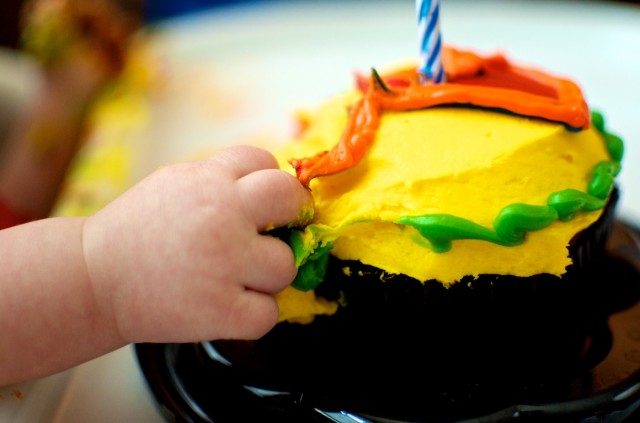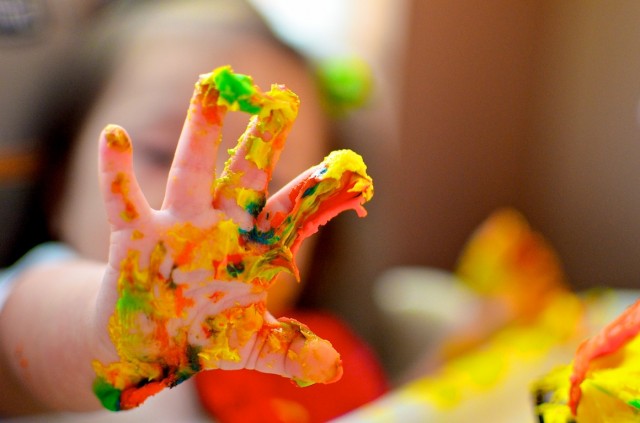 We've actually gotten to know lots of great families through the guild, many of which whose children are around the same age of Noah. I like that our son (and all of these other children) has the opportunity to build such a strong group of friends (who also have Down Syndrome) at such an early age.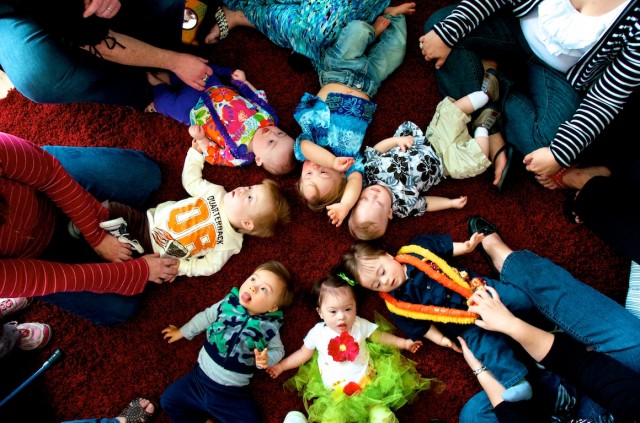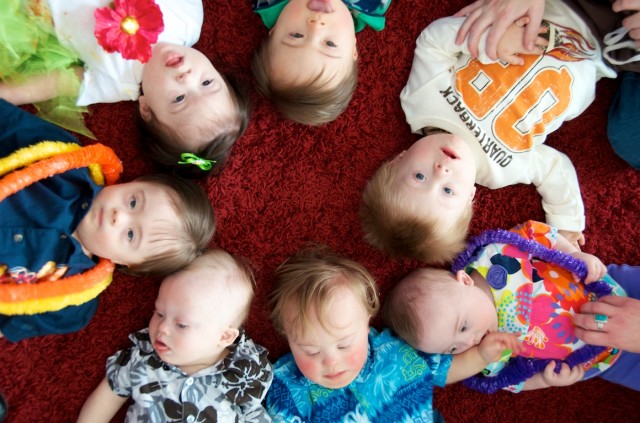 Don't get me wrong; Noah also has lots of typical friends, but as they get older none of them will be able to really, 100%, be able to relate to him, at least not the way that other children born with Down syndrome can. My hope for our son is that he has a wide variety of friends in his life who love and support him, both with Down syndrome, and without.
Grandparents have feelings too.
This weekend is sort of like Down syndrome shock therapy for my wife's parents who are in town visiting from Colorado. They (like me) had limited interaction with people born with Down syndrome prior to Noah being born. (My wife is a pediatrician so her experience is greater than all of ours combined.) But all that was about to change.
Today they would meet a house full of children with Down syndrome, and tomorrow they would meet thousands at the 2011 Buddy Walk (More on that in our next post.) As new parents of a child born with Down syndrome it's easy to get wrapped up in how we feel, but we have to remember that grandparents are going through a lot as well. In fact, I recently had a conversation with a social worker who reminded me that grandparents are dealing with a double dose of worry when a child is born with Down syndrome. Not only do they worry about their new grandchild, they worry about their child as well. It's important for us parents to be aware of this as we move forward on our new journey
Grandparents make the journey better!
I'm gotta say when it comes to grandparents, Noah hit the jackpot! Both my mom (my father isn't alive) and my wife's parents knocked it out of the park when Noah was born. I mean seriously, when we received Noah's down syndrome diagnosis they didn't miss a beat.
From the second Noah was born they've been right by our side, encouraging and supporting us every step of the way. They have read up, studied up, asked questions, Facetime'd, Skype'd, called, visited, and have done everything they can to learn about Down syndrome, support our family, and be a part of Noah's life.
I love it!
This little boy's grandparents truly spoil him, and not just with stuff. Sure, they like to buy him fun clothes and toys, but better than that they spoil him with their love. And I love that.
I couldn't be more proud of Noah's grandparents.
What if MY child's grandparent's aren't supportive?
Sadly, I know that not everyone has had the same experience with their child's grandparents as we have. Some of you have been deeply hurt by how your parents (your child's grandparents) have responded to your child's Down syndrome diagnosis, and reading about other people's supportive grandparents just adds salt to your wounds. If your child's grandparents are having a difficult time accepting and supporting your new child with Down syndrome, I'd want to remind of you a few things that I hope will encourage you.
First, I want you to know that I am truly sorry for what you are going through, and how this is making you feel. Second, I want you to know that it's not your fault. You have done nothing wrong. You are not responsible for their actions. The painful actions of a family member have the ability to hurt us deeply. But I want you to have hope. People can change. Wounds can be minded. Hearts can be healed.
I'd encourage you to pray for them often, shower them with grace, and remember that you can't change anyone. But you can choose not to let their actions steal your joy. I know it's difficult, but God is able to break through the hardest of hearts. Just keep being an awesome parent yourself, and let your actions speak louder than your words.
And remember, you aren't on this journey alone! Not only are we here to support and encourage you any way we can, but there are thousands of other families on our Facebook page just waiting for the chance to get to know you.
Be sure to leave a comment below, send us a note, or post a picture of your family on our Facebook page, we'd love to meet you.
We want to know something awesome about your child's grandparents….
Please take a minute to leave a comment below and tell us what you appreciate about your child's grandparents. Is it their support you appreciate the most? Is it the way they love on your chid? They way the bake the best chocolate chip cookies? Maybe it's the way they would do anything for them (like build them a swing set!) Whatever unique way you appreciate your baby's grandparents take a few minutes to leave a comment below and tell us about it.
I can't wait to hear your grandparent stories! 🙂