Noah is rocking out in supported kneeling today. I had no idea all of the different positions children born with Down syndrome had to work on in order to learn how to move their bodies the right way. They have to go through these various positions to help build strength in certain muscles before advancing to the next stage.
1 Must Have Book For Parents Of Children With Down Syndrome
Gross Motors Skills in Children with Down Syndrome: A Guide for Parents and Professionals
 by Patricia Winders is by far one of my favorite down syndrome resources. It gives me the guidance I want when I am confused in physical or occupational therapy, or what to work on when I get frustrated with certain tasks. It shows me why I need to slow down and let Noah go through the motions that he needs to move forward. That next stage for us is going to be crawling if we can get there. (Note to readers, this video is from October and if you follow us on Facebook you know that we reached that milestone recently). It also comes with handy check lists, which every mother loves.
Supported Kneeling…What's The Purpose?
So why is supported kneeling important ? As you can find out in the above book it builds strength in the thighs, buttocks and stomach. Holding the knees together and putting pressure on the legs with knees bent prepares the legs for standing. Once they are stable in supported kneeling you start working on going up and down, so from sitting on your heels to pushing up.  Again this is strengthening those muscles. Noah is working a little bit harder in this video as he is actually going to the side and isolating a leg to build strength. (We're so proud of this little boy.)
A Quick And Easy Supported Kneeling Exercise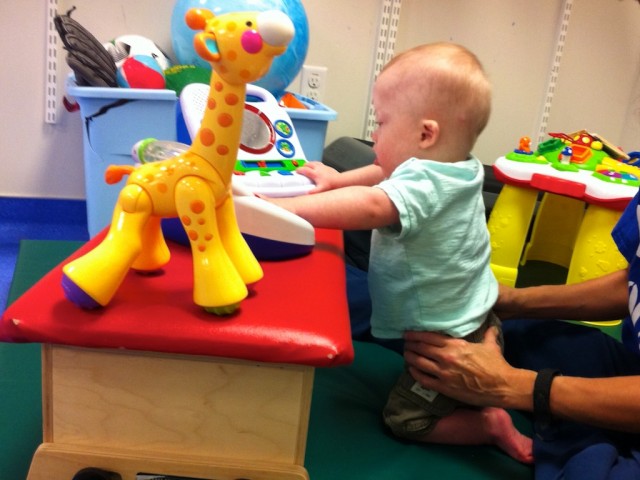 Patricia gives lots of great activities to do to help a child born with Down syndrome though each of the developmental stages. The one for supported kneeling is to put your child in front of the sofa with the cusion removed. Place your child on their knees in front of the sofa with their arms on top of the seat of the sofa. Sit behind your child. Make sure the legs stay together and support them if they cannot hold this position. Put toys on the sofa seat and encourage them to play. Over time they will start to move up and down. It's great exercise, but remember you should only do this if your child's physical therapist has given you the ok.)
For those of you who are frustrated with therapy and want to know what you need to be doing at home this book is a must have for your library.  I cannot recommend it enough.
Are you surprised at what muscles are needed prior to being able to do a task? Have you observed your child's physical therapist using supported kneeling on your child?