Whoever said that all children with Down syndrome are angels that obey every wish of their parents (or their physical therapist) while smiling and hugging them all at the same time, clearly have never met our son.
Don't get me wrong, Noah's great. In fact I often thank God for creating our boy with so much joy. If you've been following our story for very long you've no doubt seen countless pictures of Noah's contagious smile. That doesn't have anything to do with Noah being born with Down syndrome, it's just his personality. He's outgoing. Just like his daddy. But even with all of the cuteness, some days he just ain't feeling it. 
 Some Days You Just Don't Feel It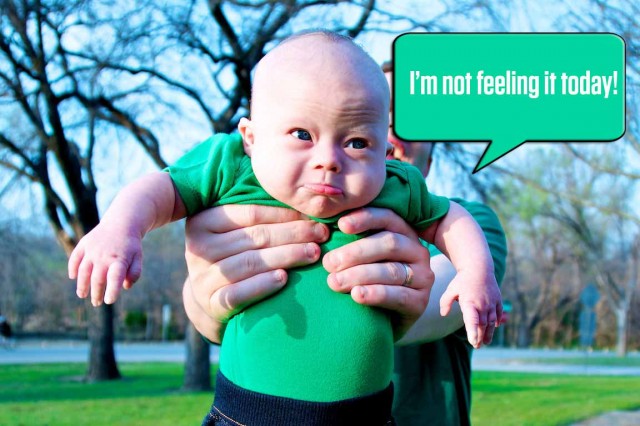 Like today for instance. Typically Noah does great when his physical therapist helps him learn to walk using the treadmill. In fact he even does it with a smile (and I'm sure even a hug if he wasn't strapped into his awesome treadmill outfit!) But as you can see in todays video and pictures, he just wasn't feeling it today.
In this video Noah's just a little over 10 months old, and you can easily see he's knows what it means to be stubborn. Normally when Noah gets on the treadmill he puts one foot in front of the other and crushes it, but not today. Today he decided to relax his legs and do nothing.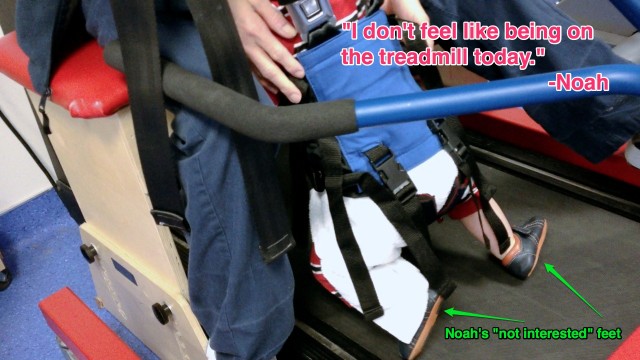 No matter how loud we cheered, or how many funny faces we made, Noah just wasn't feeling it today.
And it's ok.
Some Days You Just Don't Feel It. And It's Ok.
As parents we need to let our children know it's ok to just not feel it some days. That it's ok to have off days; us adults certainly have plenty of them. As Noah grows up I want him to know that it's ok to have days like this, heck, if he were a little older I'd probably just skipped physical therapy all together today and opted for a daddy-son movie date instead! Winning!
There's a fine line here, because I also want Noah to learn the importance of being responsible and doing the things that are asked of him; especially by trusted adults who have authority over him (teachers, therapists, coaches, youth pastors, family members, etc.) As he gets older we'll continue to help him understand what that means and how to off days without being disrespectful.
Off Days. Grace Days. And More Trips To Physical Therapy
Today we'll drive through the rain and traffic to take Noah to two therapy appointments. I'm sure he'll work hard and crush it (as he usually does.) But if he does decide to have another off day today, we may just shut it down early and go see a good movie instead. 🙂
Grace.
How do you teach your children to balance off days and not being disrespectful? Have you given your children permission to have off days? Do they know it's ok.