When you start to think about the muscles it takes to do everyday tasks it will start to blow your mind.
When you have a child with hypotonia, you realize this every day. Simple things we do every day, like sitting, requires core and back strength, along with balance and coordination of muscles. It's hard work!
Physical Therapy Helps Our Son Break Bad Habits
One of the goals of our therapy sessions is not to just reach milestones, but to avoid bad habits that can form due to hypotonia. There are a lot of bad habits that can happen with sitting, but when Noah sits nice and straight with his legs not in the splits, I see the payoff of all his hard work.
Like I mentioned in the peek-a-boo post, the play of childhood helped us develop a lot of our muscles. I may not have realized what the swing set was doing for me when I spent countless hours playing on it as a child, but now I see it as a powerful developmental tool that help children learn to grow and develop.. Who knew.
Noah's First Slide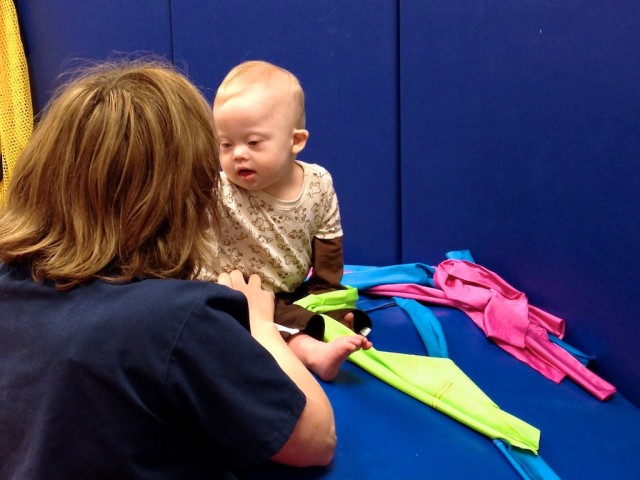 Today our son got to go on a slide for the first time. Woo hoo! It was awesome, although It wasn't how I envisioned my child would go down a slide for the first time. We weren't:
outside….
or in a park….
or having playtime…
We were at therapy; using the slide as a exercise machine to take his core workout to the next level! Who would have ever thought? This journey is full of wonderful surprises. 🙂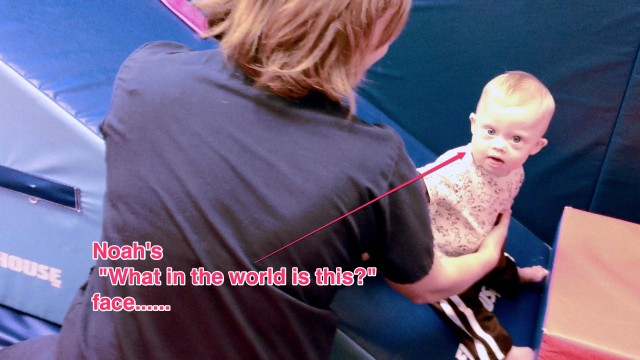 The reason Noah's therapists use the slide is because when going down a slide you have to hold yourself up against gravity. Not only that, but they stop him halfway down to help him engage those ab muscles, which in turn help him learn to sit up independently, and stay there.
As usual, Noah's abs continue to be stronger than mine. He rocked the slide, and I think that he probably had a little fun on his way down.
What toys of your childhood have you found new uses for with your child?