Wow..!  Today was so great, I'm not even sure where to start.  One reason for today's awesomeness is:  Today is Noah's six month birthday…!  I can't believe it's already been six months since God blessed us with this cute little guy – time really does fly.  As I've said before, this has been the best six months of my life, and what's even more exciting is that each day is better then the day before!
We took Noah in for his six month well child exam, and were given the results of the CBC test (complete blood count) he took on Monday.  Everything was clear…!! NO LEUKEMIA!!! (FYI – Children born with Down Syndrome are at a higher risk of developing leukemia than "typical" children; therefore they must have a CBC test on a regular basis the first few years of their life.)
Talk about being able to breathe.
I've been dreading the "six month CBC test" every since I've known about it. 🙂  I'm glad it's over with, and we can move on (at least until it has to be ran again at his one year birthday, but we'll cross that bridge when we get there!)  Everything else at the check up went very well.
Noah's excelling in almost every area; he's just having a tough time gaining weight, but that's not a big deal. In fact, I think some of it has to do with his frequent visits to the physical and occupational therapist. This little dude burns some calories!  We're going to be giving him supplemental formula in addition to breast milk to help him gain some weight.  We take him back to his pediatrician in two weeks for a weight check, and hopefully the little guy will have gained some weight!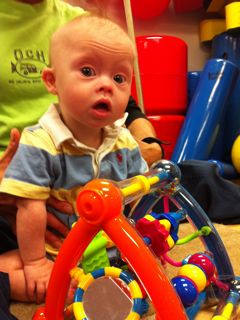 We had time to squeeze in lunch at one of our favorite Tex-Mex places, Mi Cocina, before taking Noah to his physical therapy appointment. His physical therapist tried out some new exercises with Noah using a platform swing which he seemed to really enjoy!  It was so fun watching his expressions as he swung back and forth!   We really enjoy all of the therapists we've worked with at Our Children's House at Baylor, and couldn't be happier with Noah's progress since going there.  They all agree that Noah is doing incredible, which is very encouraging for Abbie and I to hear.
Finally we ended the day with a huge milestone – Noah being able to eat his first (non-liquid) meal!  Now, most moms go to the store and buy stage 1 baby food, not my super wife!  In light of this once-in-a-lifetime occasion, she made Noah an amazing bowel of home made baby food, and as you can see, he really liked it!  He scarfed down the entire bowl!  It was really neat seeing him be able to eat so well, especially after all of his eating problems during the first few weeks of his life.  God has really brought him a long way…!  We are so thankful.
It's been an incredible six months, and we are paying for many, many more six months birthdays!  We have two big things on our calendar in the coming months for Noah that I'd love for you to be praying for.  In August we see Noah's cardiologist to see how his atrial septal defect (ASD) is doing.  (Side note: an ASD is a small hole in the heart that is common in children born with Down Syndrome.)   We are praying that it will be completely closed when we visit the cardiologist, and no heart surgery required.  We also will be seeing an urologist in the next few months about another small issue.  I'd appreciate your prayers that all goes well on that visit as well.
A Huge Thank You!
My wife and I are both overwhelmed with the response we have had to this website.  We have received many messages in the short time this site has been up, and have been encouraged by them all.  One that was especially meaningfully was from a mom with a pre-born baby that had been diagnosed with Down Syndrome. She wrote in to tell me that she was very encouraged by the daily Noah's Minute videos, and that her and her other small child watched them together every day.
Wow….that alone makes it worth the time it takes to put up a video every day.  In fact, one of the reasons I started this site was to encourage new parents by giving them an inside look at family raising a child born with Down Syndrome. Thank you for being a part of our journey, it means more than you know!
Please feel free to tell me about your journey by leaving a comment below, or by sending me a message. There are so many awesome stories out there, and I love hearing each one!  (By the way, if you have a blog, please be sure to leave it in the comments below so I can check it out!)
Finally, I've made it very simple to stay connected with our journey.  Please take a second to visit our contact page and subscribe today! Be sure to connect with Noah's Dad on Facebook, and twitter as well. We look forward to meeting you and hearing your story.