Today our four year old boy, who we love dearly, rode the school bus for the first time. The short school bus. The short bus.
Four years ago (before Noah was born) I would have never imagined that we would one day have a child that would literally ride the "short bus." But the truth is, you never know what curve balls life is going to throw you. All you can do is trust that God is writing a way better story for your life than you ever could, and live life to the fullest.
Every. Single. Day.
That's what we try to do in the Smith house!
The Short Bus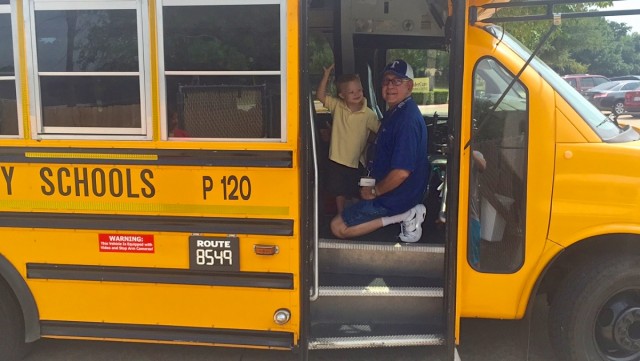 Noah started school at our local PPCD program (preschool program for children with disabilities) today, which involves him taking the bus to and from the elementary school. It was surreal putting our little boy on the school bus today. You have to have a lot of trust to put your child on a bus with someone you don't know, but that's another post for another day.
Riding the school bus is part of the experience. It teaches Noah independence. It helps him connect with other kids. And is super fun for him. But this isn't any school bus…it's the "short bus."I knew he would be riding the short bus when he started to school for some time, but I have to admit I had an odd feeling in my stomach when I actually saw the short bus waiting for him. It wasn't necessary a bad feeling, just an odd one.
I think about all of the jokes people make about "the short bus" and how that phrase has an entirely new meaning for me now. (I also have a whole new understanding of the "R-Word.") I don't want anyone to ever people to say things that will my hurt my little boy, but it's going to happen one day, and we'll cross that bridge when we get there.
One Proud Dad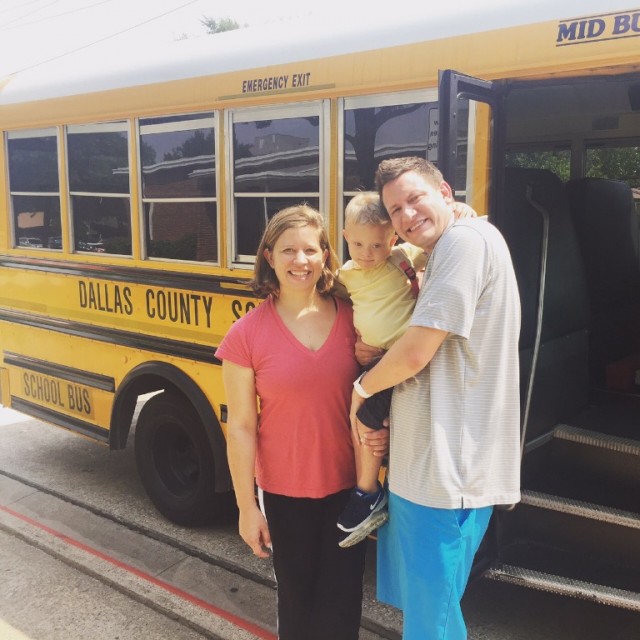 Today, we aren't thinking about the hurtful things that people may say to him sometime in his future. Or bullies. Or meanies. Or whatever. Today we're thinking about how our son rode the short bus…and loved it! Take a look at the video above and check out these pictures. He had a blast, and I had a ton of joy watching him have a blast!
This little boy has hit a ton of milestones, and today was another huge one. I was so proud today to see him be so independent as he rode the bus to and from school. He did so well on the bus, and is really going to enjoy it riding it this year.
I love this little boy more than words can say, and I am so proud to be his daddy! By the way, we met Noah after school today before he boarded the bus just so he wouldn't be scared (he would have been fine even if we didn't show up….he loved the bus) and I loved how he ran out to give me a hug as soon as school was over. Be sure to watch the end of the video I posted above to see for yourself!
Yelp, we have a little boy that rides the short bus…and it's all good!
Here's to a great school year!
If your child started school this week, how did it go? Be sure to post your back to school pictures in the comments below!