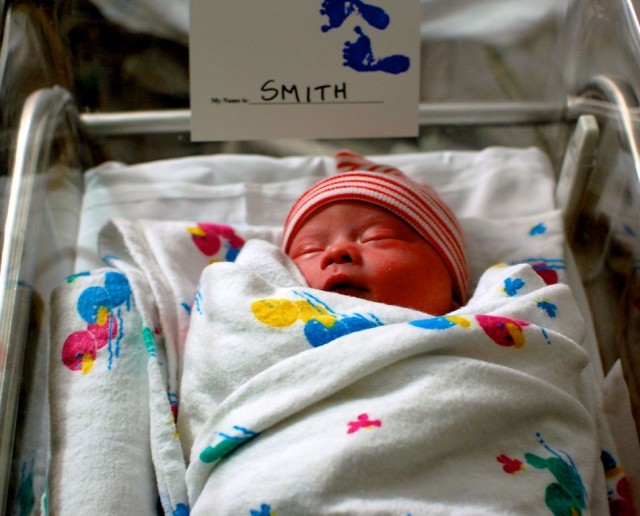 The moment my entire life changed…for the better!
I'll never forget the moment I snapped this picture. It was shortly after learning that our son was born with Down syndrome, and as scared as I was after receiving our son's diagnosis, it all went away the moment they wheeled this little boy into our hospital room.
Sure, the fear came back later as I began to work through what a Down syndrome diagnosis meant for our son, and our family. Sure, there are a few things I know now, that I wish I knew then. But in that moment all I could think about was how in love I was with this lovely little newborn of ours! (And those cheeks…oh those cheeks!)
A real life love story…
If case you aren't familiar with our story, I had no idea Noah had Down syndrome the first time I saw him. It wasn't until a few hours later that I would learn our baby was born with an extra 21st chromosome. I've known my son when I thought he didn't have Down syndrome, and I've known him when I knew he did, and I can honestly say my love for him is 110% the same. It's not just something I say, but something I know to be true.
Since even before taking this picture I've been head over heels in love with this little boy. My love for him grows more and more each day. I've said this a million times, but I seriously wouldn't change one single chromosome on him!
I'm in love with him, just as he is. And If you're a parent I'm sure you know just what I'm talking about. 

A reminder to all the parents out there….
It's easy to allow memories like the this one to be replaced by newer memories. Memories of diaper changes, physical therapy appointments, soccer practice, getting to work on time, paying the bills, dealing with insurance companies, making sure your children eat 3 times a day, going to the grocery store, you name it.
It's easy to become stressed out, frustrated, worried, and anxious. But today I'm giving you permission to put all of those new memories on hold and think back to something you'll never forget; the moment when you first held your child in your arms. The moment you first looked into their eyes. The moment you changed their diaper for the first time (remember how cute it was then? Not so much now, huh?) 

Remember the tears in your eyes? Remember being speechless? Remember wondering how it was possible to love someone so much? Pretty awesome, huh?
Today, take a second to pause, and think about the first time you saw your child. It doesn't matter if you have a new born, or a 40 year old, stop what you're doing and go back there in your mind.
Don't let the busyness of life try to crowd out memories like these. In fact, I encourage you to take time to stop and reflect on them often. I think you'll find it certainly help put things in perspective.
Share one of the first pictures you have of your child!
Ok, I want to try something new. I've added a way for you to share a picture in your comments. (Just click on the attach image button that shows up where you write your comment to upload a picture.) For those of you that don't mind sharing pictures, take a second to leave a comment telling us about how you felt the first time you saw your newborn, and be sure to include the earliest picture you can find of him/her. It'll be fun to see everyone's baby pictures!
By the way, your child doesn't have to have Down syndrome for you to leave a picture, this blog post is for all parents. So let's see those baby pictures!