Cheyenne Mountain Zoo Brought The Zoo To Us!
We were excited to learn that the Cheyenne Mountain Resort (our hotel) hosted a special Zoo Breakfast on Saturday's mornings!
The local zoo (Cheyenne Mountain Zoo) brought their Zoo On The Move (ZOOM) program to one of the restaurants in the hotel and it was so much more then a simple petting zoo.  Their staff allowed kids (and adults!) to come up and interact with the different animals (including a skunk!)
While we interacted with the animals the staff gave us all sorts of interesting facts and information about them.
Noah had a blast! It was so much fun watching his little eyes fill with wonder and amazment as he interacted with the different animals.  He especially enjoyed touching the different textures of all the animals.  The skunks fur, the turtles shell, and the snakes scaly skin; it was all new (and fun) for him!
It's so neat watching this little boy develop into who God created him to be.  What a joy it is being his father!
Olympic Training Center Tour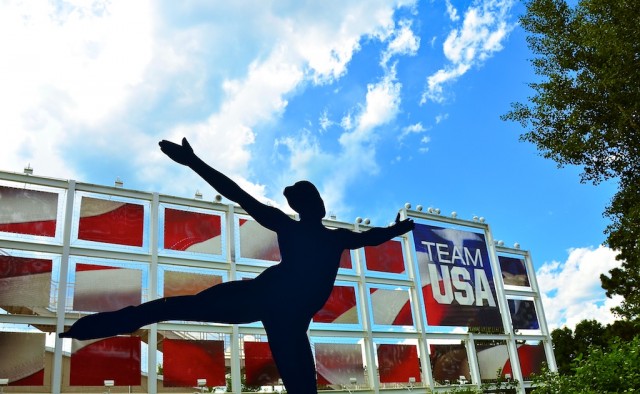 I had no idea the United States Olympic Training Center was located in Colorado Springs, but when I found out they were….and they gave free tours….I couldn't wait to check it out!The tour was super cool. They took us around the entire facility and told us all about what life is like for the Olympians who train (and live) there.
Even though I'm friends with Doc Patton, I had no idea they lived there for 4-6 years at a time.  Their "dorms" are custom designed by the Hilton hotel and they have an all-you-can-eat restaurant that's ran by an award winning chef  on site!  (Which, by the way, is closed to the public.) 🙁
Here's a fun a fact I learned during the tour: Did you know that Michael Phelps has a special diet of 12,000 calories a day!!!
We got to watch some Olympians train while we were there, which reminded me that after vacation I really am going to start hitting the gym more! (At least that's my intent!)
If you are ever passing through Colorado Springs I highly suggest stoping by the Olympic Training Center and going through the free one hour tour! (And be sure to stop by the gift store before leaving. They have tons of really awesome (and official) United States Olympic clothing.  I picked up some really awesome track pants! (While I don't run much track, they sure are comfy to wear around the house.)
As you can see in the video Noah didn't last very long during our tour.  Maybe one day he'll look back on the footage from our day and realize all the fun he missed while he was sleeping!
If you have kids are they fans of the zoo?  Are they scared of any of the animals? (I personally don't like snakes at all.  They freak me out!)
By the way if you liked this video and post please be sure to click the like and share buttons to the left of this post! Thanks so much.