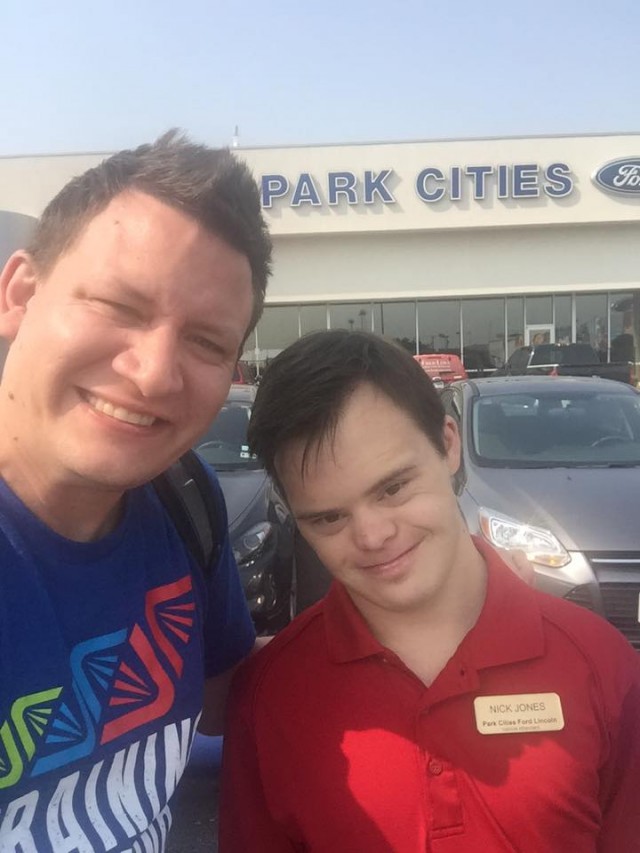 I'm always excited and encouraged when I'm out and about and spot someone with special needs working at a business I'm patronizing! Last summer I was taking my car in to the dealership when I noticed a clean cut young man working at the dealership who I thought may have Down syndrome. (I have to admit I'm not always sure if someone has Down syndrome or not, and often ask my wife "Does that person have Down syndrome." — Just being honest.) 🙂
I approached the young man, Nick, to introduce myself and sure enough he did have Down syndrome! I said hello to him, then pulled out my phone, and proceeded to show him some pictures of our son, and even Facetime'd my wife so she could say hello to Nick! (I'm sure I looked like a creeper, but I didn't care. I was excited to see someone like Nick working at a "real job!")
As a father of a five year old with Down syndrome it really gives me hope to see businesses like Park Cities Ford hire people with special needs. I was back at the dealership recently and saw Nick still there working and having fun with other employees – and I was proud! I hope more companies follow Park Cities Ford example and give people like Nick (and Noah) a chance!
Way to go Park Cities Ford!
Check out the short video below for more on Nick's story, or read about it here.
What did you think about Nick's story? For those of you with children with Down syndrome how do you feel when you see stories like this? For everyone else: what companies have you seen that hire people with special needs? Leave a comment below and let us know.