Yesterday we picked up the keys to our new house, and today was the big move.  Actually it was more like one of the big moves.  Let me explain….
The Never-Ending Move

We've lived in a two bedroom apartment for the last 3 and a half years while my wife completed her medical residency, and I worked on my Masters degree.  The space worked out great for us; we used one room as an office, and the other as a bedroom.  We didn't have any children for most of that time, we really liked the location, and we didn't have to worry about mowing the lawn, and fixing a leaky faucet (maintenance men are awesome!) so it worked out great.
When I called the moving company they said it would be a quick and easy move since all that's typically required for an apartment our size was one moving truck and a two man moving crew. Keyword: typically.  This move was far from quick and easy.  I honestly have no idea where in the world we kept all of the stuff we have.  I have to chalk it up to my wife's superpower of organization.  (If the whole being-a-Doctor thing doesn't work out for her, I think she could easily have a career in closet storage planning!) Talk about maximizing space..you should have seen these guys were pulling boxes out of everywhere…it was like watching a 12 hour magic trick!  (Seriously, 12 hours!)
It turns out that one truck wasn't enough.  I was mesmerized as I watched them fill up a huge moving truck with the contents of our 2 bedroom apartment to the point that they could barely close the door!  The movers kept asking me (as I also asked myself):
"Where in the world did you guys keep all of this stuff!"
Like I said before, I honestly have no idea where we kept it are (or that we had that much stuff!)  We even donated a ton of stuff before the move just to get rid of some stuff….looks like we still have a lot more to give away.  (Anyone interested in 55 boxes of baseball cards?) 🙂 You're probably thinking our apartment must have looked like one of those homes you see on Hoarders….but I promise it didn't.  We just played a lot of Tetris in our life, and used every space imaginable (do you see the box under the couch!)
Needless to say I was bummed that even after hiring movers, we still had (and have) a lot left to move.  This is seriously going to be the never-ending move. 🙂
A Midnight Traffic Jam…..Really?
After spending over 12 hours helping the movers at our apartment with my brother while my mom, Abbie, and Noah (he supervised) worked on painting our new house, we get stuck in a horrible Dallas traffic jam on the way to our new house.  It was past midnight.  We were exhausted.  I missed Noah's adorable little laugh.  And my mom and brother (who needed to get back home) still had a two hour drive ahead of them!  Today was not a fun day.  Oh…I have to say this one more time:
I hate moving.  🙂

Bad Days Happen.  You Have A Choice.
In life days like this happen.  Days where you hit a midnight traffic jam.  Days (sometimes weeks) that are scary.  It's inevitable.  It's unavoidable.  There's nothing you can do about it.  The only thing you can do about it is choose how you respond to them, and remember that days like this are the exception, not the norm.  They pass just as quickly as they came. Don't sweat it.  This isn't an easy lesson to learn for any of us.  Some days I feel like I do great at this, other days not so much.  But the point is to remember that tough days aren't forever.  They really aren't.
So how did I choose to respond to this never-ending move day?  Well, I bought the movers, my brother, and I some and I some good ol' unhealthy, open-at-midnight McDonalds (Sidenote: I'm not sure what McDonalds does to their Coke to make it taste so magical, but their cokes are amazing!), turned up the radio, rolled down the windows, and thought about the epic bubble bath I was going to take once I finally made it home!
So in summary:
don't worry
I'm Proud To Admit, I'm A Bath Guy
For those of you who have made it this far, I want to share two things with you as sort of a "get to know Noah's dad" exclusive.
Our new house has a awesome bath tub!
I am bath guy.
Yelp, that's right, a bath guy…and not just on those stressful days when you need a bath to relax (like  a never-ending moving day).  Not by a long shot; I take a bath almost every day (sometimes 2!)  And not one of these lame kinds of baths…no, I go full on with bubbles and everything.
I read in bath, eat my breakfast in bath, use my iPad in the bath, play a few classics
on my gameboy…. and if we're friends in real life there's a good chance I've talked to you on the phone, and maybe even FaceTime'd (don't worry, the bubbles keep it PG) with you while in the bath!  Yelp.  That's right!  There's no shame in my bath game.
As you can see, I'm a huge fan of the bath!  (Heck, I've even wrote an entire post explaining how baths help me win as a parent!)
It's true, baths are one of the best parts of my day….and I'm not afraid to admit it. If you're a dad reading this I know what you're thinking; "Baths are for girls!"  It's ok.  No offense taken.  I've been taking baths my whole life; you wouldn't be the first (or the 1,000th) person to make fun
of me for being a bath guy, and I'm very confidant in my bath taking!
But….I would urge you to try one sometime.  Seriously.  Grab yourself some high quality bubble bath (I personaly suggest Mr. Bubble Extra Gentle Bubble Bath
, or if you really want to step up your bubble bath taking game , do yourself a favor and pick up something from the from the Disney World of bath stores.  Yes, I'm 100% sure I'm a man..but like I said, I'm secure in my bath-taking-ness!), get a good book (or a bowl of cereal) and have yourself a nice bath.
Quick tip: If you're a rookie bath taker I wouldn't suggest using your iPhone / iPad / Gameboy in the bath quite yet. Don't forget, I have years of bath taking experience under my belt, and I'm proud to say I've mastered the art of using electronics while taking a bath.  There's seriously an art behind it.  Feel free to contact me if you'd like some tips. (Just know in advance that if you really do email me asking for bath tips, I will probably blog about it since that would be hilarious…and a little weird.)"
One quick warning about baths before you dive in (pun intended): It's easy to become a bath addict.  You may find yourself having to set your alarm clock an hour earlier, leave work early, stay up a little later than normal, skipping your kids birthday, soccer games, graduation, etc….just to make time for your bath.
You've been warned.
Wow…today's blog post is really out of control. Sorry. I haven't had much sleep lately. 🙂
Do you have any fun, wacky, horrible moving stories?  What about traffic stories? Ever missed something really important because of a traffic jam?  And finally, dare I ask, any bath stories?  (I'm curious if there are any other proud male bath takers out there who aren't afraid to admit their love of a good bath. Ladies, do any of you have a bath-taking husband?  Surely I can't be the only one!  Please share in the comments below!
Calling All Comment Rock Stars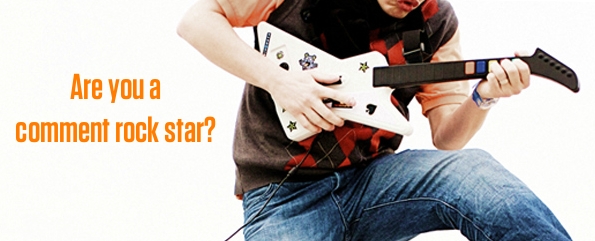 If you look to the right of this post in the side bar you'll see a list of our top monthly commenters.  The number next to their name is the number of points earned by post.  You gain points not only leaving a comment, but by responding to other comments as well. We're going to be rewarding and acknowledging our top commenters each month, so I want to encourage you to get involved in the comments, and be a comment rock star!  We really like the community that is forming around our blog and Facebook page, and are always looking for ways to help the community grow. The more people we have active in the comments the more the community grows…and that's a win forever!  (This list of top commenters will reset every month.  Be sure to check out the fun top fans section on our Facebook page as well!)
My wife and I really appreciate everyone's comments and promise we read each and every one. We try to respond to as many as we can, but as our community and readers continue to grow this becomes more challenging.  Which is another reason we want to encourage all of our readers to use the comment section of our blog to say hello to other commenters, answer their questions, ask questions of your own, welcome new families and continue to help us deepen the community all of you are doing an awesome job building.  This site is what it is because of you.  And we want to thank you for helping us create this community.  We have been deeply blessed by seeing so many parents connecting and getting to know other parents, help answer questions, etc.  You guys are seriously awesome!  Thanks for being so awesome.  It's an honor to get to share our story with you, and learn about your as well.