Today's post is long, but I hope it is helpful and makes a difference in someone's life as I feel it is something that is often missed in children with Down syndrome. The majority of pediatricians follow the guidelines for health maintenance for children with Down syndrome. Seizures are listed as something to look out for, however us "smart doctors" think it is a hard diagnosis to miss. I mean who wouldn't realize a child was having a seizure, right? Wrong.
I was not aware how common seizures were in children with Down syndrome prior to Noah being born (seizures occurs in 8-10% of children with Down syndrome) but we have come to know several families that are dealing with this diagnosis. It has broken my heart how long it has taken some of them to get a diagnosis hence the reason I knew this post needed to be written.
Infantile spasms (also known as West syndrome) is not a new diagnosis to me as I have dealt with it in residency as well as in my current practice. I think it is an easily missed diagnosis in children with Down syndrome as their development and sometimes other medical conditions skew the picture. However, if your doctor has it on their radar it can lead to a much earlier diagnosis. It was on my radar for Noah and he did some things that made me worry that brought us to a neurologist ourselves. (Be sure to watch today's video located at the top of this post so you can just how scary Noah's behavior looked.)
3 Symptoms Pediatricians Are Looking For In Order To Diagnose Your Child Infantile Spasms
Infantile spasms have three very specific symptoms for diagnosis.
You have a brief spasm that looks like a contraction or arching of the torso with stiffening of the extremities. It is often described like a hiccup and that is about how long the spasm lasts. They usually come in clusters, and can appear painful and cause the child to cry.
They are associated with developmental regression meaning that milestones that your child used to have are no longer there, such as not being able to crawl or sit up anymore. The child is usually less interactive and grumpy with this regression.
An Electroencephalogram (EEG) shows brain waves called hypsarrythmia.
Sometimes What Looks Like Infantile Spasms, Isn't.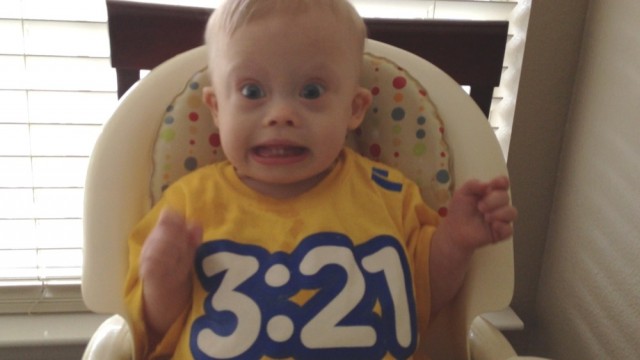 Looks scary, huh?
Noah started having some strange movements most commonly after he was done eating, but also at other times. It had been going on for several weeks but was becoming more frequent. He would make a grimace and stiffen up his body. They only lasted a few seconds and he would go back to normal. He actually would find them humorous. It looked like a spasm to my eyes however Noah has never had developmental regression and continued to be very happy and engaged with us, which reassured me that this was not infantile spasms. That doesn't mean that we didn't want to verify that.
We took a video of the episodes and showed our awesome pediatrician. (Bonus tip: if your child is doing something weird always take a video as it will never happen in the doctor's office). She agreed with me that they looked like a spasm, however he didn't fit the requirements for infantile spasms like I mentioned above. She referred us to a neurologist and we were set up for an EEG just to be safe.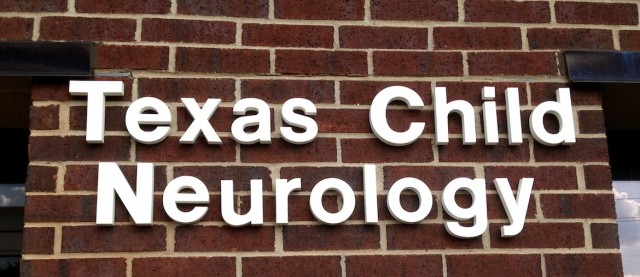 Off to the Neurologist we go.
I wanted to share our experience with taking Noah to the neurologist just in case you may ever find yourself their, you'll know what to expect.
What's An Electroencephalogram (EEG) Like?
The room where the EEG is preformed is actually pretty nice. It's like a mini motel room. You'll be able to hang out in the room with your child, cuddle with them, etc.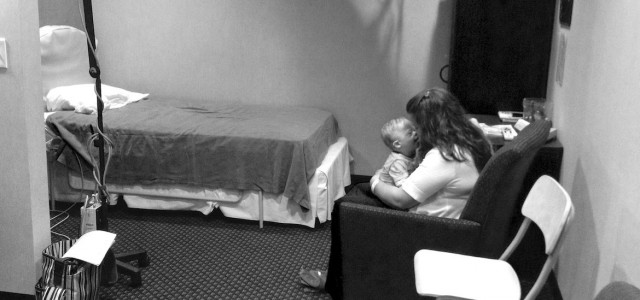 Waiting for the EGG.
The initial EEG is only 1 hour and you need to have one tired child on your hands. Seizures are most likely to occur in the transition to sleep especially when you are sleep deprived. We put Noah to sleep late, woke him up early and denied him his morning nap. Doesn't that sound like fun?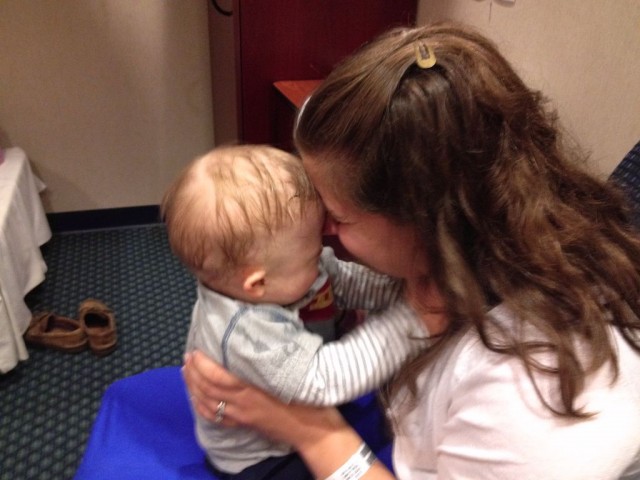 I love this little boy.
Setting up for the EEG is the worst part, it involves a lot of electrodes placed on the head with gel, tape, and some gauze. Noah was not a fan, neither were his parents.Once we were done with that part, Noah was able to calm down and tolerate his new "hat". None of this was painful, just annoying.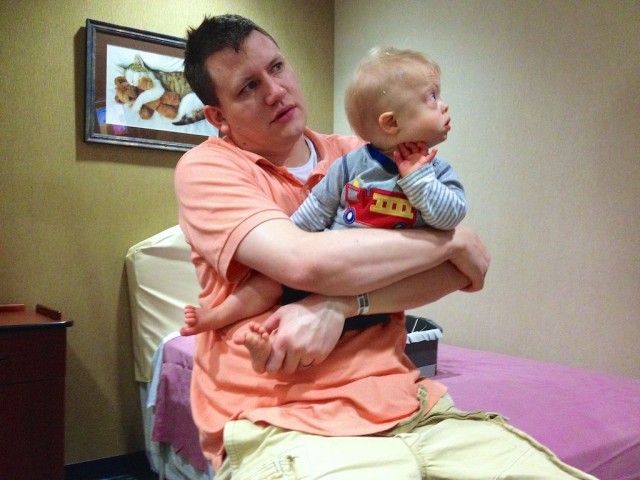 "I'd rather be watching cartoons!"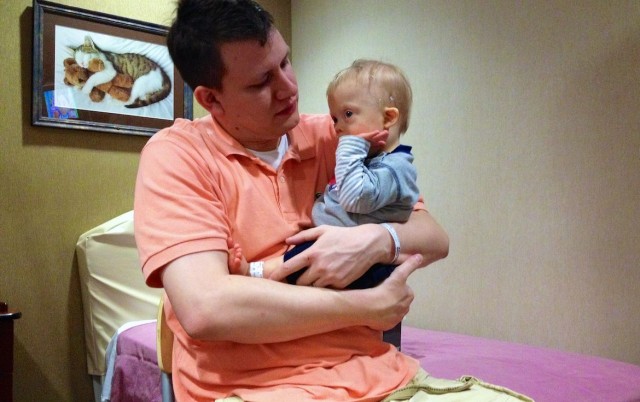 "This doesn't look my bedroom!"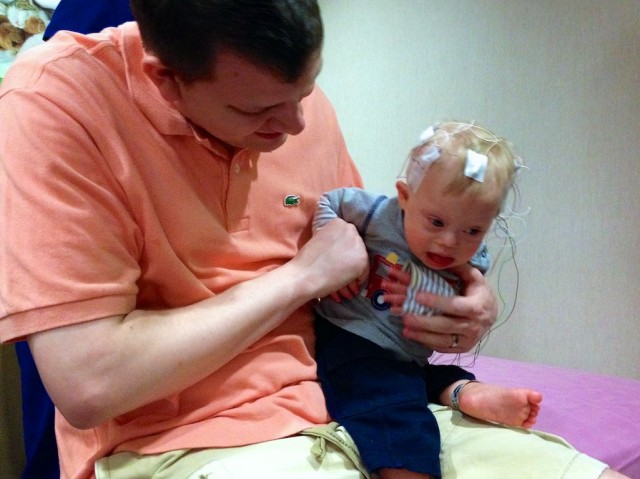 "Ummm…daddy; what's on my head?"
The first few minutes of the EEG were spent trying to cause a seizure with lights flashing rapidly and then they wanted Noah to sleep, which was easy considering how tired he was.  It felt like hours had passed before it was over. We watched TV, played on our phones, and watched our little man sleep. FInally it was over. The results were sent to our neurologist who we would follow up with that afternoon.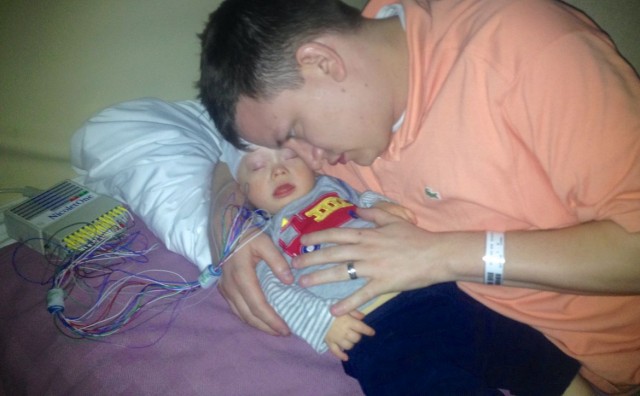 Noah and his dad cuddling during the EGG.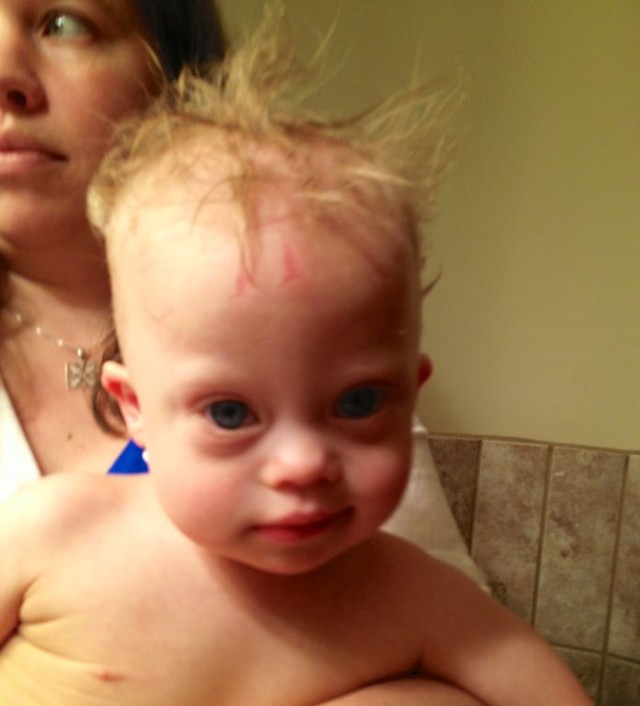 "It's nice to have all of that gunk out of my hair!"
From The EEG To The Neurologist.
We were able to immediately meet with our neurologist after the EEG which may not be a common occurrence. He had read the EEG and the good news is that he did not show signs of hypsarrythmia or any other sign of seizure. Whew…that was a relief. Just of note: a normal 1 hour EEG does not mean that your child does not have seizures, especially if the events you are concerned about did not happen during that period.  Hypsarrythmia is something that can be seen outside of the spasms and not just during a spasm so if it is not seen during your 1 hour EEG there is a good chance it is not present despite not having an event. If you are still concerned, keep pressing on for further evaluation.
I think the neurologist may have thought that we were really there to figure out how smart Noah was going to be, as he kept telling us over and over there is no way to predict how our kid would end up…thanks Dr. Neurologist that wasn't why we were there, we were just a little worried that our son was having seizures. 

 He stated that if the episodes got worse we should follow up. Usually the second EEG lasts 24 hours and is done in the hospital where your child is monitored the entire time and you click a button when your child has the events you are concerned about. He gave us reassurance that Noah was doing great plus some developmental information on how he was doing, and that ended our very long day.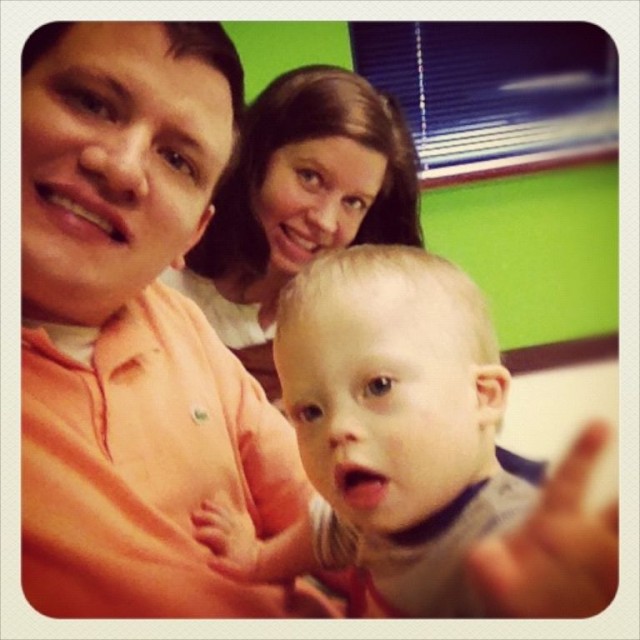 "Time to go home!"
"Sometimes Kids Just Do Weird Stuff."
Even though I really didn't think Noah had infantile spasms, it was such a relief to be reassured. Noah continued to do these movements for a few months and they slowly decreased in frequency until they stopped. We have heard a few other people say that their child with Down syndrome started to do similar movement around 12 months of age and resolved after a few months without having developmental regression and if an EEG was done it was normal. So with that being said, even if after reading this you are now concerned that your child is making some strange movements the end result can be nothing to worry about. I don't know why Noah did these movements, it could have been reflux, getting attention, or something he just figured out to do that was fun, who knows. In fact, my husband asked the neurologist why he thought Noah was making those strange moments with his body and eyes, and the neurologist said:
"Sometimes kids just do weird stuff. It's normal, and there's nothing to worry about." 
Thanks to Facebook we have been able to meet so many great people and heard so many stories. I would like to share the story of a child who really does have infantile spasms and their journey to his diagnosis.
An Infantile Spasm Diagnosis: William's Story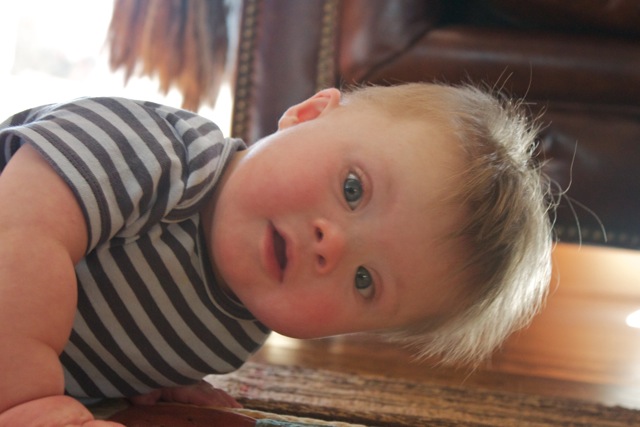 "Hi, I'm William!"
William was found to have Down syndrome prior to being born. His parents did an awesome job at preparing as they spoke to other parents, they joined support groups, and they even had an appointment scheduled at the Down syndrome clinic in Boston prior to William even being born. They also knew of some things they needed to prepare for such as a possible ventricular septal defect (VSD) and duodenal atresia. William had surgery within 24 hours of being born and went home about 2 weeks later. He had some other things he dealt with such a severe reflux, and tracheomalacia. He ended up having a Nissen (when they take part of the stomach and wrap it around the esophagus to keep food in the stomach and not up in your nose) which seemed to really help him and he was doing great. This is their story in their words after these events.  I added my own two cents in parenthesis 

3-7 Months
He got a little cold in August, and after that things just weren't right. We kept treating him for ear infections. We weren't sure if he had them since William's ear canals are so small that the doctors couldn't see in them. But we treated him for it anyway because he was congested and he was miserable.  He started to gnaw at one or two of his thumbs in the sides of his mouth as if he was teething, which he wasn't.  His eyes also began to cross.  He started to lose the ability to focus on anything. He was withdrawing. We weren't sure if he could see.
Every once in awhile we noticed he'd have periods where it looked like his whole body was clenching. I thought perhaps he was retching. I remember telling the pediatrician he had this weird clenching thing he was doing, and wanted to know if it had to do with the Nissen.  (Children with a Nissen can't throw up but retch or go through the movements of throwing up without the end result)
Things really started to fall apart. He had been rolling, but he had stopped. He was very grumpy. He stopped smiling. He was just not responding to anyone. He had periods of absolute inconsolability. We thought it was his ears. He couldn't hear anything. Wouldn't even respond to loud noises. We kept on going to the doctors. We got answers like he was teething, or it's his constipation, or it's an ear infection. All of which may have been true.
We saw a local opthamologist with regard to his eyes. He said there was something wrong, but structurally he felt the eyes were fine. So, he sent us to Boston. They confirmed that other than having crossed eyes, structurally his eyes were fine. I was still concerned though about his inability to focus.
My friend sent me to see an otolaryngologist at Boston Children's. Due to fluid in his ears, William had minimal eardrum movement out of one ear, and none out of the other. We were scheduled right away for tubes. After that surgery we were told that he did have conductive hearing loss, but that should go away. He began to hear things, respond to voices and startle with loud noises. But he still never visually focused on anything.
Throughout, William was still having these periods of clenching. The only way I can describe it was to say it was as if it were exaggerated hiccups. They were typically when he'd wake up from a nap. They'd last about 5 minutes (meaning clusters of these clenching episodes), and happen several times a day. He'd clench and then relax for about 20 seconds, whimpering in between.
9 Months: Diagnosis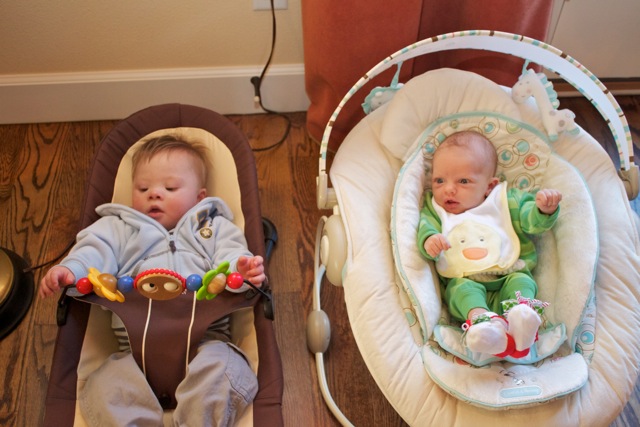 William and his buddy!
Developmentally, William was regressing. He was still not sitting at 9 months. He lacked trunk control, and was wobbling and jerking. He was having trouble lifting his head during tummy time. He was almost completely withdrawn. After his ear surgery he began sucking on his thumb in the center of his mouth for as much as an hour or more, instead of one or two thumbs in the sides of his mouth for a couple of minutes. We weren't sure if it was due to the Down Syndrome or something else. We were frustrated.
We finally had our first appointment with the Down Syndrome Clinic in Boston. I had taken a video in November, to try to ask whether he was retching from the Nissen. My husband mentioned we should show it at the Clinic (they knew my tip before I even said it), just one more time to see if they could confirm it was a result of the Nissen or not. (See how there are things going on that can confuse the picture of what really is going on)
We saw Dr. Emily Davidson at the Down Syndrome Clinic. We explained our concerns about William's lack of development. We showed her the video. We told her about these clenching episodes that were happening a few times a day, usually when he wakes up. She knew instantly what it was. She picked up the phone and scheduled an EEG. She told us if it was what she thought it was, and she was pretty sure she was right, we'd be hospitalized for a few days. She told us that she thought William had something called Infantile Spasms, which is a kind of seizure. The video I showed her of William having a spasm was what she called a classic "Salaam" Seizure. She said it could explain a lot of the symptoms William was experiencing, including the lack of developmental progression. She said there were two types of treatments. One, ACTH, is very successful with Down Syndrome, would be the likely first line treatment.
We went to have the EEG, where all sorts of brain electrodes were "glued" onto William's head to track his brain waves. The tech forewarned us that William was not going to like it. He was right. It wasn't that it was painful. It just involved a lot of measuring, and putting cold glue on his head. He cried and cried. It worked though because he indicated they want to try to wear them out so they sleep. William slept and they tracked his brain waves. Then the tech woke him up. As if on cue, he had one of his spasms.
The neurologist came in and told us that Infantile Spasms had been confirmed. I cried. I was just so relieved we had an answer. We were admitted to Boston Children's Hospital in the Neurology ward. William, still wearing his electrodes, was monitored for 24 hours in a special room with a camera. They were watching the hypsarrhythmia, or abnormal brain waves, which cause the Infantile Spasms. Whenever he had an episode of spasms, or a cluster, I had to press a button.
We were scheduled for an MRI. After consulting with the physician and Dr. Davidson, we opted NOT to have one. The reason for the MRI is to confirm some sort of brain abnormality or some other reason for the child to have Infantile Spasms. However, the correlation between Infantile Spasms and Down Syndrome is so strong, that typically when a baby comes to them without a Trisomy 21 diagnosis, the first question they ask is if they are they sure the child doesn't have Down Syndrome. So, the probability of trying to find some other underlying disease causing the Infantile Spasms was highly improbable given we already knew that William has Down Syndrome. Collectively we decided the benefit of having the MRI was smaller than the risk of having William sedated. (I couldn't agree more with this statement)
Treatment
Given the success of ACTH with children with Down Syndrome, that was the first line treatment that was decided upon. It's expensive. Very expensive. $23,000.00 per vial expensive. Thank goodness the insurance company covered it. They shipped William 3 vials to our home.
ACTH is a daily steroid injection. I was informed that how it works is that it releases cortisol from the adrenal gland, which works to reverse the hypsarrhythmia, which causes the seizures.
The nurses at Boston Children's taught me how to draw the medication up and how to inject William. We practiced with oranges and saline. Before we could leave the hospital, we had to show that we could give William the injections. They showed us how to test William's stool for blood and his urine for glucose as the medication can cause gastrointestinal bleeding and elevation in blood glucose levels (which then end up in the urine) like diabetes.  The medication can also cause elevated blood pressure, weight gain, and irritability.
We were lucky enough to have wonderful roommates at the hospital. Their little girl also had infantile spasms. They were EMT's, so they had medical training. They gave us great advice, such as to make sure when we were discharged, that the nurses give us the doses in mL, and not units. They forewarned me about the increased hunger and irritability. Their little girl had reflux with ACTH, which is also common, which adds to the irritability. They told us about the Cushing Syndrome, which is puffiness in the face, which is a result of using a steroid.  They offered a lot of great advice.
My very brave husband gave William his second injection of ACTH, and we were released from the hospital. We have the local VNA coming out twice a week to check his blood pressure, and we are going to see our pediatrician twice a week to check his blood pressure as well as review any issues we might be having. We also had to test his stools for blood and his urine for elevated blood sugar daily.
10 Months
At this point, we are done with the month-long treatment of ACTH. William's seizures have decreased in number and severity, but have not gone away completely yet. However, he is also starting to progress developmentally. He's starting to roll more, pick his head up, smile, and focus on people and things. He recently even giggled for the first time, and now is vocalizing for periods of time.
Today
William is doing great.  We are thrilled with his progress since February. Stephen and I are very blessed to have such a supportive family and we have found some wonderful doctors and therapists who keep William progressing and us learning every day. We are especially blessed to be working with Dr. Davidson at Boston Children's Down Syndrome Clinic.  We truly believe she saved William with the infantile spasm diagnosis and she is a fantastic support and a wealth of information.
Also, William is going to be a big brother soon, how exciting is that?
Thanks to William's mom and dad for sharing their story with our community. We hope you found their story helpful and encouraging  And congrats to William on being a big brother. It sounds like he is going to be a great one!
Helpful Resources
The following are links about Infantile Spasms in children with Down Syndrome that William's family found helpful. If you're looking for some trusted information about infantile spasms, these links would be a great place to start.
Tips For Concerned Parents
After reading this if you are at all concerned please head to your primary care physician and ask for an EEG. Developmental regression is a very concerning symptom. Yes you can regress TEMPORARILY when new siblings are born, there are changes at home, or a child is sick. It shouldnever be a long lasting condition with more and more milestones lost. This is a huge red flag and needs to be investigated by your doctor. You also know your child best and if you think something is going on, push for answers. I can't tell you how many times I have listened to a parent despite thinking everything was ok only to find out there really was something going on.
The only person who will advocate for your child is you, so keep pushing if you are concerned.
In the end it will be worth it as either you will get reassurance or finally get the diagnosis you have been looking for.
Are there any other parents out there who have dealt with infantile spasms?  How long did it take to get diagnosed?  How is your child doing now?