Noah has started to mimic our actions recently which is actually a really big milestone for a child with Down syndrome. I mean how cute is he playing patty cake with his occupational therapist today!? I love it when he points to himself with both thumbs. (By the way, that's also the sign for "me.' See, I told you Signing Time works!) 🙂
You can see in yesterday's post he and his buddy are imitating each other with their head bobs which is a great way to help a child learn how to imitate, with themselves being imitated (does that sentence even make sense). Our occupational therapist tries to encourage mimicking by using songs with hand movements, like pat-a-cake, and a few she may have even made up on her own.
I absolutely adore the fact that she sings with Noah (which can help a child improve his verbal memory.) We say a lot of awesome things about our physical therapist, but our occupational therapist is equally as awesome and I am amazed at the fantastic work she has done with Noah. It took Noah a very long time to learn to clap, so we love to use songs that involve some serious clapping for him imitate.
Imitation Development
Once a child starts to mimic it opens up a whole new area of development and interaction. Imitation and pretend play is another area that can be delayed in children with Down syndrome. Typical newborns have been shown to imitate their mothers shortly after birth. There have been several studies that show that a newborn will mimic facial expressions such as tongue protrusion, mouth opening, and pouting practically out of the womb. There are also other beliefs that an infant must be imitated to learn imitation, but I have seen the videos of the first theory so I think being imitated just reinforces the behavior.
There are several milestones in the toddler years that involve imitation.  Several of the fine motor skills are probably best learned by imitation from stacking blocks, using a crayon, and the one I can't wait for imitating me cleaning…maybe I have to actually do that for it to happen. 🙂  Simply being able to use toys is enhanced when imitation and pretend play is involved.
Motor Imitation Helps Speech Development
Imitation can cause a drastic change in a child's speech development. One of my favorite resources, Down Syndrome Education International, did an assessment of children with Down syndrome at 2 years old and found that none of them had vocal imitation. They taught the children motor imitation such as taping the head, a table, or to clap hands and then they worked on vocal imitation. Each child went on to imitate vocally after learning motor imitation. Once they had learned 3-4 sounds they had generalized vocal imitation meaning they would mimic any sound. So now that Noah is mimicking his motor functions, I hope verbal is soon to follow as currently he is not interested in mimicking sounds, specifically "ma ma." 🙂
Imitation As A Learning Method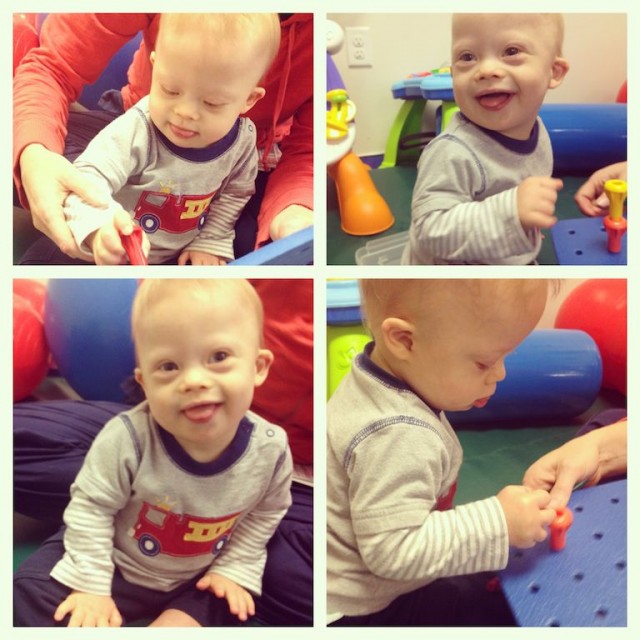 Imitation continues to be important in the future as well, and is one of the reasons we want our children included in the classroom. While it may be a struggle to get our children to imitate, it eventually becomes one of their strengths. Our kids will model their behavior after the other children in the classroom and learn how to thrive in the real world and interact with their peers. I even used this method through out my medical training as we often said the phrase "see one, do one, teach one" as a way of mastering procedures. I think many of us would say it is much easier to do something after watching someone do it first, and the same will be true for our children.
Is your child imitating you yet?  What are some funny things they have done?