One of the greatest rewards of sharing our son's journey online is without a doubt all of the amazing families we get to meet in the process. This past year we've gotten to know so many great people through the comment section of this site, our Facebook page, our Twitter page, our YouTube Channel, our Google + page, and heck, even through our Pinterest page! (Yah, I'm a guy and I use Pinterest, so what?) 

We really do consider it an honor to be on this journey with so many of you. It's also been a privilege for us to get to know some of you as you've shared your family's story with us.
So, thank you.
A friend from Down Under.
One of the things we really like to do as often as possible is take things from online, to offline.
We love getting to meet and build friendships with families in real life. (Besides, it's really hard to hug someone online. And sometimes people just need a hug.) We get the opportunity to connect with people all over the world, and meeting for a play date isn't always an option when you someone live across an ocean.
So we do the next best thing; video chat!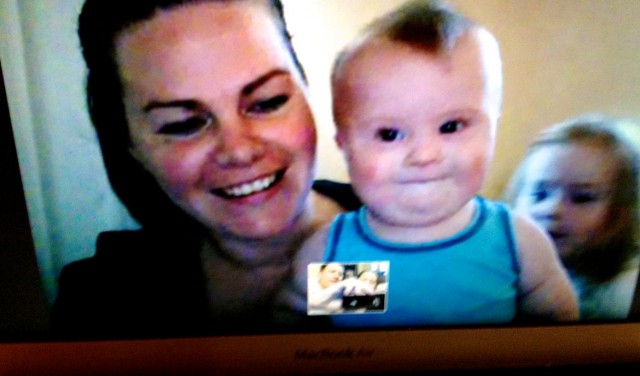 Skype is awesome! (And isn't Ruben a Cutie!)
We first met Libby and her wonderful family through our Facebook page. And we've had the awesome privilege of getting to them even better during our numerous Skype video-chats. Isn't technology awesome?!
Here's 3 super cool facts about Libby and her family I thought I'd share with you: 1) They are from Australia. (Hello, can we say awesome accent? Which leads me to fact number 2) Their daughter can do an incredible Charlie Bit Me Impression! 3) Libby and her husband have 5 fun kid-o's; 3 beautiful little girls, and 2 boys. Her youngest son, Ruben, was born with Down syndrome (and is super adorable!)
A milestone of chocolate proportions!
In case you didn't already know this, Australia has theseamazing chocolate snacks called Tim Tams. And would you believe that our new friends from Australia offered to send us some!
Hello, can you say awesome!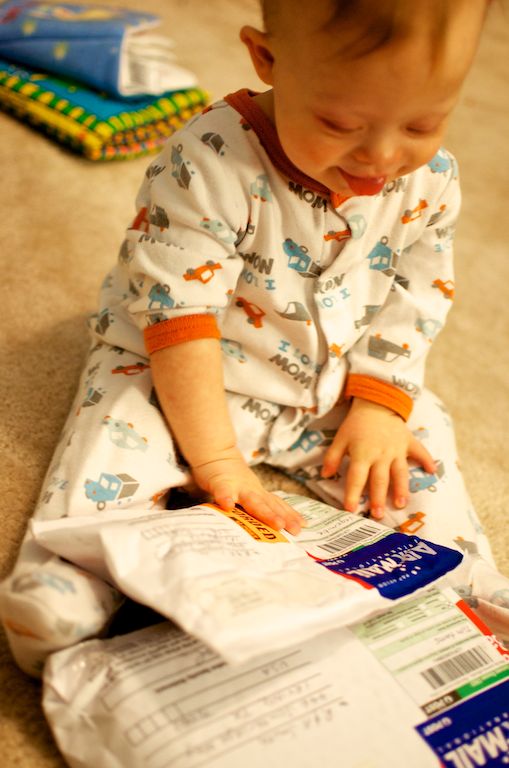 A package from Australia!
So that makes today's milestone even more awesome! Not only is this Noah'sfirst chocolate candy bar…
…it's his first Tim Tam!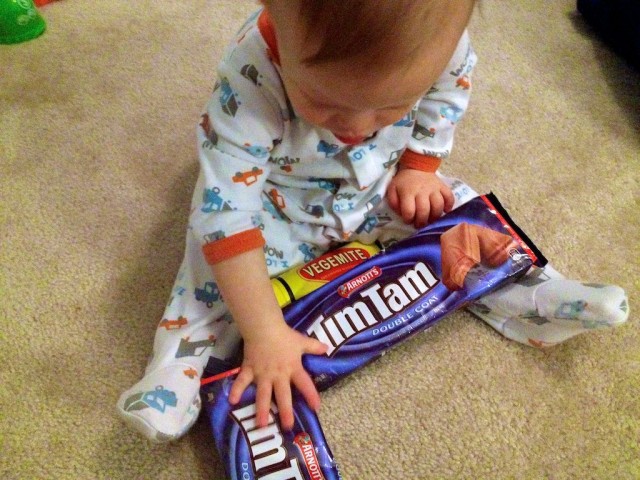 Yum!
Pretty Sweet, huh! (pun intended.)
To say he enjoyed it would be an understatement.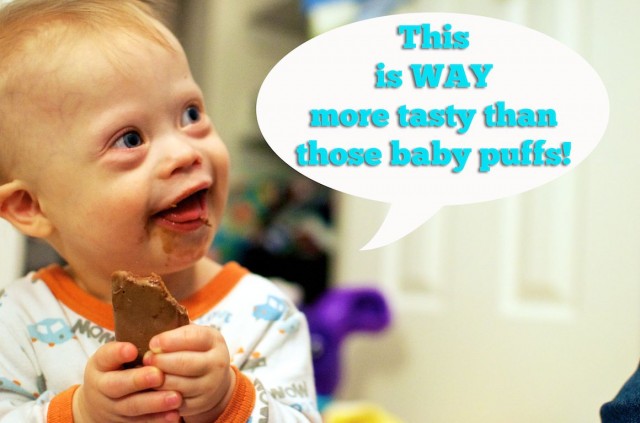 Quick note to the chocolate haters out there:
When I posted about Noah's first trip to In-N-Out Burger we received a few messages from some bothered grumpy rude quick-to-judge un-fun considerate people who took the time to tell us in a very rude un-lovingjudging grumpy snarky direct way that they were concerned about Noah's diet and our parenting skills.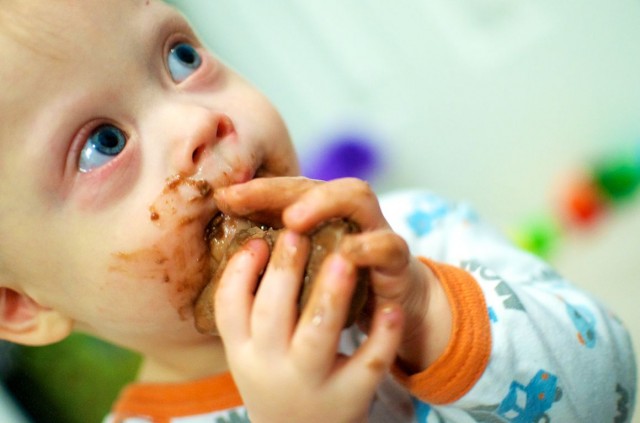 I see absolutely no reason to be concerned…. 

Just in case anyone reading this is a chocolate hater, and perhaps also concerned for Noah's diet, and perhaps already have their fingers on the keyboard ready to fire off an email to me about how bad chocolate is for kids, or how by giving Noah this Tim Tam we're allowing him to become another statistic of the national obesity epidemic, or that we're irresponsible parents (yes, someone actually wrote in and told us that.) Or that we're just trying to plump our kid up early so he can be on The Biggest Looser some day. Or that kids shouldn't eat chocolate because Jenny McCarthy thinks chocolate causes kid's ears to fall off.
Before you do that, let me set your mind your ease.
Everything's fine.
It's all good.
Your fingers can rest. 

BALANCE.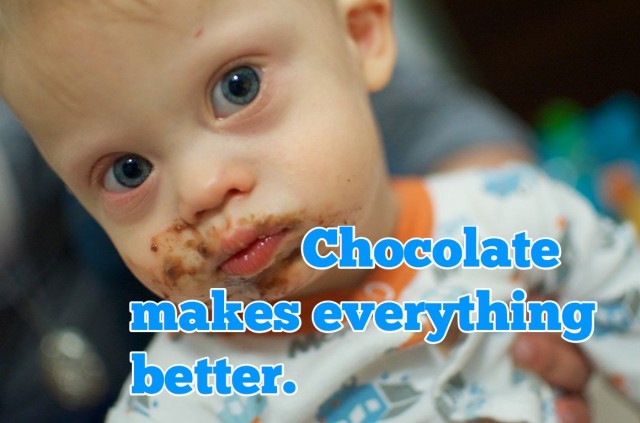 One of our favorite words is balance. Almost everything in life is unhealthy if done in excess (just ask my mom about the time I tried to eat that entire bag of grapes…,my stomach hurts just thinking about it.) So unless you're allergic to it, chocolate, in moderation, isn't bad for you.
Heck, even a Happy Meal is ok every once in a while. And you can even substitute the fries for fruit if you want. Your kid still gets the toy, you still look like a fun parent, and all is well. (By the way, we've even been known to let Noah watch a little TV while he's eating his kid's meal! *gasp*!) 

I've meet a lot of parents who are anti-this, or anti-that. You know the type. The ones who are known by everyone for what they're against, rather than what they're for.
Don't be those parents.
Fun Isn't A Curse Word.
Strive to have balance in your life and family. Some parents are wound so tightly they've forgotten what it's like to have fun. They run their home like a mini-boot camp. Their kids are so worried about what will happen to them if they get Play-Doh on the carpet or a crayon mark on their clothes, that they lose their sense of wonder, curiosity, and creativity.
Don't be those parents.
I'm not saying it's wrong to have convictions. Or structure. Or rules. In fact, we need those things in our homes and culture now more than ever. I'm just reminding you to remember to laugh. To have fun. To enjoy parenting again.
You only get one shot at it and it's over. So take advantage of it.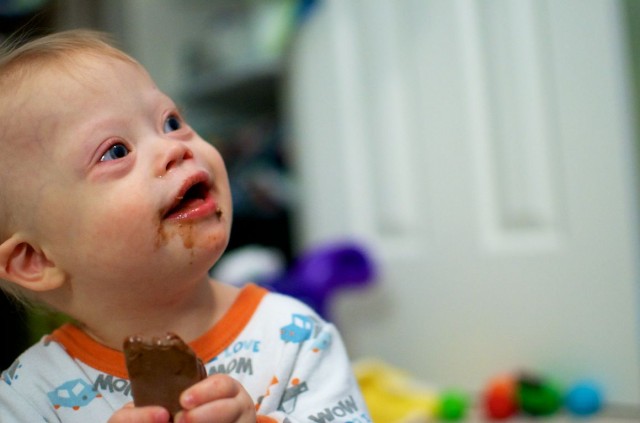 "Chocolate makes me happy!" – Noah
And if you're one of those parents, I want to encourage you to stop worrying (and gossiping) so much about which parents in your neighborhood allow their kids to watch tv, or eat happy meals, or…..go to In-N-Out Burger, and instead redirect that energy and passion into creating memories with your family.
I think you'll find it much more rewarding. 

Now I hope you'll excuse me, I'm off to search Pinterest in hopes of finding some fun Halloween costume ideas. Here's to hoping we get more candy this year, than last!
Big thanks to Libby and the family for their amazing friendship, and for sending us these delicious treats! We'll be sending you some Pop Tarts soon! 

I've got a question for you….
Speaking of fun, what's the last thing you've done that caused your kids to laugh. What's the last "fun thing" you've done. Together. As a family? Leave a comment and tell us about it.