Today marked a huge milestone in the life of our little boy, and one of the biggest and best purchases of his life…
His very first swing set!
A first swing set is a rite of passage in the life of a child. It's the day they cross over from being a baby to being a boy. The day they trade their pacifier for a safety slide. The first day of the rest of their life.
And today was that day for our son!
If you're in the market for a swing set, or perhaps you've already been there, done that, and just want to laugh at a first time parent's experience. Either way.
Decisions, Decisions….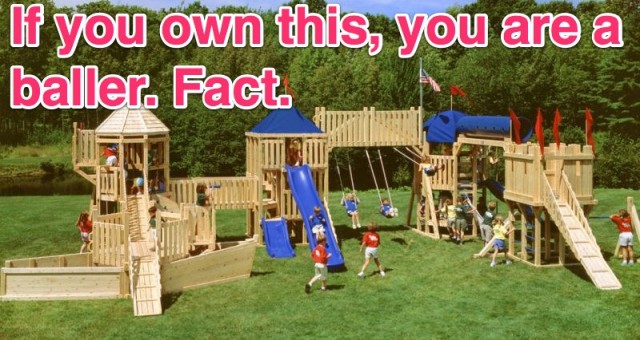 When we first started looking for our first swing set we stopped by a place that sells swing sets like the one in the picture above. While that backyard play set is certainly awesome (and if you happen to have one like it please let me know so we can come over and play on it) we decided to go a more minimalist route. In fact for those of you looking for a great swing set for your younger kids, we really like the Step2 Play Up Gym Set (which is the model we ended up going with.)
It all boils down to what I learned as Boy Scout; Be Prepared…
To all you parents out there who may think purchasing a swing set for your boy or girl is as simple as driving down to your local Babies R Us, picking out the best one, paying for it, sticking it in the back of your car, coming home, opening the box, and instantly transforming your backyard to a jungle gym wonderland, I've got some disappointing news for you.
But this is your lucky day. I'm going to give all of your would be swing set buyers some helpful tips you won't find in any new parent books. Oh, and keep in mind that this is my first ever swing set purchase which makes me super qualified to be giving tips.
I guess you could say I"m sort of like a swing set pro! 🙂
# 1 – Your car isn't big enough.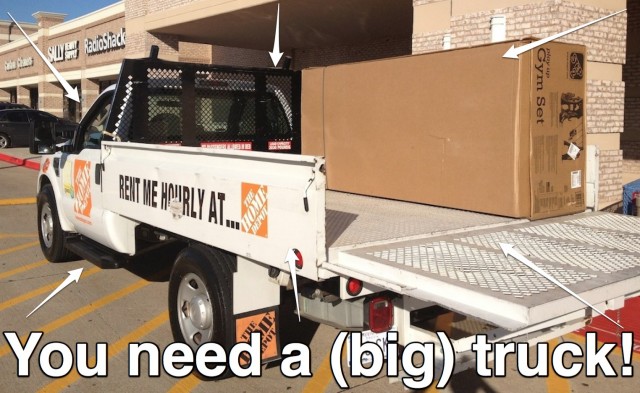 Unless you drive a huge diesel truck, you're going to need a bigger car. We thought my wife's SUV would do the trick, you know, as long as we folded the seats down. Guess what? Folding the seats down may work if you're trying to bring home a Billy Bookcase from Ikea, but it's not going to work if you're trying to bring home a swing set from Babies R Us!
It didn't take long to realize the swing set wasn't going to fit in our car, but thankfully there was a Home Depot nearby. By the way, if you don't already know, Home Depot rents trucks by the hour for super cheap which is great if you have something you need to get from point A to point B; like a swing set. (Oh, and they also throw epic birthday parties!)
# 2 However long you think it will take you to assemble, double it.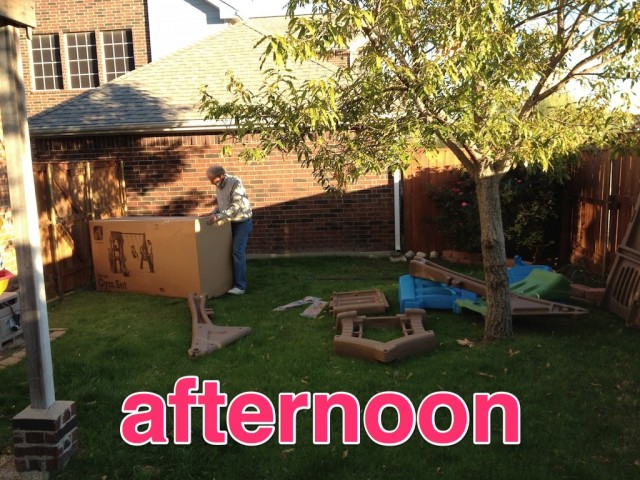 I don't care if you have a garage full of tools, or only a lone Phillips head screwdriver just sitting in your junk drawer; it's going to take longer than you think to put your first swing set together. There are over a billion pieces, that span over two huge boxes; hard to follow instructions; a missing piece or two (that will require you to go back to Home Depot) and of course will require a tool that don't have, or can't find (which may also require trip back to Home Depot.)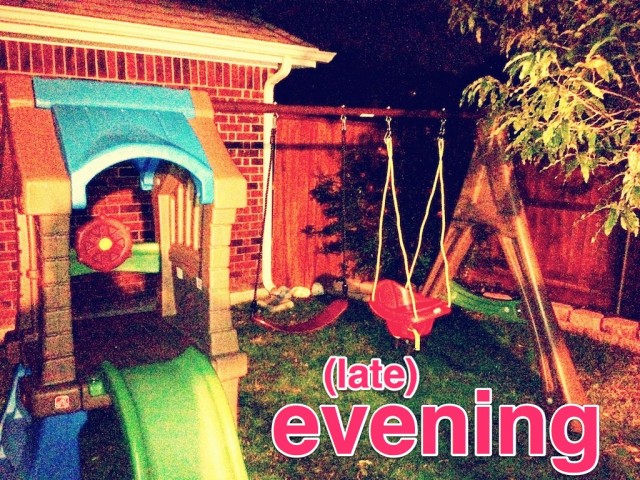 Rest assured that it will take you all day to put this thing together, and you'll need more than one person. Thankfully in my case my father-in-law (who is much stronger and manly than me in general) helped me put this thing together. Otherwise I'm not sure how it would have turned out.
Actually when I say he helped me, what I really mean is I read the instructions, then handed him the tools and bolts needed to do the job. Sort of like what happens when you visit the Dentist.
Yah, moving on…..
# 3 Prepare yourself for EPIC CUTENESS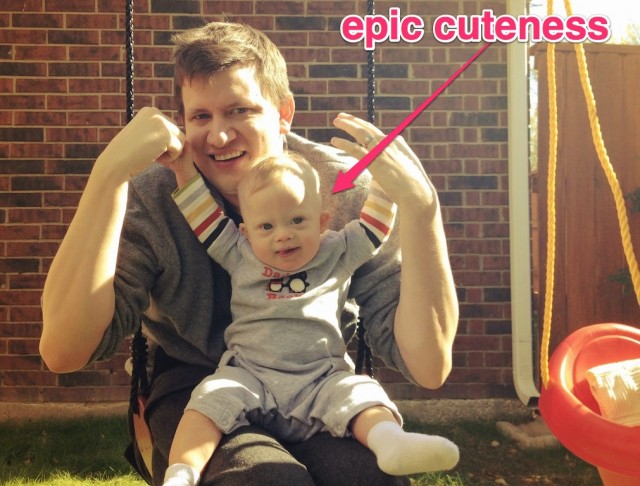 After a long day (or two) you finally get to enjoy the fruit of all your hard work; which is getting to see the look on your child's face when they mount up on a swing, or slide down that slide. It's priceless. (Get your camera ready!)
This actually wasn't Noah's first time on a swing though, that happened months ago. In fact, he has been using one at his physical therapy appointments since before he could sit up on his own, and we have another attached to our back deck (which is great for sensory integration.) He really enjoys swinging, and I enjoy seeing his face light up and hearing that awesome laugh of his as he flies through the air…so it's a double win!
And for parents who are raising a child with Down syndrome (like us) swing sets are a fun and cost effective way to work on some of those developmental milestones in the comfort of your own back yard. In addition to all of developmental benefits of the swing, the slide is great for helping children born with Down syndrome strengthen their abdominal muscles.
Bouns Tip: Replace one of the swings with a baby swing
The two swings that came in the box were just your typical swings, not the kind designed for a baby. And since we have a 10 month old that didn't work for us. So we replaced one of the swings with the Little Tikes High Back Toddler Swing
, and it worked great. It fits perfectly where one of the other swing would go, and we can swing along right next to Noah. On a side note we have the Fisher-Price Infant To Toddler Swing on our back deck (the one Noah in this video) and much prefer it to the little tikes one.
One of the physical characteristics of children with Down syndrome is hypotonia, which basically means they have low muscle tone. If you've ever hugged Noah you may have noticed how he just sort of melts into you. That's hypotonia. (…and an extremely cute hug.) All that to say they can have a hard time holding their self up, and I think the Fisher-Price swing has much better support than the Little Tikes one. So if you're looking for a swing, I'd suggest the Fisher-Price one. It's great, and Noah has a ton of fun it it.
Swinging Is Hard Work, But Somebaby's gotta do it!
As I mentioned Noah's grandparents are in town visiting this weekend, and of course Noah has them wrapped around his 10 month old finger. He loves them, and they love him. And I love that. 🙂
Noah is finally holding his own bottle, which is a pretty big milestone in my book. Granted they may not be the big bottles (they actually look sort of like the ones that come with a girls doll, lol…) but he can actually hold it on his own! I know he feels a sense of accomplishment since it's something he can actually do on his own, and that makes me one proud daddy.
After his bottle his grandmother took over and read him on his all time favorite bedtime stories, Goodnight Moon (Although, The Tickle Monster ranks pretty high on Noah's bedtime story list as well.)  Noah's grandma is a master storyteller, and could listen to her read stories all day (and night) long.
And after a very long, but fun, day Noah is out for the count. I could watch this little boy sleep all day/night long. I'm so in love with this kid. Even though putting together his first swing set was a lot of work, it was so much fun doing it.  And…swing sets are so typical. 🙂
I want to hear your swing set story….keep reading….
Well, I hope my swing set tips are helpful to an first time buyers out there. Please take a second to leave a comment below and let me know if you're planning to buy a swing set in the near future. Or if you already own one, tell me about your first swing set buying experience. I'm going to take a shot in the dark and guess that there are some stories out there much better than mine.  Like America's Funniest Home Videos funnier. I want to hear about it.
And I'm sure there is someone out there who took the easy (and probably wiser) route and simply hired someone to put their swing set together. Whatever the case may be, I want to hear your swing set story in the comments below! 🙂