My parents were nice enough to invite us to go on vacation with them to the Florida Keys this past summer, I think it had something to do with the cute toddler we would be toting with us.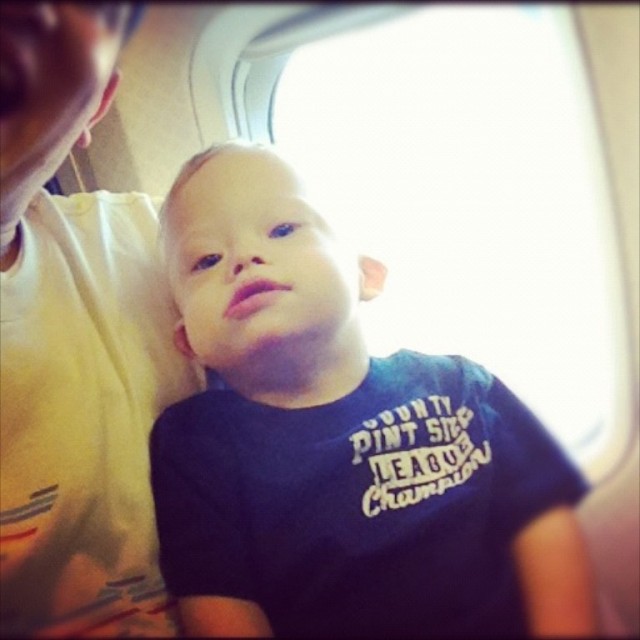 "Off to Florida we go….!"
We went to the middle of the keys called Hawk's Cay. You have seen how much Noah loves his grandma and grandpa and the feeling is mutual. They were so excited to spend a long period of time with Noah and experience a lot of firsts with him. Plus they were very excited to do things like feed him and change his diaper…..which was a nice break for mom and dad.
The view from our balcony!
First Flan
Noah has been on a few plane rides in his life. One thing I have learned is that plane changes are no fun with a baby. We picked a route that made us drive a little farther but involved only one plane. It was well worth it. Rick and I are always up for an adventure and to try something new, so being near Miami we knew we needed to try some Cuban food before getting to our final destination.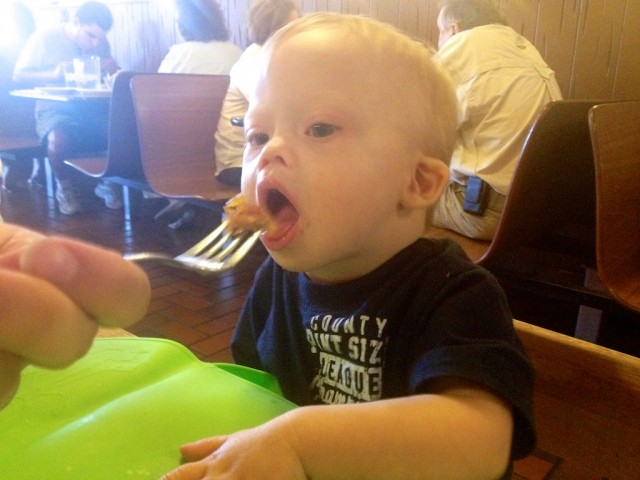 We were able to find the perfect hole in the wall so that Noah could have his first meal…and his first bite of flan….while on the vacation. I will admit I hate flan, maybe it is the fact that something mushy is covered in a gooey liquid and that kind of grosses me out. My husband however thinks that it is the best desert known to man!. He only gets to enjoy it in restaurants, so he makes sure to try it out whenever it is on a menu. We somehow found a Cuban restaurant that had flan on the menu, and Rick needed to know if it lived up to its claim of "best ever". Noah seemed to share his dad's enthusiasm for flan…they are still out of luck of it ever being made in our house.
First Dolphins
We spent our first full day at the Dolphin Research Center. This place was pretty awesome when it comes to seeing dolphins. This was probably the best thing we did on vacation. You can be up close with the dolphins all day if you want and they do various shows with a lot of education and research that they have done. We even watched a dolphin give a sperm sample…yep you heard that right. (Sorry, no videos or pictures of that….) We were well prepared and little eyes like Noah's were turned away. It was pretty crazy, but the dolphin was trained to provide that for educational purposes.
However, I thought the center was good preparation for what my parents had planned for Noah later that afternoon when we got back to our hotel. My parents were very excited for Noah to have an up close and personal experience with a dolphin at our hotel. I mean what kid would not want to be face to face with flipper? They are these big, friendly, playful animals of the sea. Well, apparently Noah didn't get that memo and he thought that it was a big, scary, pop up when you are least expecting it animal with really sharp teeth who was trying to eat him. I will admit that Noah was crying during orientation, likely from sunscreen getting in his eyes, so we were not off to a good start. But as soon as that dolphin shot up in front of him, it was all over and he was in hysterics.
We had to pass off the baby and enjoy the experience ourselves. I for one have always been a big fan of dolphins so I thought it was great. Hopefully one day we can convince the little man that they aren't like sharks and we can go swimming with them in one of our future vacations.
As you may have guessed based on my career choice (a pediatrician) I am a bit of a nerd. I actually contemplated being a vet and wanted to work at Sea World one day. I asked the trainer at the dolphin experience what it took to be a trainer and she told me that I had to first get my college degree and then I could come intern…I know I look 12 but really

My husband and family thought it was pretty funny. Did she think I was on Teen Mom?
First Turtles

I found us another nerdy thing to do which was the Turtle Hospital. I know what you are thinking, how cool is that? I was just as excited as you. It didn't quite live up to the hype. We did learn a lot about turtles and they were doing "serious" surgery on a turtle while we were there. They had great tanks to get up close with the injured or sick turtles. It was interesting to learn how they help them and how important their ability to dive is. They had to add weights to some turtles to help them lose their buoyancy due to an injury. Noah wanted to help feed them which was pretty cute. Overall it was a good experience and would recommend you check it out, just don't expect an episode of ER or Grey's Anatomy.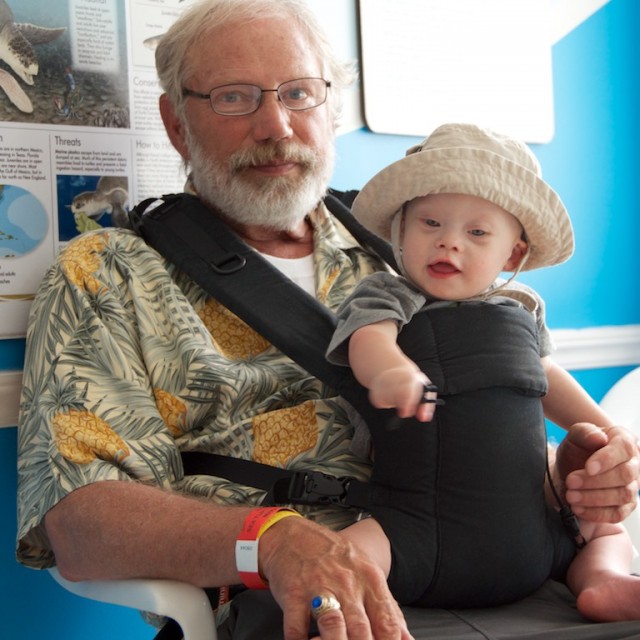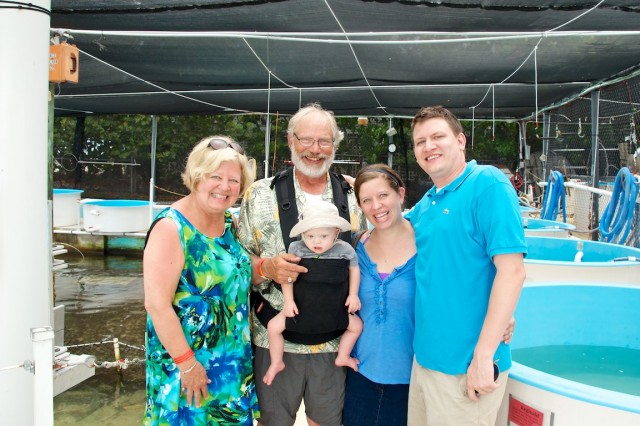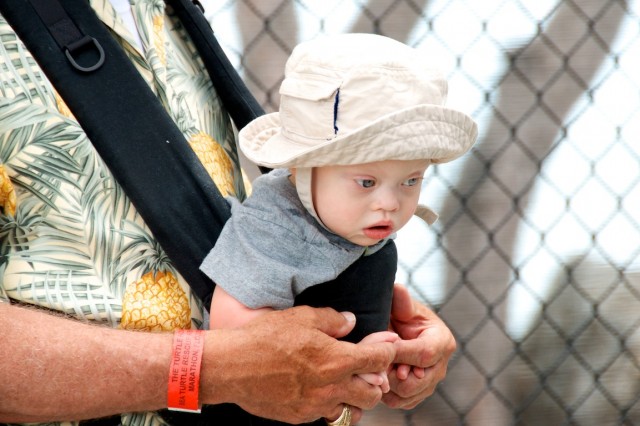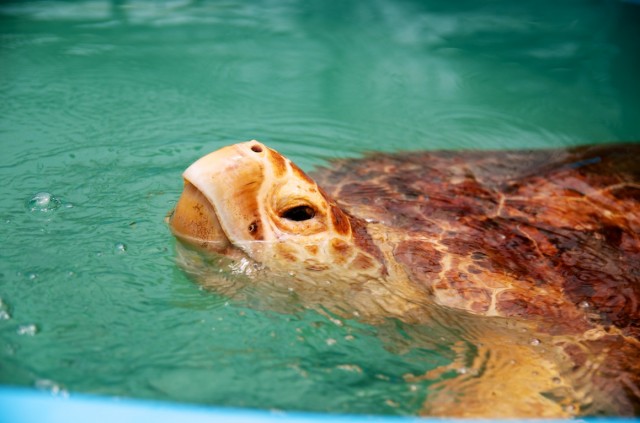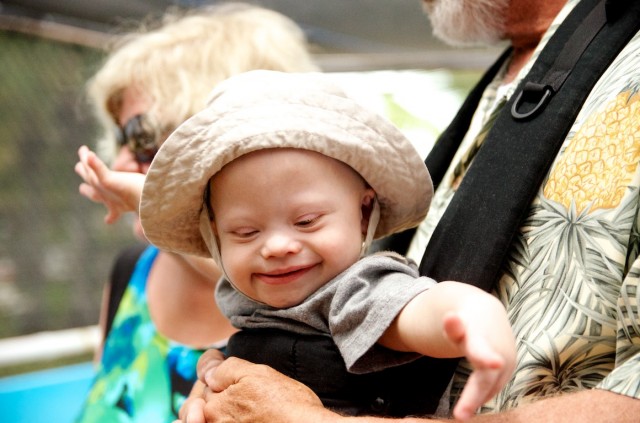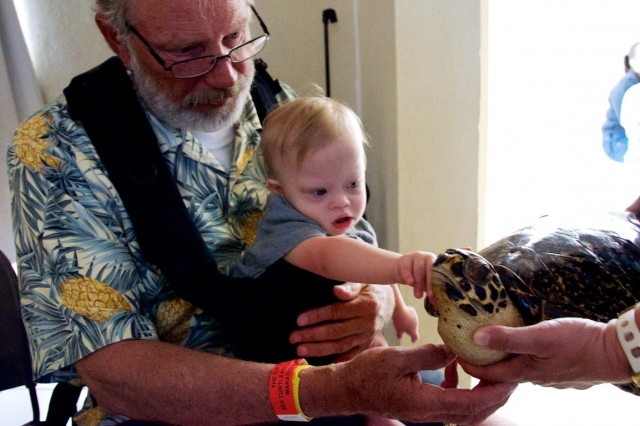 First Beach
We were not near Key West, in fact it was about an hour away from where we were staying. I was amazed at how large the keys actually were. Despite what you may think the keys are not full of beaches. Our hotel had only a man-made beach surrounding a lagoon they also made. A lot of that is due to the fact that the keys are so narrow. Noah got to ride on his first boat in that lagoon. We wanted Noah to have first first real beach experience and play in the ocean. We have played on a fake beach before, but we were looking for the real deal. Luckily we were able to do that before our trip was over at Sombrero Beach.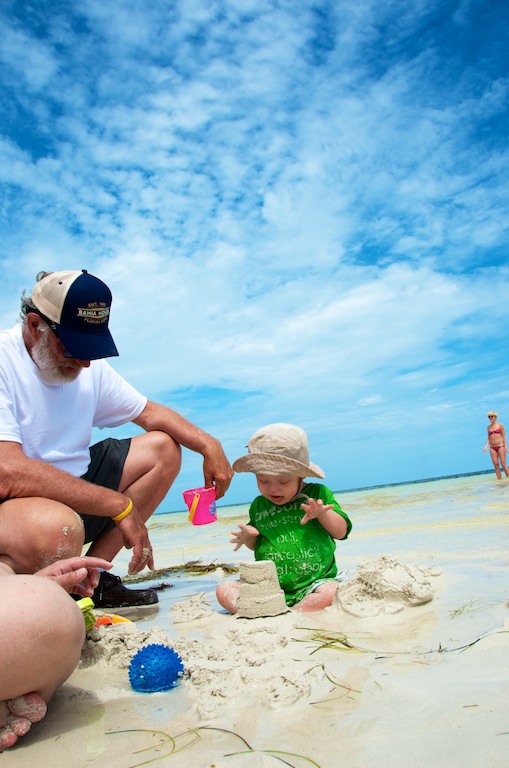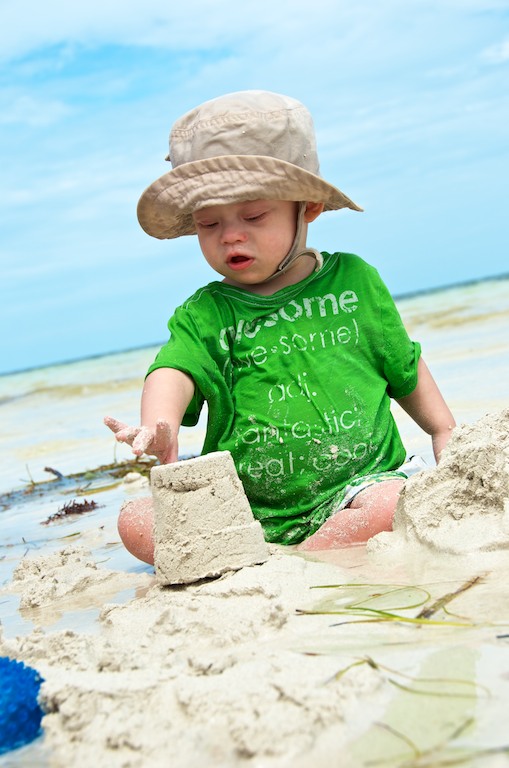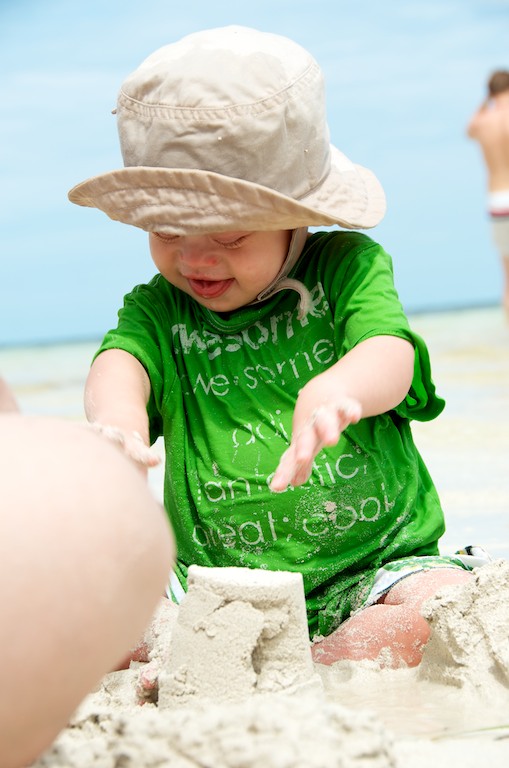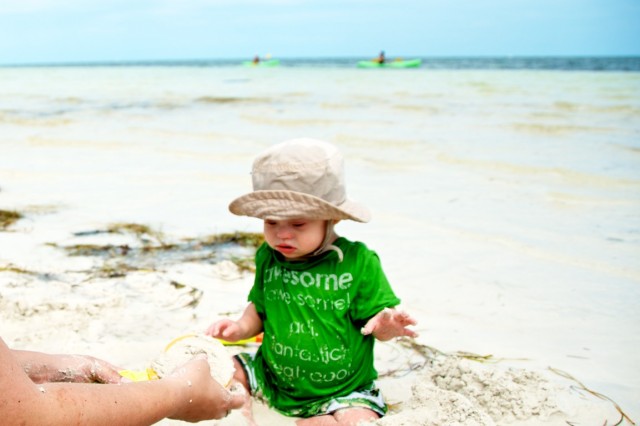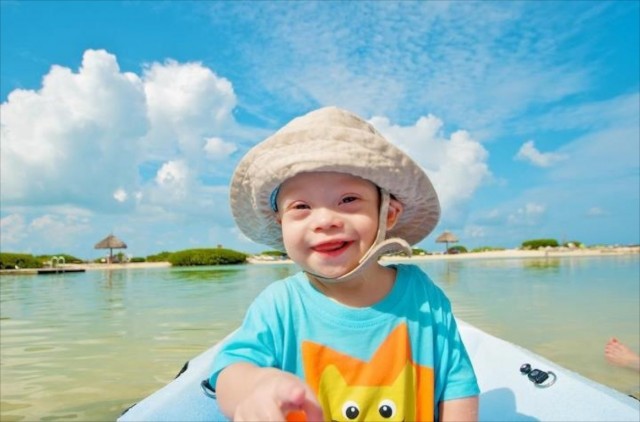 Noah didn't quite know what to do with the sand that stuck to his hands, but he did enjoy the waves. Once his grandpa started turning over sand buckets for him to smash Noah thought it was pretty cool. He also liked walking in the water holding our hands. The resistance of the water helped hold him up. He made it the farthest he ever has with walking while holding our hands. Looking back he also made his longest sitting record while sitting in the sand (even breaking his previous sitting record!)…maybe I should open up a PT program on the beach.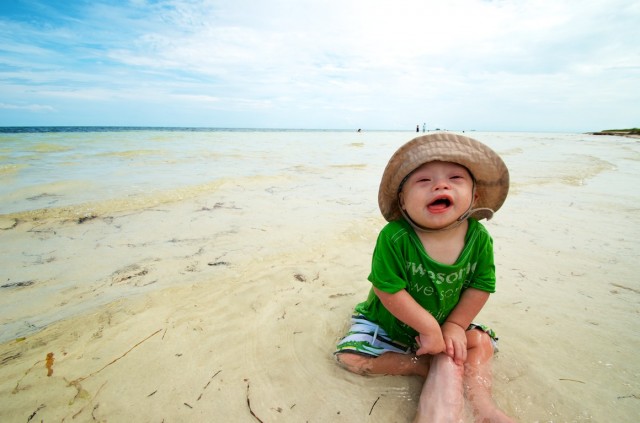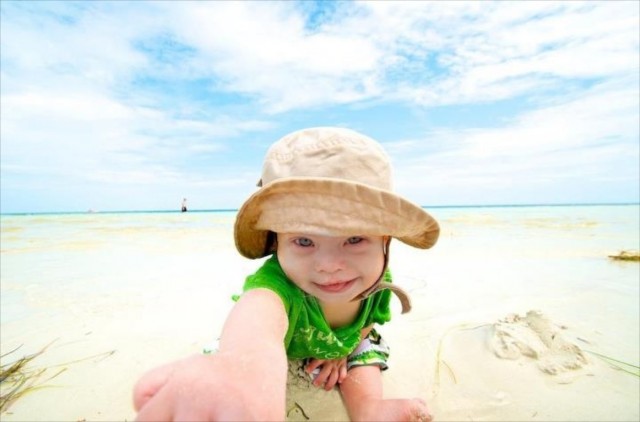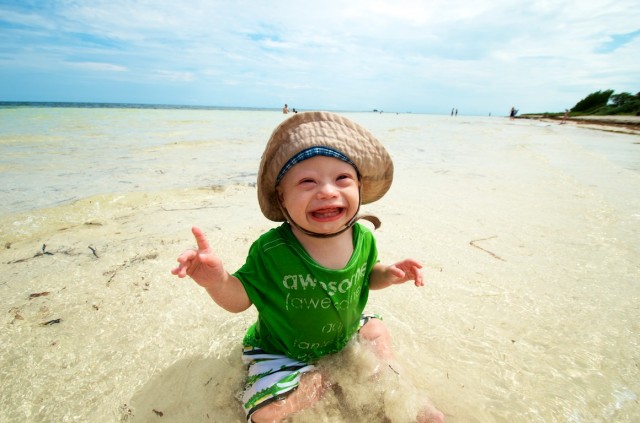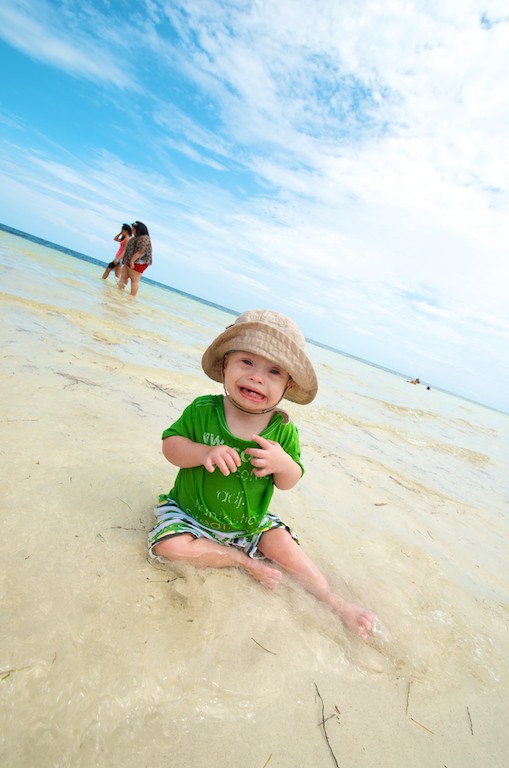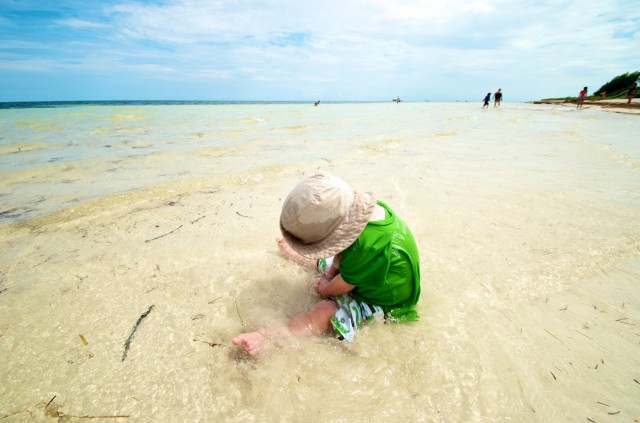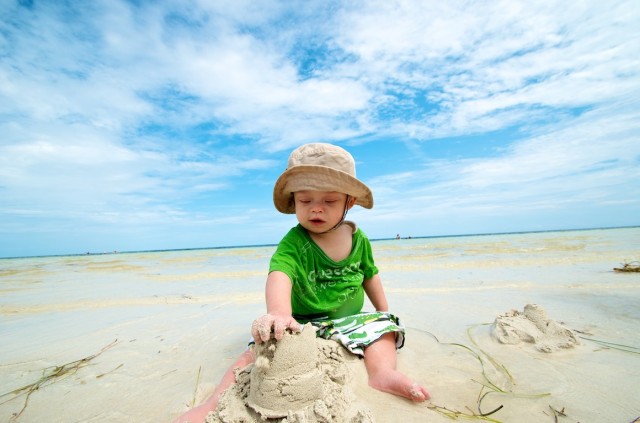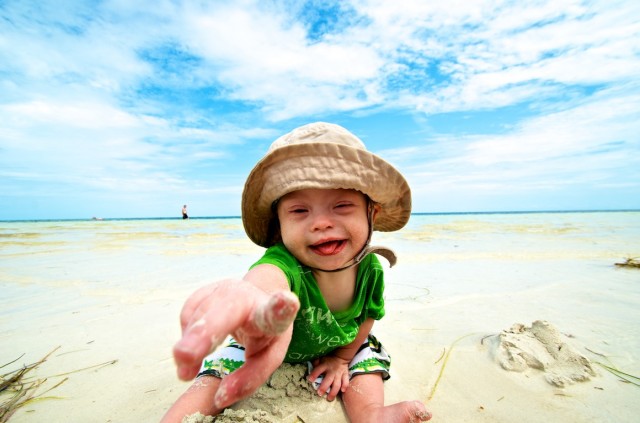 There was lots of good seafood, and great times at our hotel. I know that grandma and grandpa enjoyed being able to hang out with our family and get some down time.
What is your favorite vacation spot? Are there places you recommend going with kids?