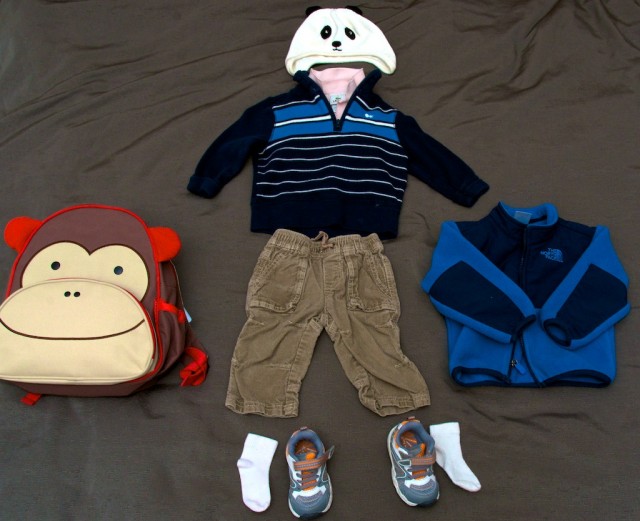 All ready for his first day of school!
Wow, I seriously can't believe that in less than an hour our little boy will be playing, learning, having fun, and making friends at his new preschool class!
We have opted to put Noah in a typical private and all day preschool as opposed to a school that is for children with Down syndrome. I know there are lots of opinions out there when it comes to a child's eduction (regardless of needs) so if you choose to go another route that's ok also! This is just the way we choose to go. Noah's doing great, and we can't wait to see how he does being around typical children all day.
Noah's the only child with Down syndrome at this particular school so my wife wrote this letter last that that we are going to print out and give to his teachers this morning. I thought I'd share with you.

Needless to say I'm one proud daddy! I love this little boy so-so-so-so much and I'm super excited to see him begin this awesome chapter in his life!
And yes,I'm going to be that dad this morning. The one snapping pictures like crazy. In fact I'm even brining my external flash. I'm about to go TMZ in here!
Dear Teachers
I would like to take a moment to introduce you to our son Noah Smith. He is joining your class today and we are so excited for this next journey in his life. We wanted to take a few minutes to tell you a little bit about our son and let you know that we welcome any questions you may have (we're super proud of him, and love to talk about him.)
Our son was born with Down syndrome which means that he has an extra copy of his 21st chromosome. I don't know if you have had the pleasure of knowing anyone with Down syndrome so I hope you don't mind if I tell you a little bit about what that means. Noah has certain characteristics that are common for children who have Down syndrome including upslanted eyes, low set ears, being a little smaller than you expect for someone his age, but his biggest challenge is hypotonia.
Hypotonia does not mean that he is weak it just means that his muscles are more relaxed. You will find him a bit limp when you pick him up. It has made it challenging to reach his gross and fine motor skills and even affects his mouth with forming sounds. We have been working with an occupational and physical therapist since he was 3 weeks old and he has been doing awesome with that. (He will continue to do therapy on Monday afternoons after school.)
He started walking this summer and is getting more stable every day. You may hear that ALL children with Down syndrome are angels or just the happiest children ever. While our son may be pretty happy, I think you will find that he also gets pretty stubborn, can get upset and cry, and have any emotion that a typical child goes through. In other words, he is no angel. ☺
Down syndrome however is only part of our son and we also want you to know other things about him. Our hope is that he is fully included in a classroom and makes friends as well as learns. He is very curious and likes to explore. You can see his imagination is starting to grow as he is playing with toys. He likes to climb, so you may want to watch your bookcases and tables. It is not ok for him to be sitting on tables no matter how cute he looks up there. He loves music and dancing. He likes looking at books and being read to. He enjoys rolling a ball back and forth and playing peek-a-boo. You will find his laugh is quite contagious.
Don't let him fool you, he does understand the word no. We expect him to uphold the same rules as other children and to be disciplined when needed. If the appropriate behavior is shown to him, he will likely follow along. He learns best by seeing and then mimicking. It may take him longer to process what is said to him so please be patient with him. We have noticed that when we are singing songs if we give him time to process the hand movements and don't rush he will copy what we are doing. I think you will find that he is pretty smart and an excellent problem solver. We are so excited to see how he does surrounded by typical children for him to model himself after.
Although he does not have words yet he knows many signs and is working on his receptive language. He will spontaneously use "eat", "drink", "milk" and "more". He will mimic many more signs specifically "please", "thank you" and "sorry" which I hope you encourage him to use. If you have any questions about signs, we would be happy to help with that. We are working with a speech therapist currently at an outside facility and we hope that this year will be the year of a speech explosion for our little man.
The most important thing about our son is that he is a child first just like any other child. He wants to play and learn. This is reflected in the language that we use. You will never hear us say Down's child he will always be a child who has Down syndrome. This is called people first language. We are not big fans of the r word (retarded). We do not like to refer to children without delays as normal but as typical.
If you have any questions about him or Down syndrome we hope you feel comfortable enough to ask us. My husband has created a blog for our son which we have used to show the world what it is like raising a child with Down syndrome that has videos and helpful tips. Feel free to check it out at Noahsdad.com.
We are very proud of our son and love him more than we could ever express. He isn't sick or suffering. He was simply born with an extra copy of his 21st chromosome. Thanks for the role you are playing in his life, and thank you for all you do to invest in our children. We appreciate you, and hope you'll love our son just as much as we do.
We look forward to getting to know each of you more.
Abbie and Rick Smith