It's amazing how the entire course and direction of your life can change in an instant. A year ago I didn't even know what a Buddy Walk was; much less think I'd ever be participating in one as a parent of child with Down syndrome. But here we were at our first ever Buddy Walk and we had a blast!
What Is The Buddy Walk?
The Buddy Walk was created to celebrate National Down Syndrome Awareness Month (I had no clue there even was a Down Syndrome awareness month) and to "promote acceptance and inclusion of people with Down syndrome." In addition The Buddy Walk is also one of the largest fund raisers for the various local and national Down syndrome organizations.
The way it works is you create a "team" and then set a financial goal for your team. This was our first Buddy Walk and we were a little late to the game, but we still managed to meet 143% of our financial goal! I say we, but I really mean all the awesome people on "Team Noah's Crew!" We were humbled by the number of people who gave financial gifts, many of whom we had only meet through this website and our Facebook page. How cool is that?
A few thoughts about our first Buddy Walk experience…
Since this was my First Buddy Walk I didn't really know what to expect. Actually, let me rephrase that. Since this was my first Buddy Walk, I didn't really know how I was going to feel. I knew there were going to be thousands of people (of various ages) with Down syndrome there, and up until this point most of the people we have meet with Down syndrome have been young children. So I wondered how I was going to feel being around so many adults and teenagers with Down syndrome. Let me explain.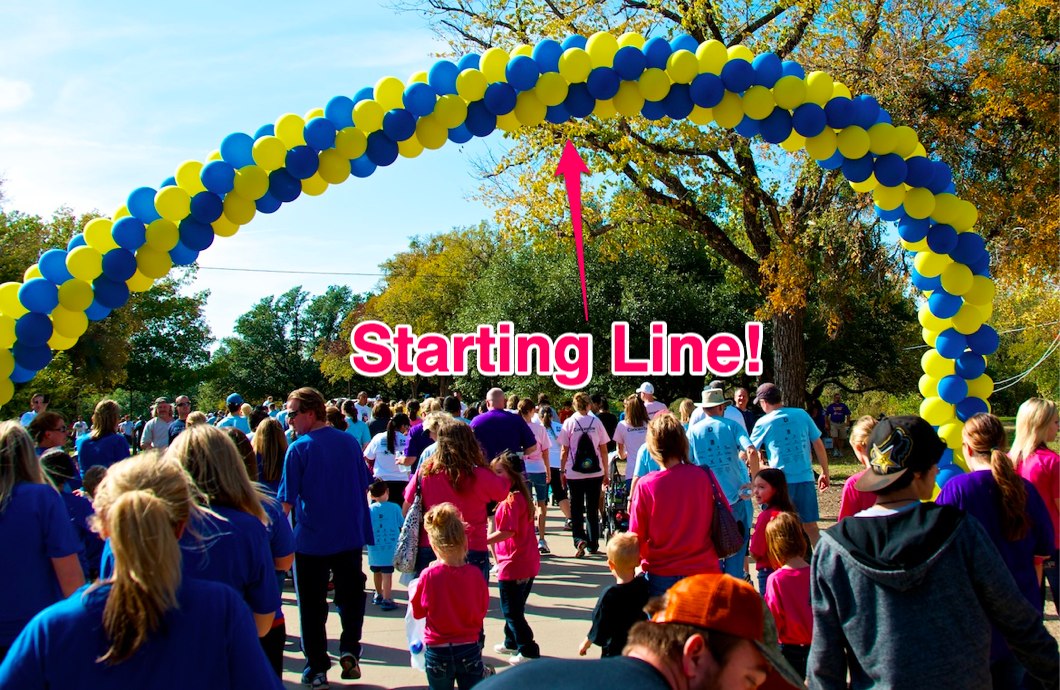 Before I do, I hope you don't mind me being a little transparent here, and if I say something out of line or offensive, I apologize in advance. In no way do I mean any disrespect by anything I'm about to type. So I hope it doesn't come across that way, and if it does I'd like to ask you to extend me some grace. Also, I think much of what I'm about to say relates to any parents thoughts about their child regardless if they have Down syndrome or not. So I'm not 100% sure if the feelings I have come from being a parent of a child with Down syndrome, or simply from being a parent. (I think probably a little bit of both.) 🙂
Strange emotions
Before the Buddy Walk I wondered how I would feel seeing so many adults with Down syndrome. I had meet a few older people with Down syndrome in the last 10 months or so, and after meeting them I always walk away with a strange mixture of emotions. When I met someone much older than Noah, I felt like I was looking at a window into the future of my son's life. I would pay close attention to every detail of our interaction in order to gain an idea about what the future might be for our son. Did he get my joke? What does he like to do for fun? Does he work? Does he talk? If so, could I understand him easily? Does he walk well? Etc..
Sometimes these interactions made me feel sort of sad, other times they deeply encouraged me. In the back of my mind I would try to envision what it would be like if Noah was like the person I had just met. I've meet a wide variety of people with Down syndrome and I'd often ask myself questions like; How would I feel if he couldn't talk? And if he did talk, what if only a few people could understand him? How would I feel if he walked with a limp and struggled to keep up? On the other hand how would I feel if he fell in love, and got married? How would I feel If he had a great job that he enjoyed? How would I feel if he changed the world?
Of course, like any parent, I think my child is the smartest, cutest, most gifted, most awesome kid in the whole wide world. So anytime I met someone older with Down syndrome who wasn't as efficient in (fill in the blank) as society tells us they should be at that age, in the back of my mind I'd think about how much better Noah's going to be at (fill in the blank) when he becomes that person's age.
Silly, huh? I should know better. 🙂
Learning to get rid of the "I"
You'll notice that almost every statement I wrote above contains the word "I."How selfish of me. It's not about what I (think) I want. What I think Noah wants. What I think those nice people I met want (or would prefer) for their life. How arrogant of me to think I know what an optimum way of life is for a person. In fact, every person I've met with Down syndrome seems very content with who God created them to be. (Although they aren't all angles!) 🙂
;
I'm a little behind on our blog, but almost 7 months have passed since the Buddy walk, and I've gotten much better at getting these thoughts out of my mind (quickly) when they start to pop up. I'm learning how much of myself needs to grow and develop. It's been great. 🙂
Letting go of the future, and trusting the one that holds it in His hands
Having a child with Down syndrome has caused me to radically reevaluate my theology of personhood. I'm learning that I'm not the measuring rod of what an ideal person should be like. (In fact, I'm far from it.) Most of all I'm learning to trust God more. I'm learning that He is in charge, not me. I'm learning that He knows best. Not me. And these are great lessons to learn.
;
In the Bible there is a guy named Job who has a lot of questions for God, some of which are quite arrogant. After listening to Job speculate all day long God finally responds to Job by asking him a series a questions meant to demonstrate how little Job knows, and how wise God is:
"Where where you when I created the Earth? Who tells the ocean how far to come upon the shore? Can you find your way to where lighting is launched, or to the place from which wind blows? Can you get the attention of the clouds? Do you know how the hawk learned to fly?
In other words, "You don't know near as much as you think you do Job; so just trust me." 🙂
And so that's what I'm trying to do more and more. To be honest I still struggle with my emotions when I think about what the future holds for Noah. But not as much. I think God would much rather us enjoy today instead of letting the fear of what might (or might not) happen in the future rob us of today's joy. In fact that's exactly what Jesus says in Mark 6:34:
"Give your entire attention to what God is doing right now, and don't get worked up about what may or may not happen tomorrow. God will help you deal with whatever hard things come up when the time comes."
;
If you struggle with the future, I want you to know that God really does have the whole world in His hands (including your families future.) He cares. He knows best. He's REALLY GOOD at what He does. I'm a worrier, so I know how hard it can be to stop playing the future out in your mind as if you already know what it's going to be like. You don't. Only God does. I will tell you that He loves you and your child more than you can ever grasp. So enjoy today. Go hug your child. Play with them. Have some fun. Laugh. Enjoy today, and let God handle the future. It's not always easy, but your not alone on this journey, I'm right there with you. 🙂
;
Have you ever been to a Buddy Walk? If so tell me about it! Also, have you ever struggled with your feelings about the future of your child with Down syndrome? If so how have you worked through that. (P.S. – there's no judging here, so feel free to be as honest as you'd like. Your transparent comments will help others who may be struggling with the same thing.)