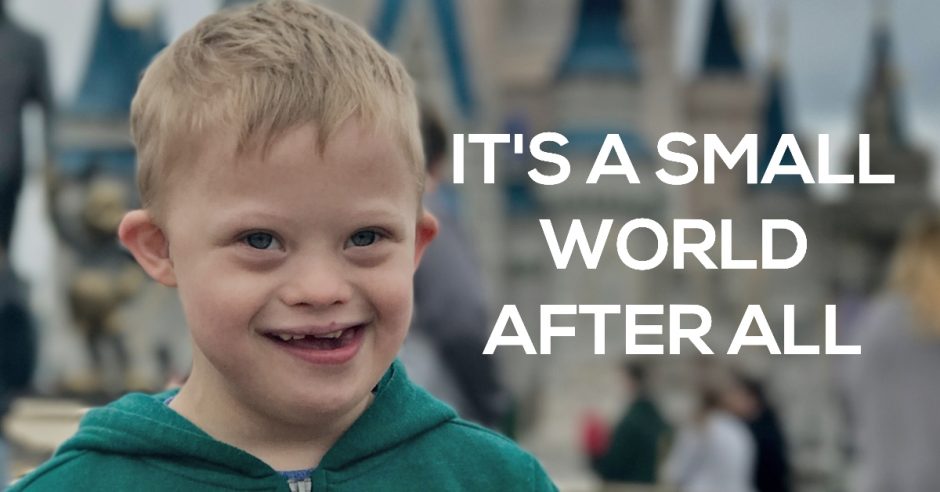 We've been sharing what life is like raising a child with Down syndrome on our website and social media channels for over six years now! It's been awesome to see how God has used our story to give people around the globe hope and encouragement.
Over the years we've received messages, and have seen posts, from people around the world that are raising a child with Down syndrome and have come across our website / Facebook page. In fact, this afternoon I looked at our website analytics and saw that we have had people from over 225 countries visit our website since we've started!
That's amazing!
Down Syndrome Around the World
Yesterday, my wife had an amazing idea to have people in other parts of the world share their story of raising a child with Down syndrome! So, we came up with this wild idea to try to get a story of a parent of a child with Down syndrome from every country that's visited our website in the last 6+ years! (233!)
We live in the United States, therefore our story is told through the lens of a family living in the U.S. Our school system, therapies, day to day activities, traditions, etc., are all distinctly American. However, we know there are children with Down syndrome all over the world, and we think it would be awesome to hear their stories, told through their lens.
In other words, we would like to use our platform to give other people a platform to tell their story!
Here's The Plan
We're looking for families in all of the countries listed below to share what life is like raising a child with Down syndrome in their country. If you're interested in being a part of this project, all you need to do is fill out the form below letting us know what country you're from, a little bit about your family, and a short paragraph telling us why you would like to share your story in this way.
If your story is the one chosen for your country, you'll be sent an email with some various questions for you to answer and email back to us, along with a picture. We'll create a blog post with your story on this blog, share it across our social media channels, and link to it on the list below! (We may even incorporate some other elements, like an Instagram take over, and/or a Facebook live video with you and your family!) (Here's an example of the questions we'll be asking you, and a post for you to reference.)
Please note, once a country's story is complete, we won't be accepting any further stories from that country. You'll know a country's story is complete once you see it hyperlinked to its corresponding blog post in the list below.
I think this is going to be an amazing project that will help people get a different perspective on what it's like raising a child with Down syndrome. I'm looking forward to reading (and sharing!) your stories.
If you're interested in being a part of this project, simply fill out the form below. If you know a parent raising a child with Down syndrome in one of these countries, will you please share this post with them? Thanks!
Countries of Parents Raising a Child with Down Syndrome
Afghanistan
Åland Islands
Albania
Algeria
American Samoa
Andorra
Angola
Anguilla
Antigua & Barbuda
Argentina
Armenia
Aruba
Australia
Austria
Azerbaijan
Bahamas
Bahrain
Bangladesh
Barbados
Belarus
Belgium
Belize
Benin
Bermuda
Bhutan
Bolivia
Bosnia & Herzegovina
Botswana
Brazil
British Virgin Islands
Brunei
Bulgaria
Burkina Faso
Burundi
Cambodia
Cameroon
Canada
Cape Verde
Caribbean Netherlands
Cayman Islands
Central African Republic
Chad
Chile
China
Colombia
Congo – Brazzaville
Congo – Kinshasa
Cook Islands
Costa Rica
Côte d'Ivoire
Croatia
Cuba
Curaçao
Curaçao
Cyprus
Czechia
Denmark
Djibouti
Dominica
Dominican Republic
Ecuador
Egypt
El Salvador
Equatorial Guinea
Eritrea
Estonia
Ethiopia
Falkland Islands (Islas Malvinas)
Faroe Islands
Fiji
Finland
France
French Guiana
French Polynesia
Gabon
Gambia
Georgia
Germany
Ghana
Gibraltar
Greece
Greenland
Grenada
Guadeloupe
Guam
Guatemala
Guernsey
Guinea
Guinea-Bissau
Guyana
Haiti
Honduras
Hong Kong
Hungary
Iceland
India
Indonesia
Iran
Iraq
Ireland
Isle of Man
Israel
Italy
Jamaica
Japan
Jersey
Jordan
Kazakhstan
Kenya
Kiribati
Kosovo
Kuwait
Kyrgyzstan
Laos
Latvia
Lebanon
Lesotho
Liberia
Libya
Liechtenstein
Lithuania
Luxembourg
Macau
Macedonia (FYROM)
Madagascar
Malawi
Malaysia
Maldives
Mali
Malta
Marshall Islands
Martinique
Mauritania
Mauritius
Mayotte
Mexico
Micronesia
Moldova
Monaco
Mongolia
Montenegro
Montserrat
Morocco
Mozambique
Myanmar (Burma)
Namibia
Nauru
Nepal
Netherlands
New Caledonia
New Zealand
Nicaragua
Niger
Nigeria
Norfolk Island
North Korea
Northern Mariana Islands
Norway
Oman
Pakistan
Palau
Palestine
Panama
Papua New Guinea
Paraguay
Peru
Philippines
Poland
Portugal
Puerto Rico
Qatar
Réunion
Romania
Russia
Rwanda
Samoa
San Marino
São Tomé & Príncipe
Saudi Arabia
Senegal
Serbia
Seychelles
Sierra Leone
Singapore
Sint Maarten
Slovakia
Slovenia
Solomon Islands
Somalia
South Africa
South Korea
South Sudan
Spain
Sri Lanka
St. Barthélemy
St. Helena
St. Kitts & Nevis
St. Lucia
St. Martin
St. Pierre & Miquelon
St. Vincent & Grenadines
Sudan
Suriname
Svalbard & Jan Mayen
Swaziland
Sweden
Switzerland
Syria
Taiwan
Tajikistan
Tanzania
Thailand
Timor-Leste
Togo
Tonga
Trinidad & Tobago
Tunisia
Turkey
Turkmenistan
Turks & Caicos Islands
U.S. Virgin Islands
Uganda
Ukraine
United Arab Emirates
United Kingdom
United States
Uruguay
Uzbekistan
Vanuatu
Venezuela
Vietnam
Yemen
Zambia
Zimbabwe
I'm really excited about this project! I have no idea how long it's going to take to a find a parent in each of these countries, but I think we'll have a lot to learn! Stay tuned. What do you think about this project? Leave a comment and let us know.
Be sure to enter your email in the box below to be notified when new posts are published!