I know what you're thinking….
"Wow, you guys sure are mean parents!"
But before you report us to child protective services I promise you we don't make a habit out of provoking our child to cry….even if he does look super cute in the process! 🙂
Wonder….Curiosity….and an iMac!
Our little boy is growing in leaps and bounds. It is so much fun having a front row seat to his daily adventures! (and seeing those physical therapy goals pay off!)  It's amazing watching his sense of wonder and curiosity develop.  Noah is fascinated by anything  and everything he can get his tiny little hands on (especially hair….ouch!) I love being Noah's dad!
I love holding Noah on my lap while I work on various tasks (aka – making a mess on our dining room table) while he watches in amazement as if everything his dad is doing is the most interesting thing on the planet! (Even though to him, in that moment, it is.)  He typically just places his tiny little hands on my fingers as I type while he just relaxes and enjoys the sensory stimulation of my hands bouncing up and down as I type on the keyboard.  (It's seriously one of the cutest things ever.)
But tonight something happened…….
Hey, Where Did My "Little Angel" Go….!?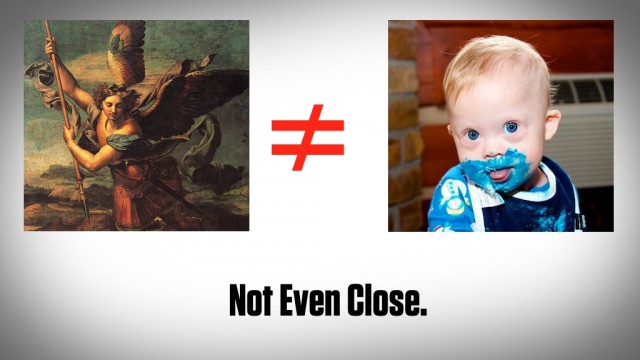 Tonight he did more than just relax.  Tonight our little Noah crossed the line from 'cute and innocent Noah' to  'I've got you wrapped around my tiny little fingers Noah!'
It's true, at only 9 months old our cute, innocent, sweet, little angel has mastered the art of manipulating his daddy!  (I'm not sure where manipulation is on the developmental milestone chart…but I'm pretty sure he hit this one right on time!)
But wait…How did this happen!  Aren't all children born with Down syndrome perfect little angels?  That's what everyone always tells me!  Where did he learn to do this!  I never saw Bert teach Ernie how to manipulate on an episode of Sesame Street.  I checked his bookshelf and didn't see a copy of "The Berenstain Bears Manipulate Their Neighbors!"  And I've never heard Yo Gabba Gabba sing "It's Time To Manipulate Your Daddy!"
Hmmmm…maybe it was just something he was born knowing how to do.
Maybe the next time someone says to me
"Awww…all children born with Down syndrome are just little angels, aren't they?"
I'll direct them to this. 🙂
(Quick Note To Parents Not Raising Children Born With Down Syndrome:  I was already well aware that Noah wasn't an angel before tonight. Unfortunately, being born with 3 copies of your 21st chromosome doesn't make a person sin-less. I think some people think that one of the characteristics of Down syndrome is perfect. Ha,ha. It's just not true.
Being born with Down syndrome means you're fully human…not fully perfect.  If you're one of those people who goes around thinking (or saying!) that all children born with down syndrome are little angels, I'm giving you permission on behalf of all parents of children with special needs everywhere to say something a little more creative (and true.)  For example feel free to ask any parent this question, "So what's the last dumb/stupid/ignorant/funny thing someone has said about your child."   I'm sure you'll get much more interesting responses….trust me! 🙂
By the way, be sure to follow Noahs Dad on twitter. And be sure to say hello. We'd like to "tweet" you! 🙂
How old was your little one when you first realized he wasn't a little angel after all? Do you remember what happened? Take a second to share…this ought to be good!