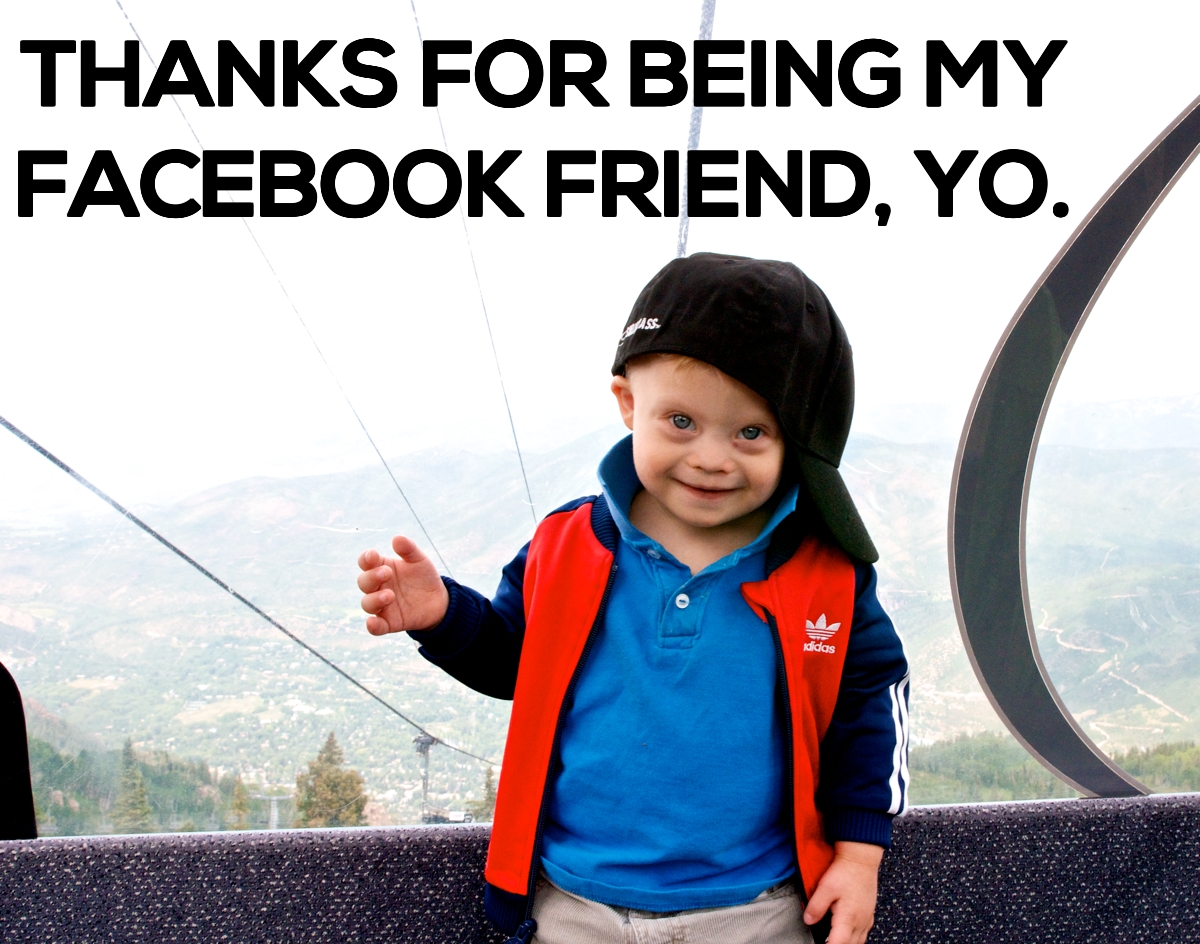 It's hard to believe that our official Facebook page passed the 50,000 mark last month! I can still remember the day I started this page (and our blog) back in May of 2011 (which means we're only a little more than two years old!) and trying to get just twenty five of my friends to "like" Noah's page so we could get a custom URL! Thanks to my mom, brothers, wife, and friends for making that happen!
It's hard to believe we've only been telling our boy's story for only a little over two years. It goes without saying that I never expected this thing to take off like it has. Our family has made countless friendships literally all over the world through this blog and our Facebook page.
In addition to the friends we've made, we also receive messages on an almost daily basis about how this blog and Facebook page has been a source of encouragement and hope for parents who have received a Down syndrome diagnosis…which is awesome since creating Down syndrome awareness is one of the main reasons I started doing all of this in the first place!
7 Amazing Statistics From Noah's Facebook Page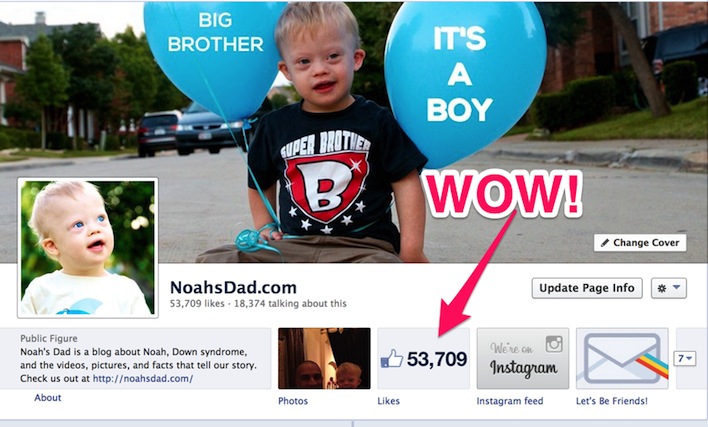 Since 50 thousand Facebook fans is a pretty awesome milestone I thought it would be fun to share a few statistics with you about who is part of this amazing community! I think you'll see that we (our collective group of Facebook fans) are really making an impact around the globe, and truly showing the world that Down syndrome is ok!
1. Our Facebook Page Is Reaching An Average Of Over A Million People Per Month!
Without a doubt the most amazing about our Facebook community (and the entirety of our social media proprieties including this blog) is just how massive of an audience / community we have created. Our little boy has developed a very large platform, and it's not something we take lightly.
The following screen shot is from just one week of Facebook activity. You can see the total reach of our Facebook page is over 400 thousand a week, which easily puts the reach of the just the Facebook page to over a million and a half people a month!
When you add to that the number of people who connect with us on this blog, our twitter, Google Plus, Pinterest, Instagram, YouTube channel and email list, the numbers are staggering! As you'll see below, not only are we reaching lots of people, we're reaching lots of people across the globe!
Thank you for being a part of this journey with us. It's amazing to see how God is using our little boy to bring hope and encouragement to so many people all across the world. What a privilege and honor it is to be a part of this!
By the way, if you haven't signed up to get our newest posts by email, be sure to enter your email below so we can stay connected!
2. Next To The United Stated More People Visit Our Facebook Page From Pakistan Than Any Other Country In The World!
It's amazing to see all of the countries that people who visit our Facebook page are from. At the time of this writing we have 53,709 Facebook fan, and of those 25,744 are from the United States, 5, 463 are from Pakistan, followed by 3,519 from the United Kingdom, and 3,286 from Egypt.
It's really amazing to think about the kind of world wide impact our little 2 year old is making. I would have never imagined when Noah was born that he would be making an impact literally around the globe! 
For those of you interested, below you will find the top 45 countries along with how many "fans" of our page are from that country. Pretty cool, huh? It's awesome to know there are people living with Down syndrome are over the world!
(By the way, if you are reading this post please be sure to leave a comment below letting us know where you are visiting from!)
United States of America – 25,744
Pakistan – 5,463
United Kingdom – 3,519
Egypt – 3,286
Argentina – 2,655
Canada – 2,119
Brazil – 2,112
Philippines – 969
Australia – 968
Ireland – 879
India – 709
Greece – 426
Indonesia – 415
Mexico – 363
Germany – 285
Bosnia & Herzegovina- 229
Saudi Arabia – 209
New Zealand – 196
Malaysia- 181
Iraq – 151
Italy – 132
Netherlands – 129
Trinidad and Tobago – 126
Sweden – 118
South Africa – 113
Turkey – 111
France – 98
Spain – 95
United Arab Emirates – 84
Norway – 58
Portugal – 56
Romania – 51
Venezuela – 48
Thailand – 45
Poland – 45
Puerto Rico – 44
Croatia – 43
Colombia – 41
Chile – 41
Ecuador – 40
Singapore – 40
Hungary – 40
Georgia – 37
Denmark – 36
Uruguay – 31
By the way, I want to give a special shout out to the 31 people who visit our Facebook page from Uruguay! I admit, I had no idea where Uruguay was located, but now I do!
3. More People Visit Our Facebook Page From Karachi, Pakistan Than Any Other City In The World!
I found this statistic very interesting: when you look at the individual cities where people are Facebook fans are from, Karachi, Pakistan ranks number 1! At the time of this writing we have 1,1779 fans in Karachi compared to the 530 fans we have here in Dallas (where we actually live!)  In other words, more people visit our Facebook page from Karachi, Pakistan than that are from Dallas, TX…that's awesome!!!
In fact, Dallas is number 5 on the list, with Cairo, Egypt taking the number two spot!
Once again, there are people with Down syndrome living all over the world!
If you're curious here's a list of the top cities where are "fans" are located. Do your see your city on here? Are you as surprised as I am at any of the cities you see on the list?
Karachi, Sindh, Pakistan – 1,779
Cairo, Al Qahirah, Egypt – 1,629
Lahore, Punjab, Pakistan – 963
Dallas, TX – 530
Alexandria, Al Iskandariyah, Egypt – 526
Buenos Aires, Distrito Federal, Argentina – 444
Islamabad, Pakistan- 403
London, England, United Kingdom – 323
Rawalpindi, Punjab, Pakistan – 286
Chicago, IL – 278
Houston, TX – 259
Dublin, Ireland – 239
São Paulo, Brazil – 221
Fort Worth, TX – 220
New York, NY – 199
Hyderabad, Sindh, Pakistan – 196
Toronto, ON, Canada – 175
Rio de Janeiro, Brazil – 167
Faisalabad, Punjab, Pakistan – 161
San Antonio, TX – 159
Los Angeles, CA – 152
Phoenix, AZ – 143
Cincinnati, OH – 142
Giza, Al Jizah, Egypt – 139
Atlanta, GA – 139
Melbourne, VIC, Australia – 138
Boston, MA – 136
Austin, TX – 135
Sydney, NSW, Australia – 133
Sialkot, Punjab, Pakistan – 132
San Diego, CA – 130
Gujranwala, Punjab, Pakistan – 130
Manchester, England, United Kingdom – 123
Athens, Attiki, Greece – 119
Philadelphia, PA – 114
Arlington, TX – 110
Denver, CO – 107
Multan, Punjab, Pakistan – 104
Belfast, Northern Ireland, United Kingdom – 104
Pittsburgh, PA – 98
Minneapolis, MN – 97
Córdoba, Cordoba, Argentina – 92
Glasgow, Scotland, United Kingdom – 92
Louisville, KY – 92
Indianapolis, IN – 92
4. 80% Of Our Visitors Are Female.
This one wasn't surprising to me. I know that mom's tend to be more "into" stuff like this. Heck, let's be honest…my blog is really a mommy blog by a dad. It's all good.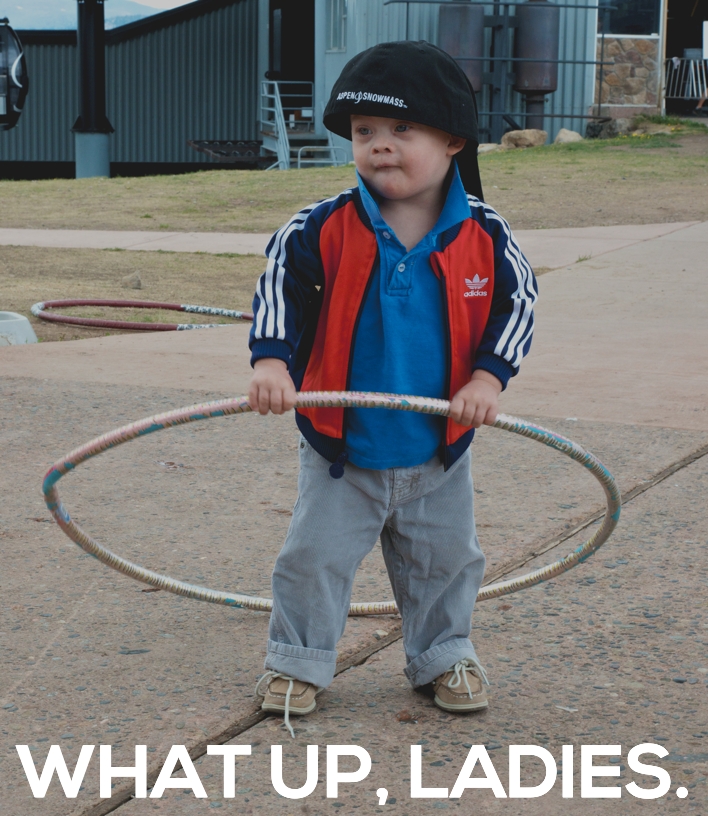 So any way, shout out to all the ladies out there!
5. Almost 50% of our Facebook Fans are Women between the ages of 25 and 44
Again, not a huge surprise here either. Check out the chart to see more details about the age and gender of our Facebook friends!

6. More people visit our Facebook Page On Friday Around 3 PM Than Any Other Day / Time
Most of our Facebook fans seem to be online on Friday afternoons, but surprisingly almost an equal number of our fans are online all seven days of the week. And even though our largest group of fans are online during the 3 o'clock hour, it's actually pretty steady from about nine in the morning until about four in the afternoon.
Since about 80% of our Facebook fans are women, almost half of those women are between the ages of 25-44, and the majority of our visits occur between 9 am – 4 pm, my assumption is there are a good number of stay at home moms checking out our Facebook Page while their kids are at school. I could be totally wrong, but it seems to support the data.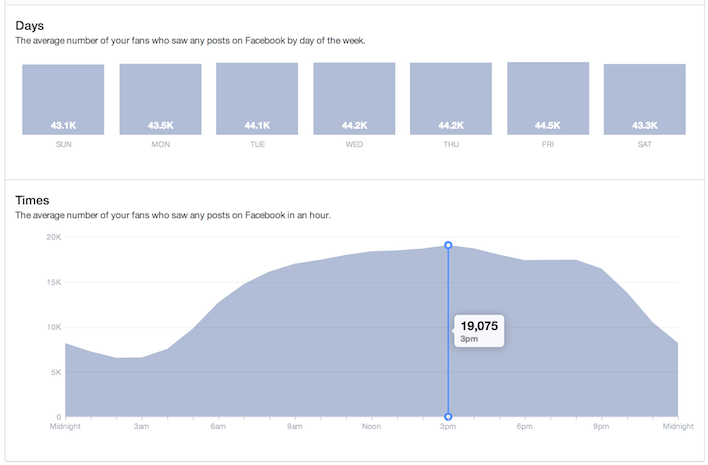 Another interesting statistic is that there are over 6,5000 fans checking out our Facebook page 24 hours a day….even in the wee hours of the morning. Crazy, huh?
7. We Get Facebook Messages Like This On A Regular Basis
I wish I could post every email / Facebook message that we receive. While we don't get a chance to reply to all of them we do them all, and they encourage us greatly. We literally get messages from all over the world, many of them just like this one:
"Hello, I have just had my screening test, and was given a high risk of having a child with Trisomy 21, I have read your story and had liked your Facebook book page. I have been so scared and worried and been crying since I found out my results, you have really given me  hope and made me,feel somewhat at rest and help me know that my life isn't ending. Thank you so so for your page and your story. Your little boy is a stunner."
Emails like this keep me going and really remind my why I keep this blog going. If you've ever sent me an email or left a comment on my blog or Facebook with a note of encouragement or telling me a story like the one above, THANK YOU, THANK YOU, THANK YOU! You have no idea how much that means to me, please keep them coming! 🙂
One More Thank You!
Our entire family can't say thank you enough for all of your encouragement these last few years. It's truly been our pleasure to get to know so many of you (some of whom we've even got to meet in real life.) We're looking forward to continuing to share our story with your and learning more about yours, both on our Facebook page, and this blog!
Which of these Facebook statistics stood out the most to you? How long have you been following us on Facebook, and do you remember how many fans our page had when you first "liked" it? Leave a comment below and let us know…also be sure to let us know where in the world you're from and how our Facebook page has encouraged you. Thanks so much! Here's to meeting another 50 thousand friends!