After having a ton of fun at yesterday's party, Noah woke up early to get a little play time in with his eight month old cousin Georgiana before she (and her family) left to go back to Denver.  It's so cute watching these two adorable babies play!  Noah had so much fun.
We were glad that Abbie's brother, wife, and their two kids could hang out with us this during our vacation. We don't get a chance to see them often, and it was really fun to be all together.
Carbondale Mountain Fair
After Abbie's brother's family headed out we decided to check out a local fair that was in town called the Carbondale Mountain Fair.  My wife's parents live in a small town near Aspen, and the views are simply breathtaking.
I'm not sure if the clouds are always this big and fluffy when I visit, but I couldn't stop taking pictures like this while I was there.  Trust me when I say that the pictures don't do justice to how spectaculaur these skies were.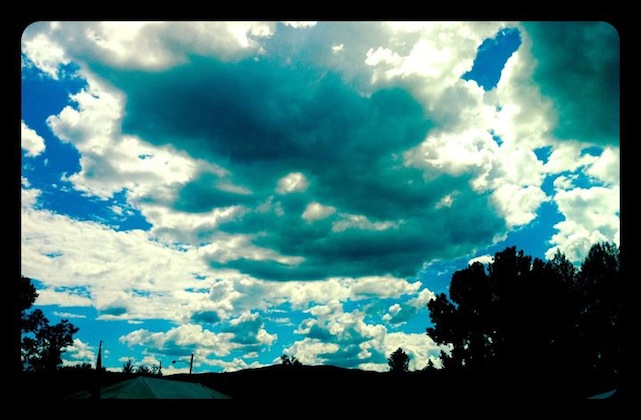 While my wife and mother in law were busy looking at the various art and jewelry for sale, I lucked out and found a guy selling old fashioned soda! I had a hard time picking out a flavor, but eventually settled on strawberry cream soda.
We spent a few hours at the fair, and although I missed the woodcutting contest, I had a great time.  And I think Noah did also.  Here are a few pictures from our day, I think you'll agree that the sky was amazing!
I'm a huge fan of fairs. Small or large. In fact I look forward to the State Fair of Texas all year long!
I like to watch the vendors who sale stuff…they crack me up.  I actually bought a really awesome blender from one of the fair vendors once, and it gets a lot of use. Oh, and a make-your-own-soda-from-home-kit, but let's not talk about that.
How about you? Are you a fair fan, or would you much rather stay home? If you are like me, what's your favorite thing to do at the fair?