A few days ago I wrote about how our son reminded me of a muppet baby because of all the wonderful adventures he has in his crib while he should be sleeping. Tonight I learned that not only does our son prefer to choose-his-own-adventure just before bed time, but he also enjoys using that time to perfect his crawling skills as well. Our son has learned that his crib can also function as learning-to-crawl-exericse-machine. Thankfully the breathable bumpers keep his head from banging against the wood.
This boy is so creative…!
Crawling Ain't Easy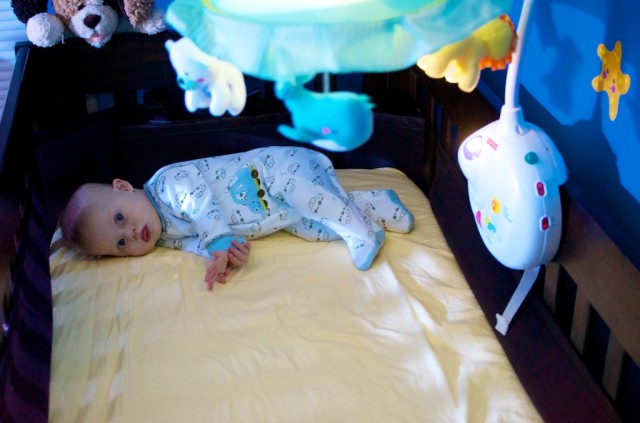 Noah's physical therapist has been spending a lot of time recently on helping Noah learn how to crawl.
For all of you out there who are new to this whole baby thing like we are, let me just say this…a lot goes into learning how to crawl! She spent months helping him develop some much needed core strength (which allowed him to sit up on his on) before moving on to the stage he's in now, learning how to prop himself up (and stay) on his hands and knees. It's so much fun watching him learn, and grow, and develop. Even though he's only 9 months old I can tell he already feels a great sense of accomplishment because of all the goals he achieves every day. And he should.
As I said a million times, I'm so proud of this little boy. It's as if God baked in an extra spoon full of hard work and determination into that extra 21st chromosome of his.
I love being this little boy's daddy.
What goals are you working on with your kids right now?