It's funny how things work out sometimes. After our Target post went viral I really wanted to find a way to get a hold of the family whose little boy appeared inTarget ad I had blogged about. When I published that post, I had no idea their son's picture was going to be plastered all over the media. I had no idea if they even knew what was happening, but from all of the calls we were getting from various media outlets about the post, I knew it was only a matter of time before they found out. I really wanted to connect with them so I could tell them what had happened before the media started blowing up their phones (or even worse, coming to their home!)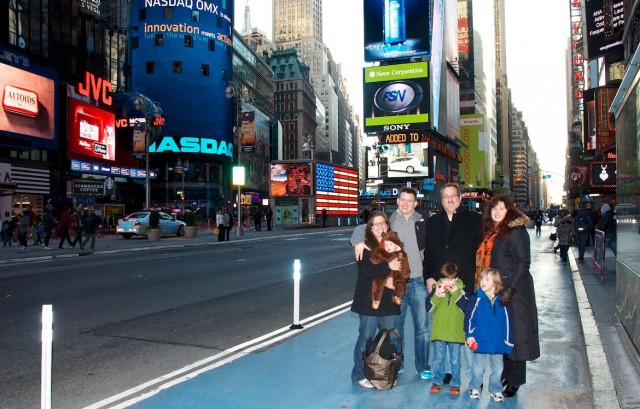 Hanging out in Times Square!
However, I didn't even know this little boy's name, much less how to get a hold of his parents. Even if I reach them, I wondered if they were going to be upset at me for indirectly bringing their family into the spotlight. Regardless, I still wanted to find a way to reach them.
As it turns out Ryan Langston (the little boy with Down syndrome in the Target ad) also appeared in an advertisement for Nordstrom, which I happened to also blog about months before this Target ad came out. I had no idea this was the same child until someone pointed it out. Then I remembered that little boy's mother commenting on the post, therefore I had her email address, thus a way to (hopefully) reach them!
I sent her an email and we connected on the phone shortly after. We talked for a while about all of the media attention this ad was getting, we talked about each other's families, and what life was like raising twins; one of whom has Down syndrome. (I found out Ryan has a twin brother, Ian.)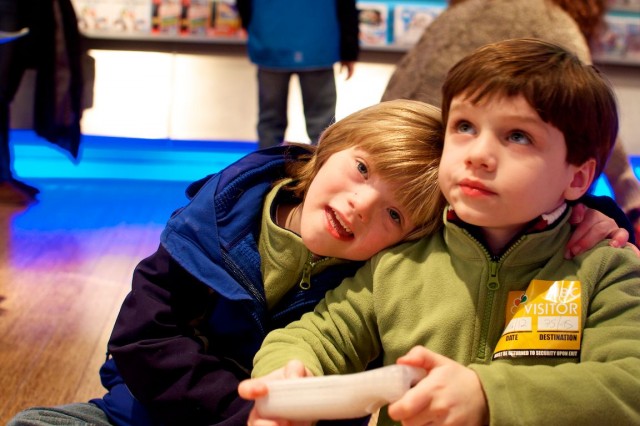 Ryan and his twin brother, Ian
What's even more fun is we had a trip to New York planned before this Target post went viral, so we arranged to meet up with Ryan's family while we were in New York. In fact, we had been talking with some folks at NBC Nightly News about doing a special segment with Ryan's family, but we would have had to arrive in NYC a few days before we had planned, and we weren't able to make it work, schedule wise. But if you didn't see the segment NBC Nightly news did on Ryan and his family, you can check it out here. I thought they did an excellent job!
However, we did make some good friends at NBC and they invited our two families to 30 Rock to hang out with them for a bit, and get a behind the scenes tour of 30 rock, where NBC's corporate offices are located.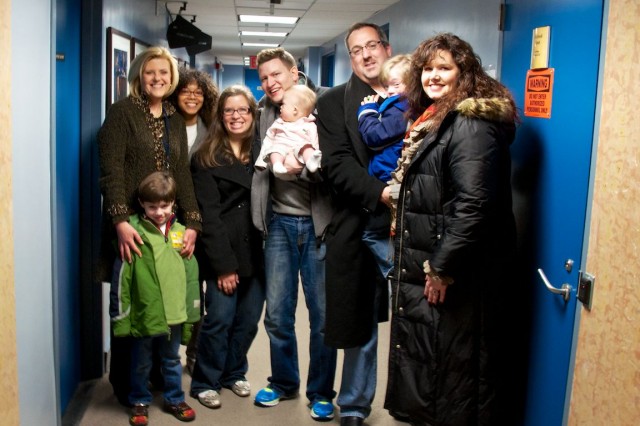 Thanks to the NBC Nightly News folks for a great time!
If you aren't familiar with 30 Rock, it's where a number of NBC's television show's are produced. I've been on the tourist's tour of 30 Rock before, but Ann Thompson and the crew we were with from NBC was able to give us a more advanced tour. It was awesome.
One thing I don't remember seeing on past tours were these pipes hidden away in one of the back hallways of 30 Rock. The pipes were actually painted by Jim Henson, creator of The Muppets. I thought the story behind these pipes was especially interesting.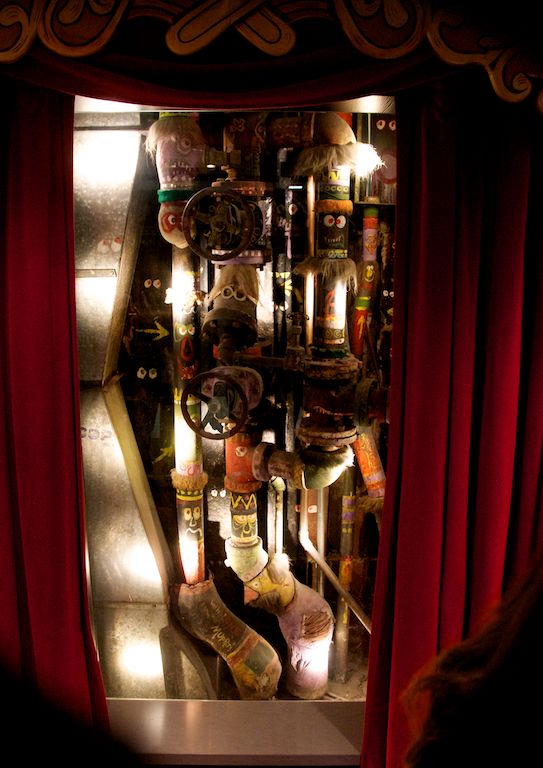 The Muppet Pipes!
We wondered around for a bit, and ended up on the set of Late Night With Jimmy Fallon.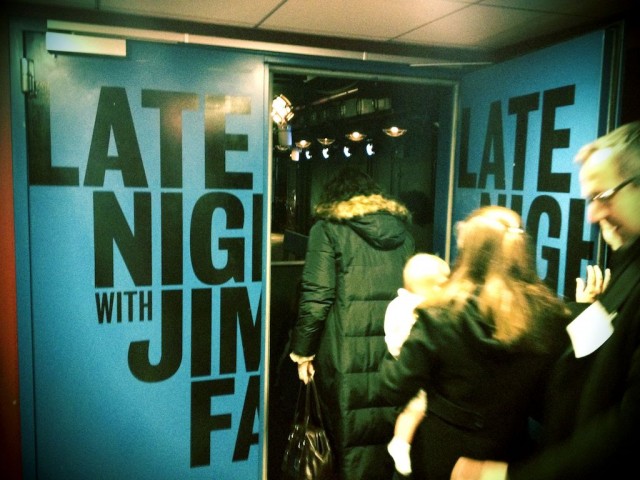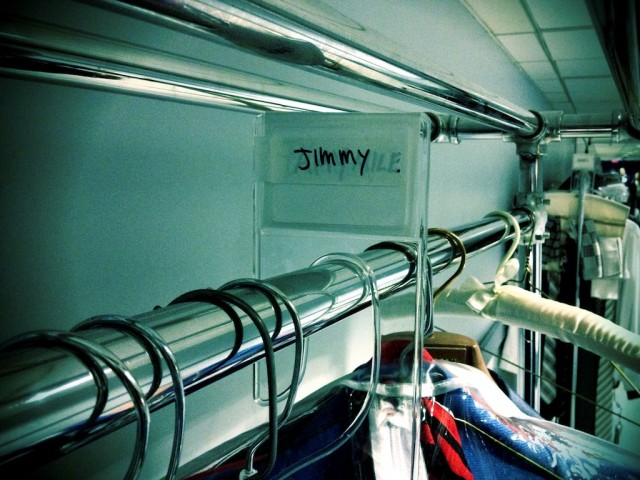 Jimmy's wardrobe for the night.
What was really funny was the actually got kicked out of Jimmy Fallon's set!  Ann Thompson (a reporter for NBC Nightly News) snuck us on to the set, and the crew that was working didn't recognize her, and ended up kicking us all out. Ann didn't say give them any hassle, or even mention who she was. She just said, "Ok, sorry." as we walked out. We all got a chuckle out of it. Hilarious.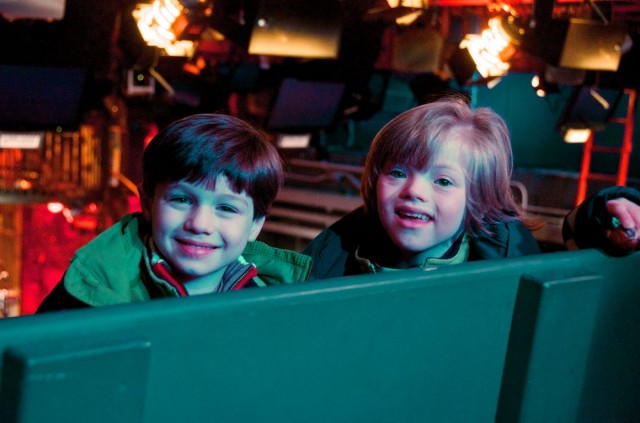 Ryan and his brother on the set of Jimmy Fallon
Afterwards we ended up heading to the set of one of my favorite shows, Saturday Night Live!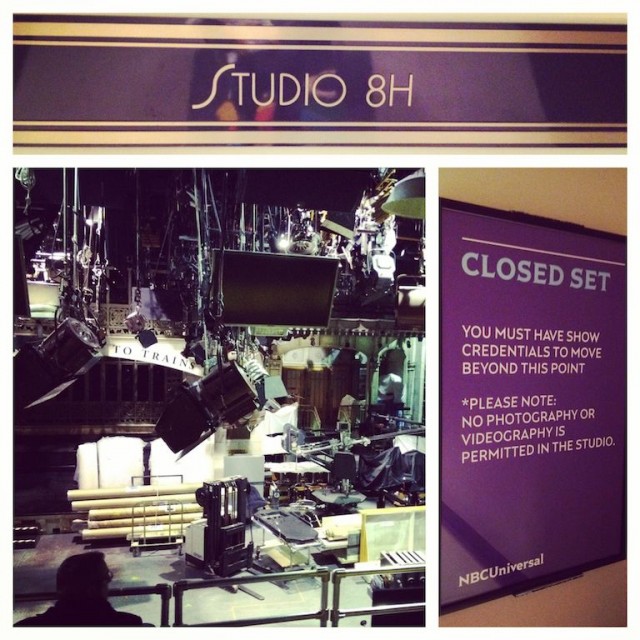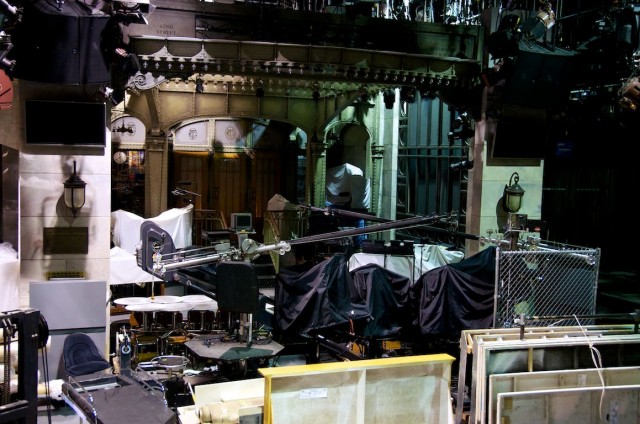 SNL Stage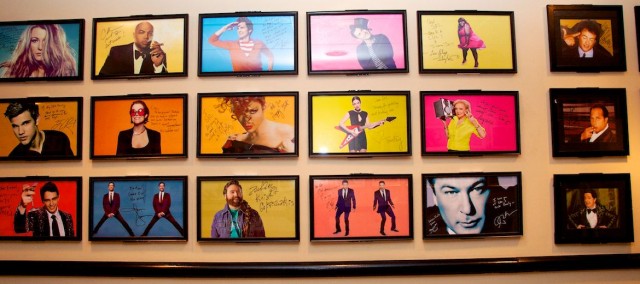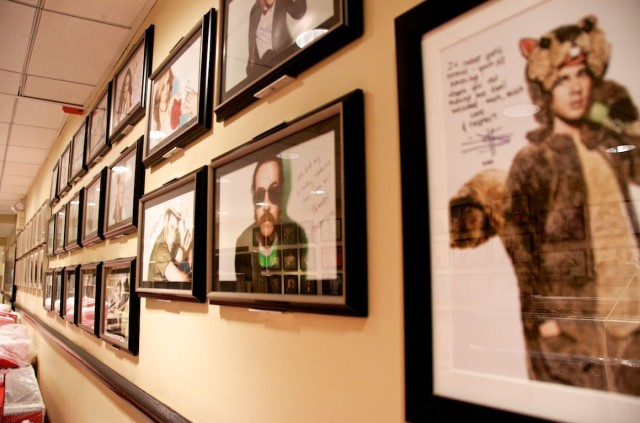 Here are some more pictures from our time at NBC. BIg thanks to everyone at NBC Nightly News for being so kind and welcoming, and for the great tour! We look forward to saying hello again next time we're in NYC!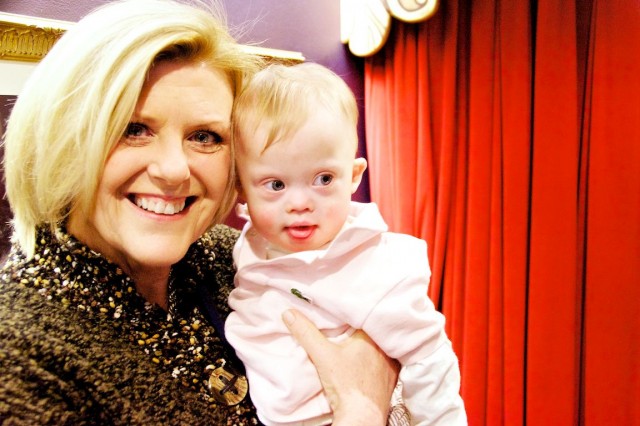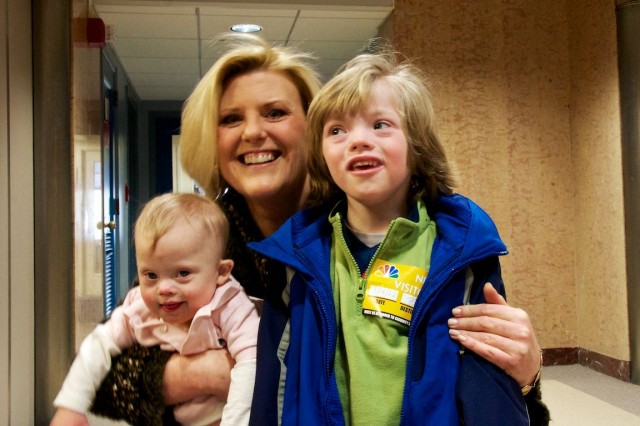 Ryan and Noah hanging out with Ann Thompson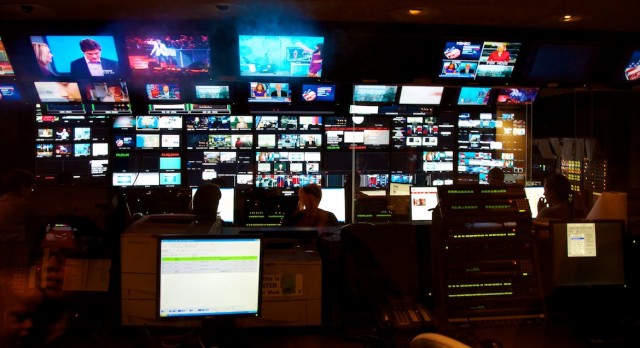 Lots going on in this room!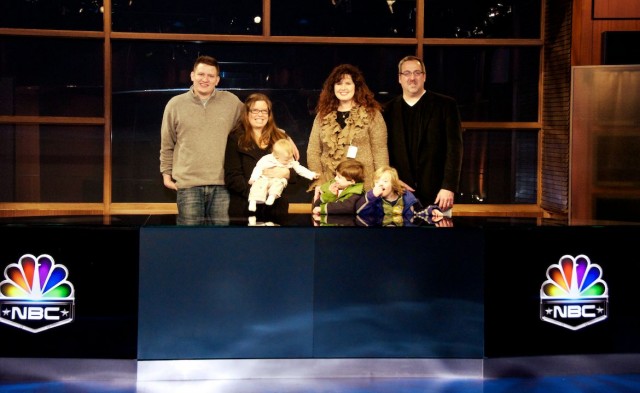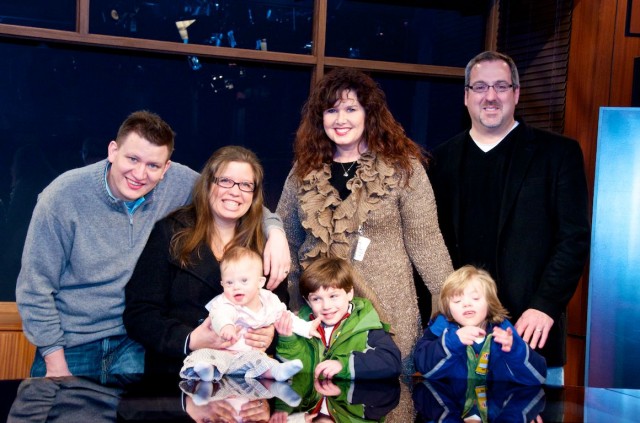 After our tour we spent some time walking around the city, and hanging out at a few of my favorite places in NYC, before grabbing some lunch.
The Nintendo World Store is always on my places to visit in New York!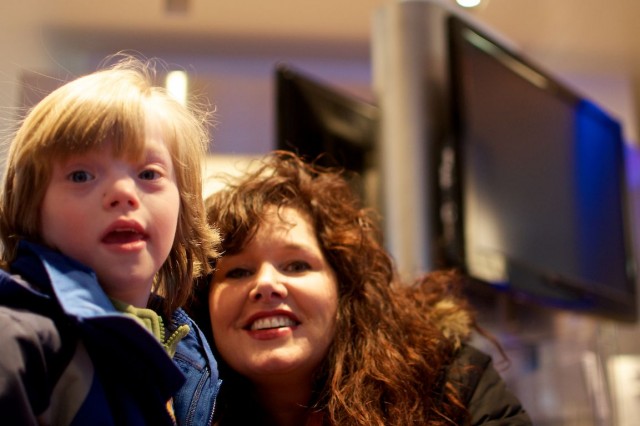 Ryan and his mommy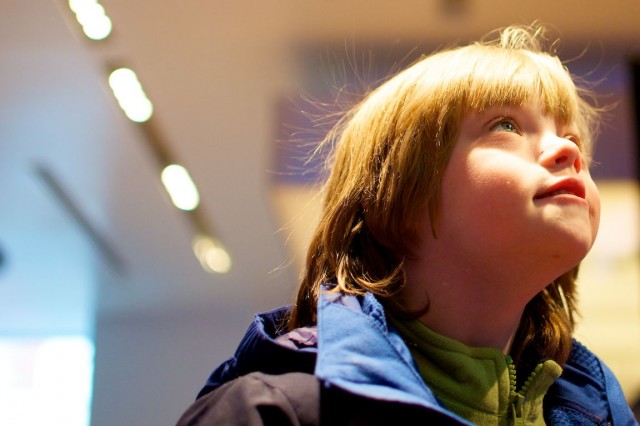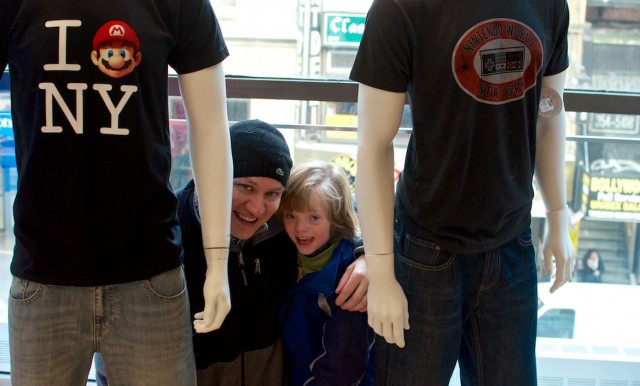 Hanging out in Nintendo World, NYC.
Then to Toys R Us….again! (As you can see, Noah was happy about that.) 

 By the way, be sure to watch today's video to see Ryan's reaction to meeting the T-Rex inside of Toy's R Us. It's classic! (Scroll up to the top of this post to watch the video.)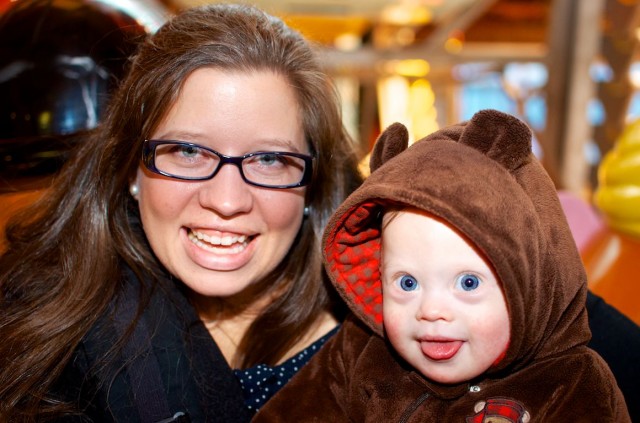 He loves his mommy!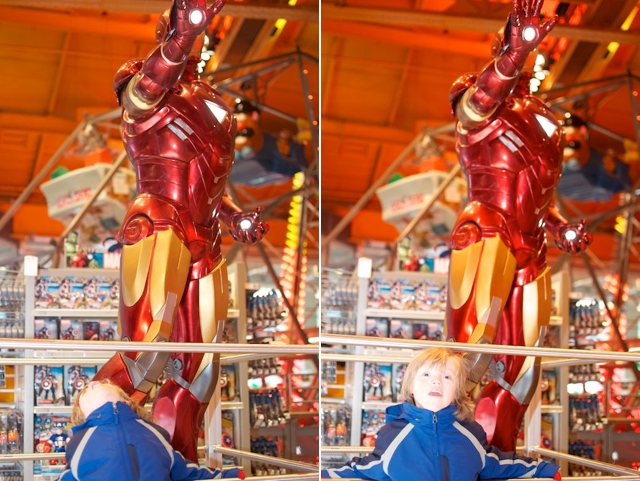 Ryan is a fan of Ironman!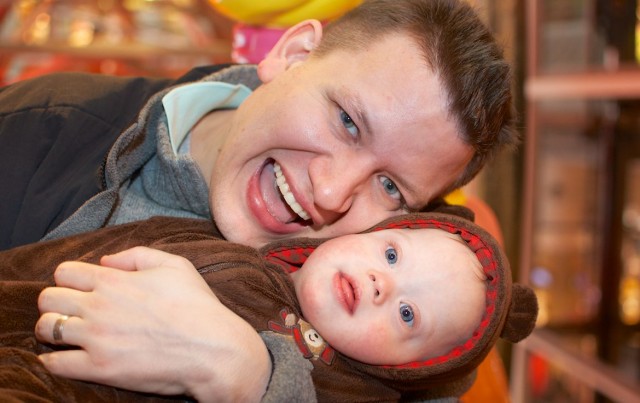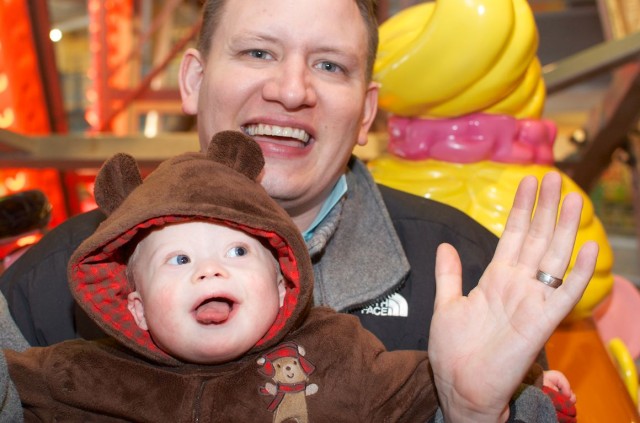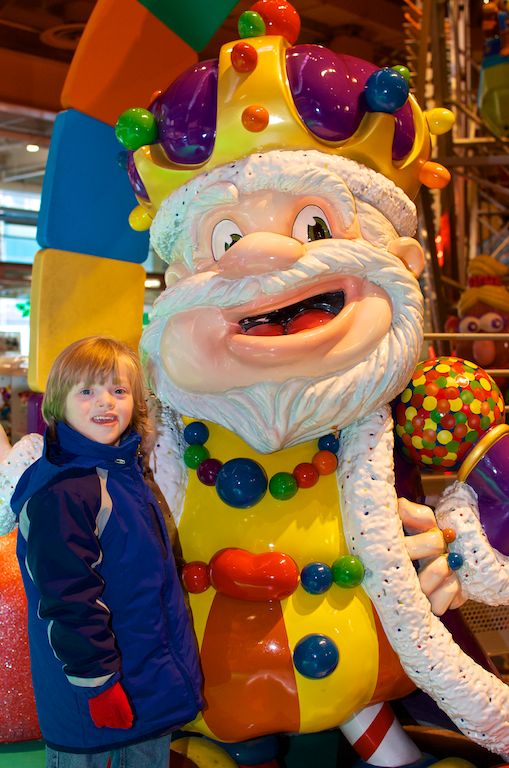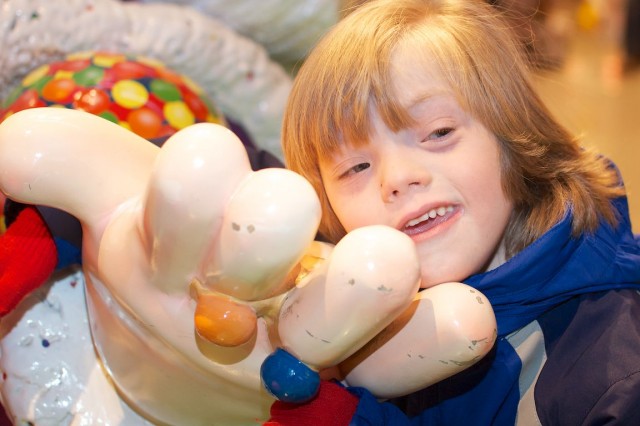 And finally lunch time…..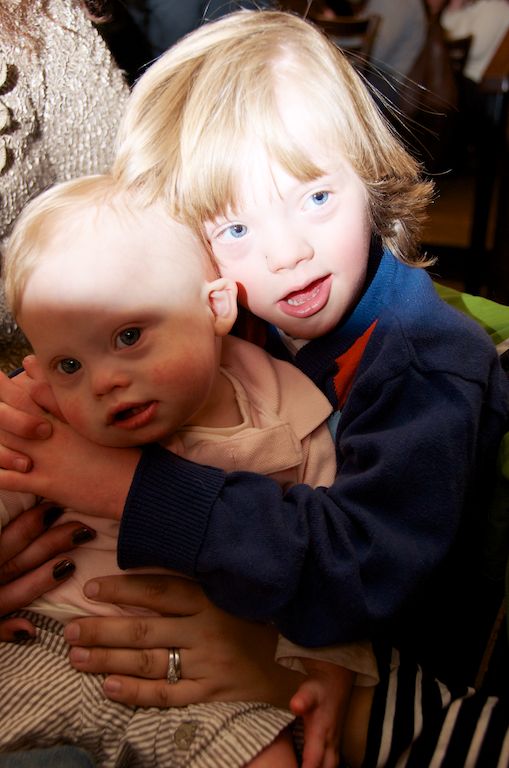 Noah likes his new buddy, Ryan.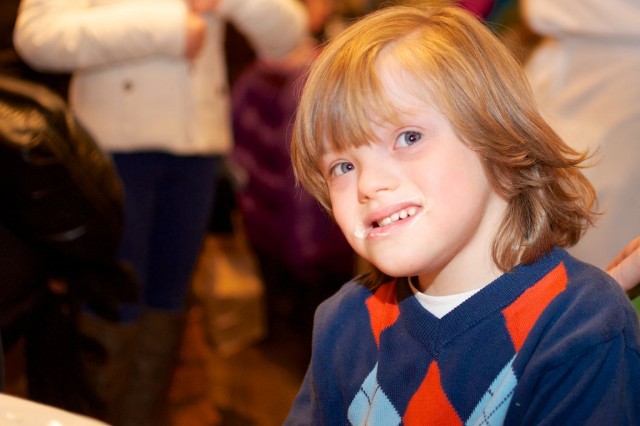 Ryan's all smiles!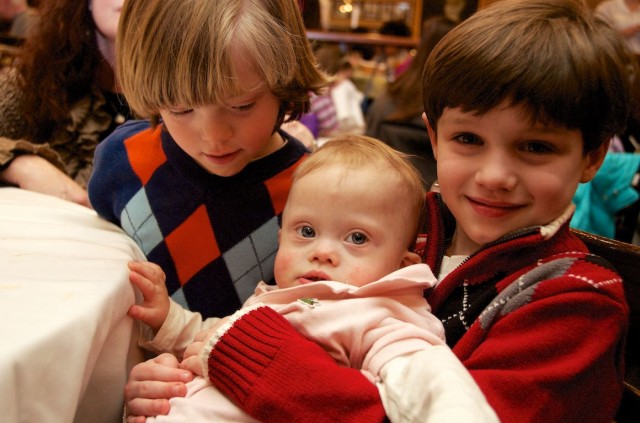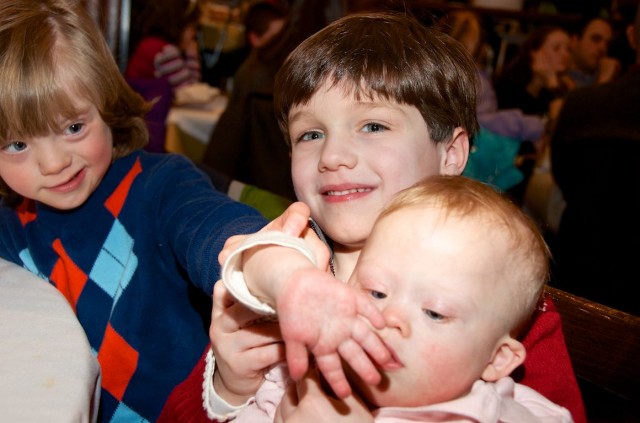 Fingers for lunch? Sure, why not!
After dinner we took a few pictures in Times Square before saying good bye to the Langston's. It was so much fun to hang out with them. In fact, one of the best parts of the Target post going viral was the friendship we made with their family. We're looking forward to staying friends with the Langstons, and seeing them again the next time we're in New York.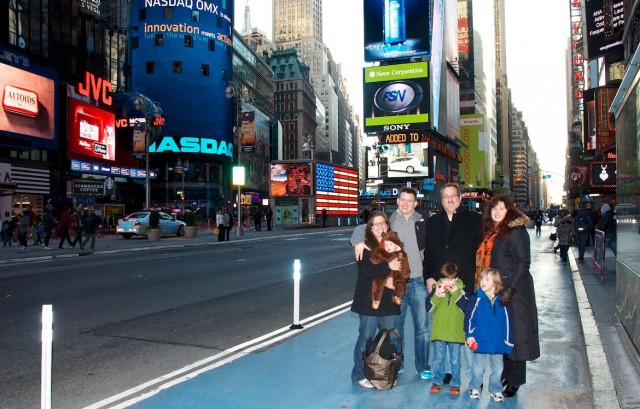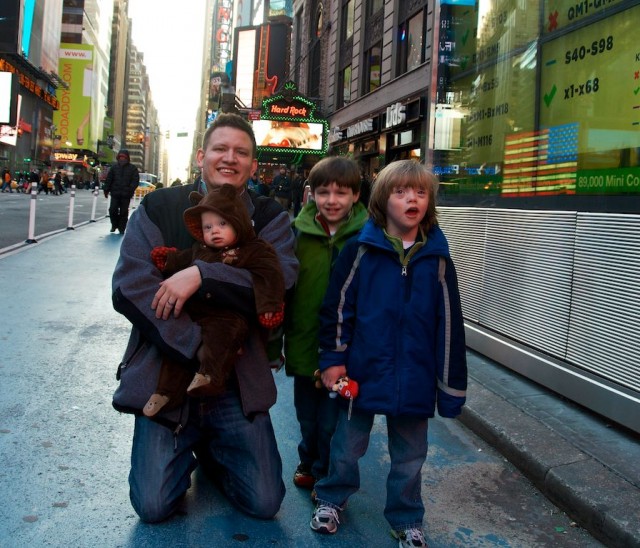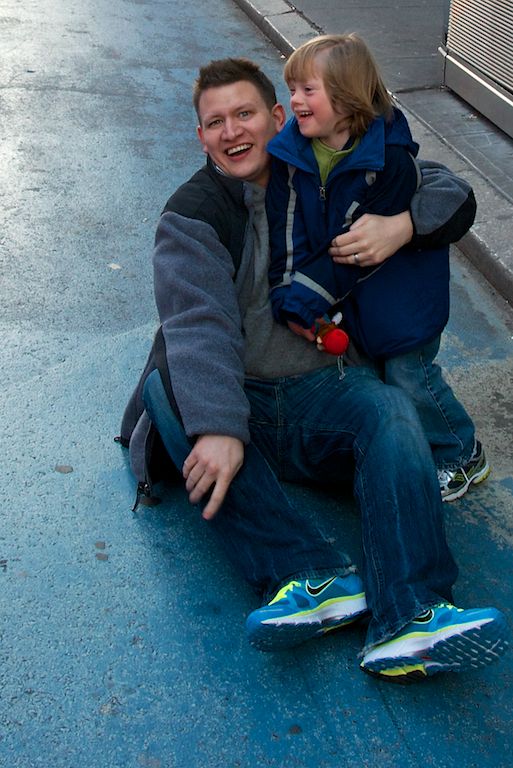 Later that tonight we went out to grab dinner, and were treated to one of the first snow falls of the year! It didn't last long, but everyone was grabbing their cell phones and cameras to capture the moment. It really was beautiful (and cold!)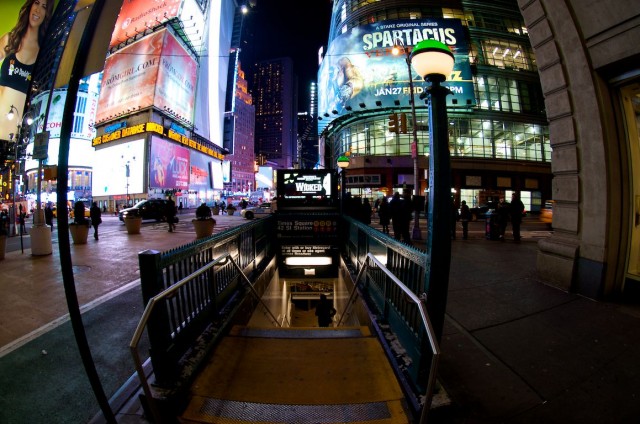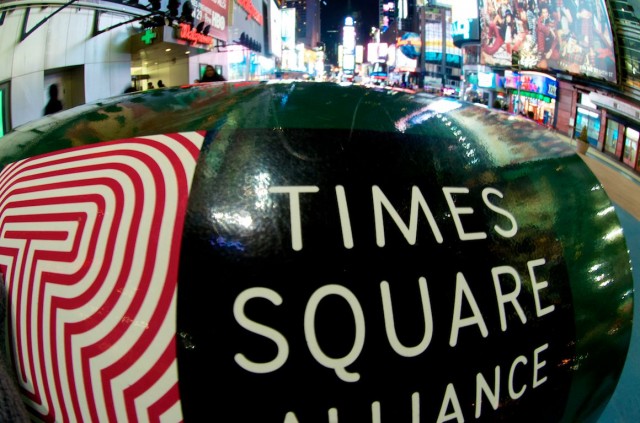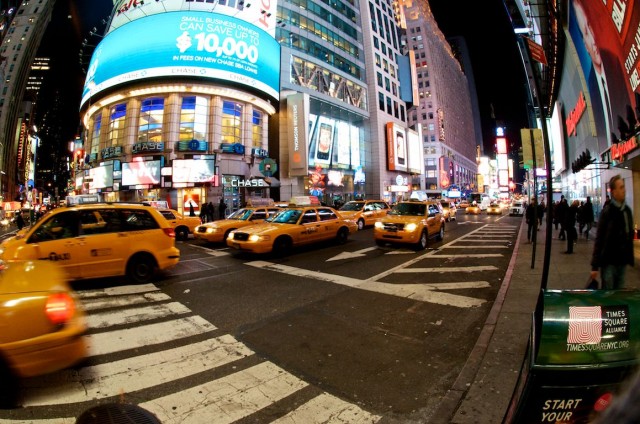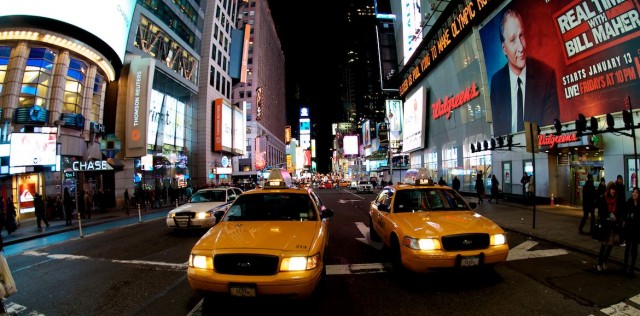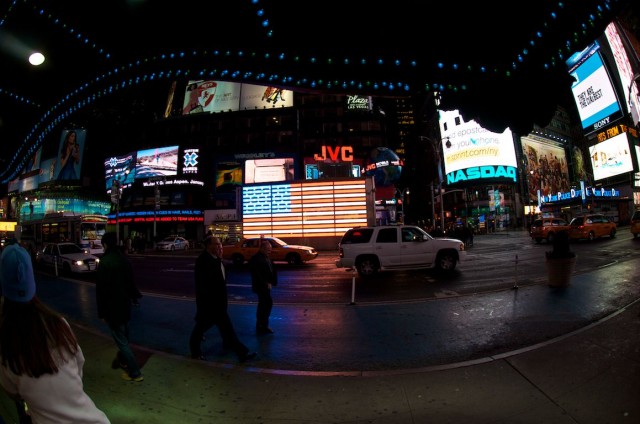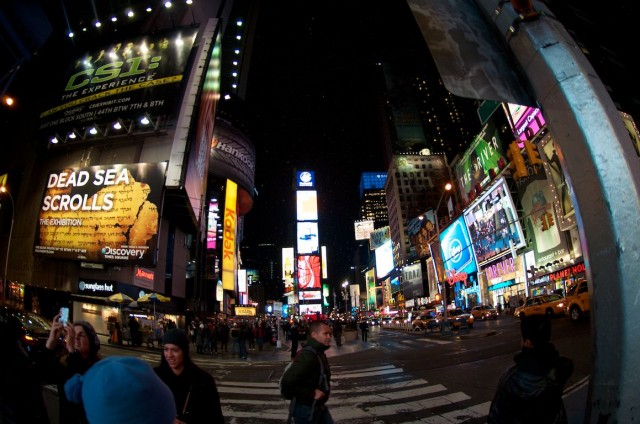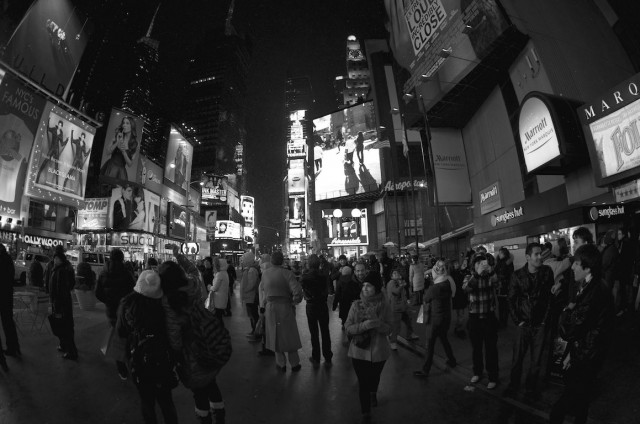 Lots of snow!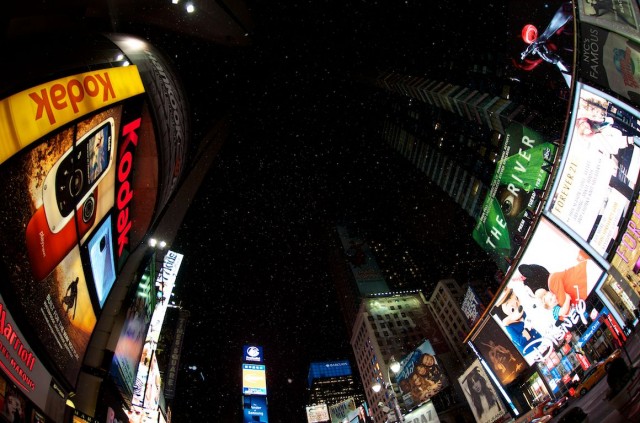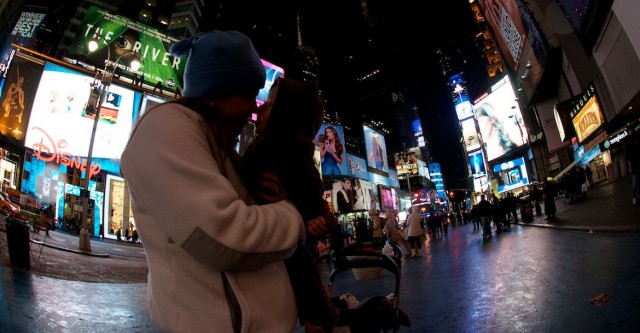 I love these two!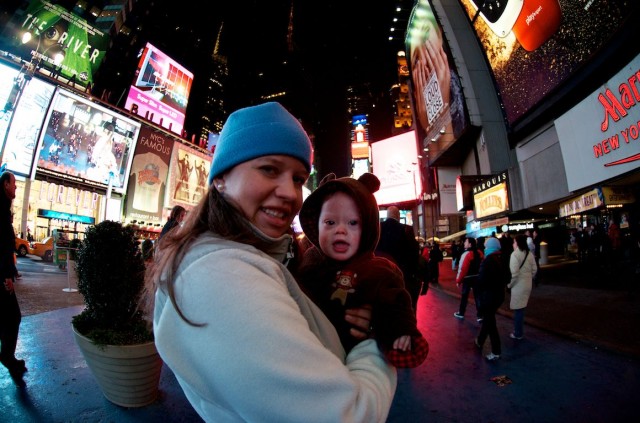 Fun with a fish eye lens!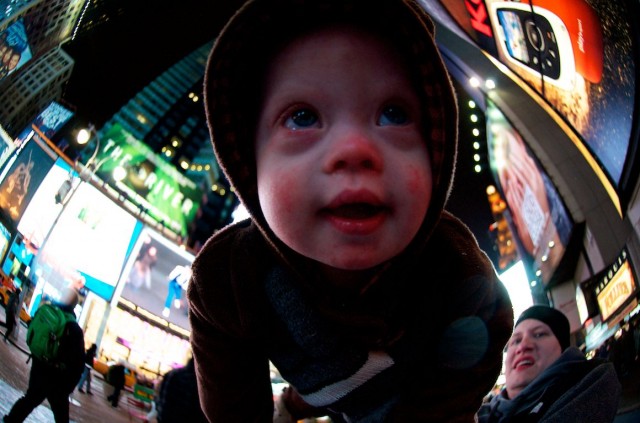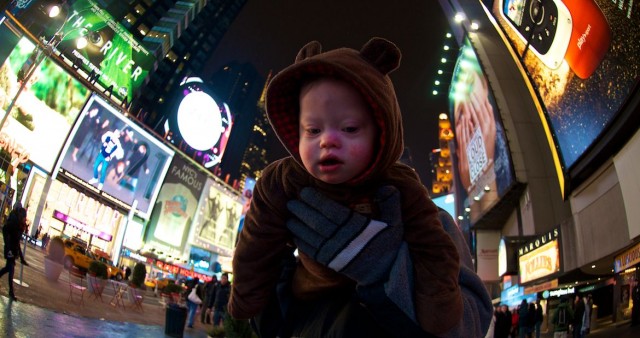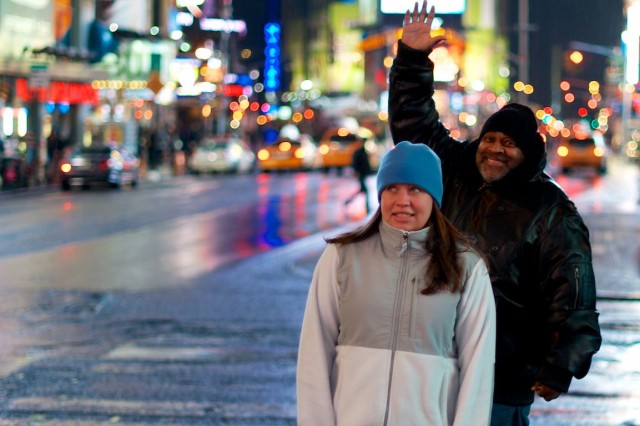 This guy made this picture even better!
I love this little bear!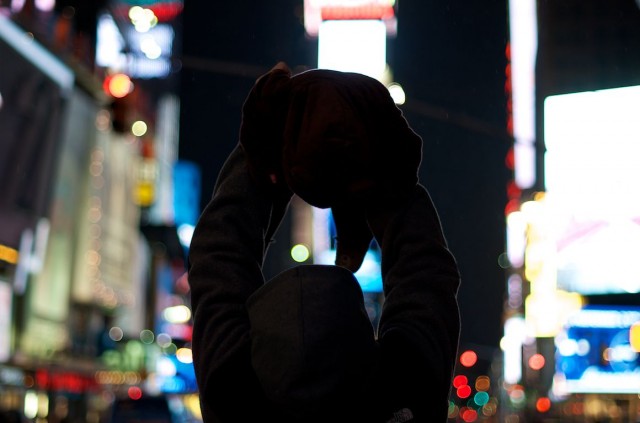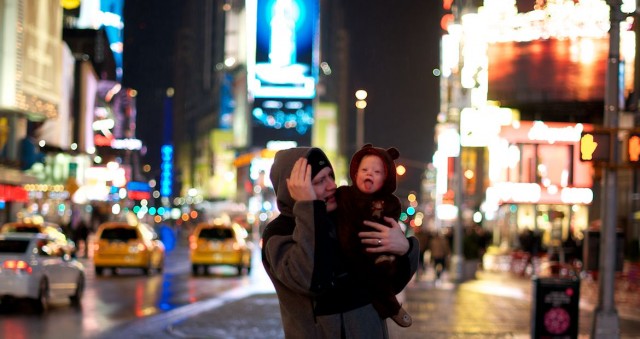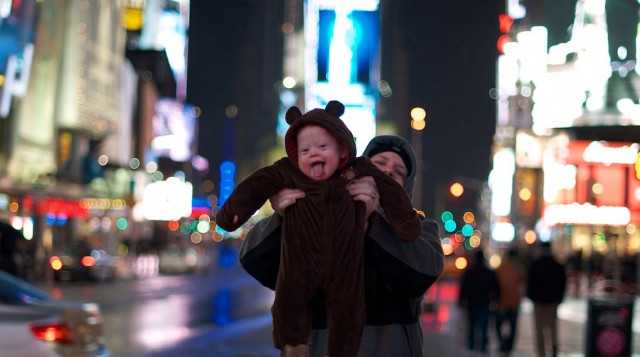 I think he likes New York!
After a long day in the New York, Noah (and his parents) were ready to get some much needed sleep!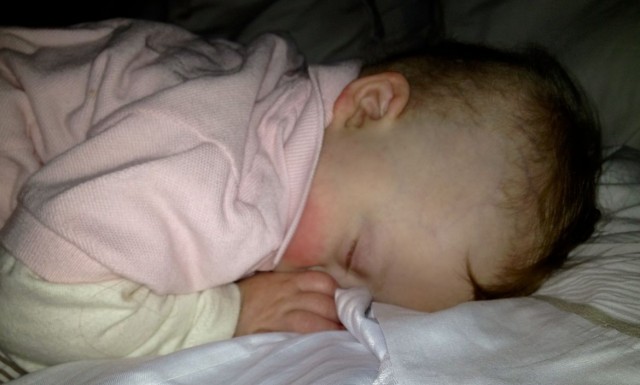 One sleepy baby Noah…
Did you watch any of the news reports about Ryan Langston (the model born with Down syndrome?) Did you see the Target ad yourself? And a bonus question, are you fan of New York (like I am?) When's the last time you've been, or when do you plan to go? Leave a comment and talk to us, we enjoy hearing from you!