A child born with Down Syndrome is at a higher risk to develop leukemia then a "typical kid," therefore when the child is six months old their pediatrician will commonly order a Complete Blood Count (CBC) Test.  (For more information please read our post, "Blood Tests Preformed For Babies Born With Down Syndrome.")  Among other things, the CBC shows the concentration of white blood cells (which fight off infection), red blood cells (which carry oxygen), and platelets (which help our blood to clot) in a person's blood.
Noah turns six months old on the 15th of this month, (wow, that's hard to believe!) and per his doctor's orders, we took him to Children's Medical Center to have his CBC tests preformed today.  (By the way, we are regulars to the blood lab at Childrens' – if your child ever needs to get blood drawn and you live near Dallas – this is the place to go!  They do great work!)  I must admit I didn't say much on the way to hospital.  The thought of our son having leukemia scares me.  A lot.
One thing I didn't know until Noah was born was that children born with Down Syndrome respond really well (much better then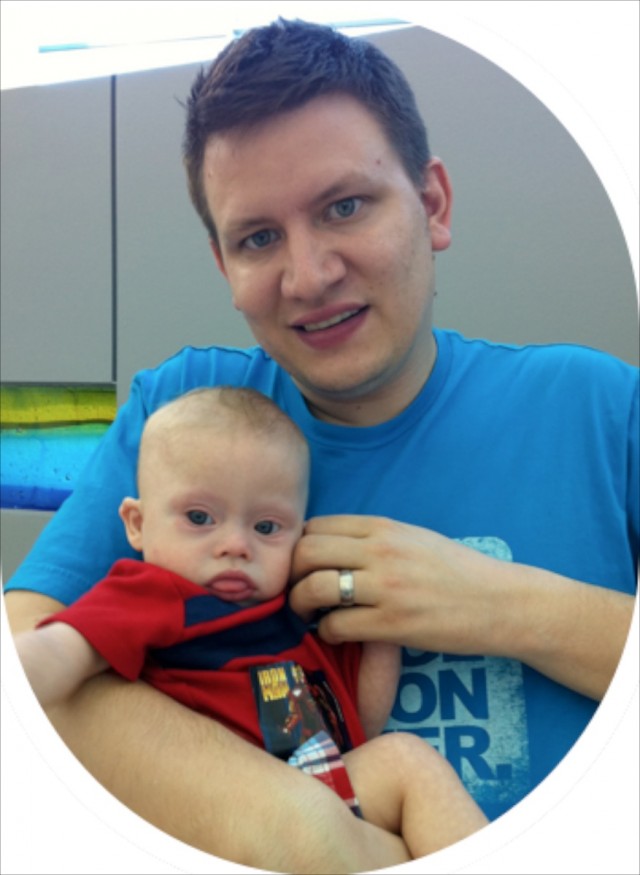 "typical kids") to cancer treatment.  In fact, there have even been cases of the cancer curing itself!  Some scientists speculate that it has something to do with the fact that they have an extra copy of their 21st chromosome!  Pretty cool!
Regardless of that awesomeness above, I hope you won't mind my being honest when I say I really don't want Noah to have leukemia.  I know there are lots of families out there journeying through the realties of cancer, and I don't believe there is anything about our family that makes us exempt from that reality.  If the results come back, and Noah has leukemia we'll put it in God's hands just like we have done with everything else.  It'll be scary, it'll require faith, but it won't be the end of the world – by any means.  God is still God.  I'm just letting you know ahead of time that that isn't the option I prefer.  🙂
It's mind-blowing to think that in the next 24-48 hours (when we get the results of the CBC back) that there is a chance our little Noah could have cancer. (Actually, when you think about it, we're actually all only one test away from news like that….Down Syndrome, or no Down Syndrome.  We think we have "control" of our own life.  Control is an illusion.)
No matter what the results are, we have trusted God since before Noah came into this world, and we'll keep on trusting Him no matter what we face.  We've found that God does a really good job of being God.  I've said this a thousand times, but "our" children aren't ours.  They are on loan from God.  They belong to Him.  We are their parents.  The sooner a person gets that, the better they are.  (I'm stilling trying to get that, by the way.)
I'd l like to ask you to pray for our son, and for the results of the CBC test.  Specifically that the results come back, "all clear" and there is no sign of leukemia.  Thanks so much for loving on our family, and our son.  You have no idea how encouraging it is.
By the way, if you are a new parent (or just looking for more information on Down syndrome) I want to encourage you to take a look at our new parents guide to Down syndrome.
-Rick
(P.S. – Please visit our connection page and subscribe so we can stay connected.  Thanks!)