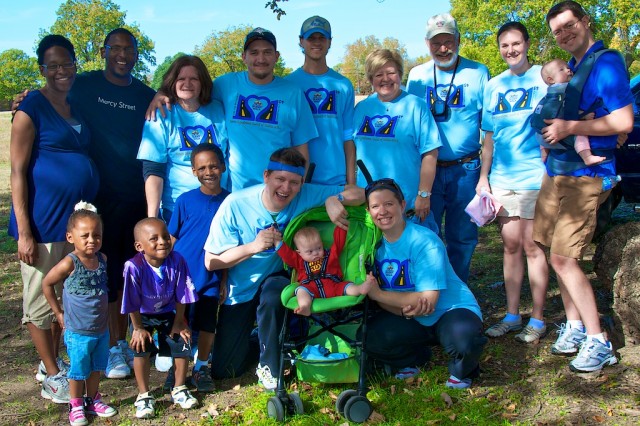 I would have never thought this time last year that we'd be walking in the 2011 Dallas Buddy Walk which helps support people born with Down syndrome (like our son) and their families (like us!)
But we did. And it was awesome
I'll have much more to say about our day  (including lots of fun videos and pictures) when we get to the Nov 13th video (if you haven't noticed we're just a tad bit behind on our daily videos…but we're getting there, I promise!)  However, I wanted to skip ahead a little bit, and post a picture from today's awesomeness, and say a little something.
I want to say thank you to everyone who came out to support Noah, gave a donation, or prayed for our day today.  We were seriously overwhelmed by the generosity, love, and  support we received, not just from our real life friends and family, but by many of you who we have come to know (and consider a friend) through our website, Facebook, and twitter…it was truly amazing!
If you were involved today (in any way) we can't say thank you enough.  Your support and love for our son (and us) blesses our family in ways you'll never know.  (By the way, I was bummed that we weren't able to meet everyone that we'd hoped to meet today.  Hopefully we can have a raincheck!)
If life, one never really knows what God has planed for them.  11 months ago we had no idea our son was going to be born with Down syndrome.  We had no idea we'd be going to physical therapists (often!) and walking on Buddy Walks.  It wasn't in our plans.  But it was in God's.  He is never surprised.  Never caught off guard.  He knew our son would be born with Down syndrome way before we ever did.  We were surprised.  He wasn't.
For those of you who may not know us very well, I want to very clear.  We wouldn't change one little chromosome on our little boy.  Not one.  We aren't affected by Down syndrome.  Our son isn't sick.  He isn't ill.  There's nothing to "cure."  In fact he is 100% healthy (thank God!)  I can honestly say:
"Having a son born with Down syndrome (and a super cute smile) is one of the best things that's ever happened to me."
Our life is so much better as a result of this boy being in it.  Every day is filled with more joy than the one before it.  This little boy blows our mind every day.  To quote my friend Becky from the Down Syndrome Guild of Dallas the first time we spoke on the phone (and Noah was only a few weeks old):
"There's never been a better time in history to be born with Down syndrome!"
Man, life is great…!  Never in a million years would I have dreamed my life would be this blessed.  God. Is. Good.  (Surprising, but good…very, very good!)