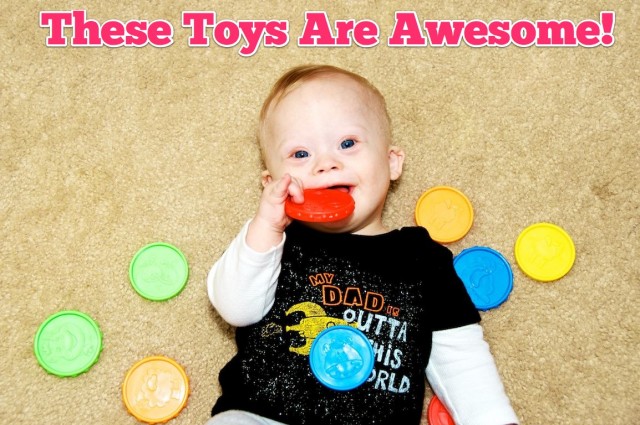 Please note, I use Amazon affiliate links below, which means if you click on a link I may recieve a small comission from your purchase. 
I'm not sure exactly when it happened, but sometime after our first child was born I became a toy connoisseur. I've learned to judge a toy by more than it's fun-looking cover. I've learned to notice how loud the toy's volume is, how bright it lights up, and even how a certain toy helps my child with Down syndrome develop and learn.
Prior to having a little boy born with developmental delays (our son was born with Down syndrome) I thought toys were just, well, toys.
Boy was I ever wrong!
Toys have a purpose….
As it turns out all those bright, loud, colorful (and sometimes annoying) baby toys actually serve a developmental purpose! That's right toys help teach our kids!
I remember when Noah first started going to occupational therapy (at only a few weeks old!) I wondered what the purpose of all those visits were since it looked like all he was doing was playing with toys. (Something we could easily have done at home….for free.) 

I quickly learned he wasn't just playing with toys, he was learning….developing….getting smarter and stronger! His tiny little brain was growing and developing. And that's a parenting win!  In fact, my wife even wrote an article about how toys and occupational therapy go hand in hand.
I've watched Noah play with lots of developmental toys, and there are a handful that have really stood out. And not simply because he enjoys playing with them, but because of how how well they help him learn. In fact, almost all of the toys I mention on this list have been used by his physical or occupational therapist as they help him work on his developmental milestones.
7 Developmental Toys For Children With Down Syndrome
Friends and family sometimes wonder what the best toys are for a child with Down syndrome when birthday's and Christmas's roll around. Some wonder if you need to buy special toys for a child with special needs. The truth of the matter is kids are kids. When trying to pick out what to buy a baby with Down syndrome as present, a person should do the same thing they would do for any other child; check out the age requirements for the toy printed on the front of the toy's packaging. The developmental goals for children at this age are pretty much the same regardless of if the child was born with Down syndrome or not.
With that being said, there are certain developmental goals that parents raising children with Down syndrome really try to focus on to help them grow and develop; one of those being developing their core, and many of these toys will help a child do just that. In fact, if you look through Noah's therapy videos, you'll see him using many of these toys during his therapy appointments. All of these toys are one we personally own, and that Noah plays with on a daily basis. (And on a random side note, they all turned out to be Fisher Price Learning Toys!)
If you are trying to find a good developmental toy for your toddler, or baby, this list is a good start. One other thing I like about these toys is they will grow with your child. You'll find that you can use them in different ways, to work (and play) on different goals for your child. Many of these toys we had before Noah could even sit up on his own, and at 20 months old he still gets daily use out of them! Talk about a toy win! 

1. Fisher-Price Little Superstar Sing-Along Stage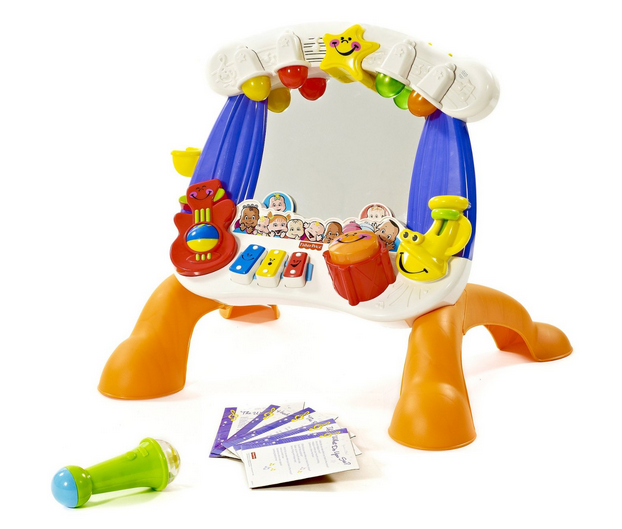 The Fisher-Price Little Superstar Sing-Along Stage
 is without a doubt our favorite toy on this list! Noah has played with toys more than any other toy he owns. If you look at the link I posted you'll notice this toy has a ton of great reviews on Amazon, so I'm not alone in saying how great this toy is. (In fact, when I mentioned it on our Facebook page once, I had a ton of comments from other parents saying how much their child liked it as well.
I think the reason it's such a hit is because of how many different things this toy does. It has a mirror, and what child doesn't like looking at them self in a mirror? It lights up. It plays music. It has a big orange button they can press on the front of it. And, here's a super random thing about this toy….every once in a while the toy will play some fun kid music followed by the phrase, "You're a star!" Do you know what Noah's first word was? STAR! Now I have no idea if that's because he heard that word so much while playing with this toy, but that's my best guess. Funny, huh?
Anyway, I can't recommend this sing-along stage enough!
2. Fisher Price Roll-a-Rounds Swirlin Surprise Gumball Machine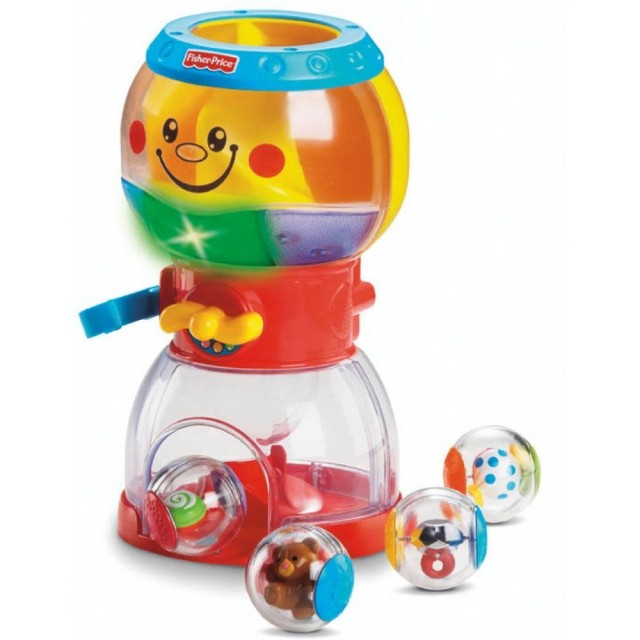 The Fisher Price Roll-a-Rounds Swirlin Surprise Gumball machine
 is another one of Noah's favorites. The gumball machine comes with these fun sensory balls that your child can drop in the top. They then press the handle which causes the balls to drop down the little spiral and out the front of the toy. The best part is when the balls drop down, the toy lights up and plays fun music that Noah really enjoys.
In the last few months, Noah has gotten really good at pressing the handle and watching the balls come flying out. Check out this video I took last week of him playing with this gumball machine, cute huh? 

3. Fisher-Price Laugh & Learn: Learning Piggy Bank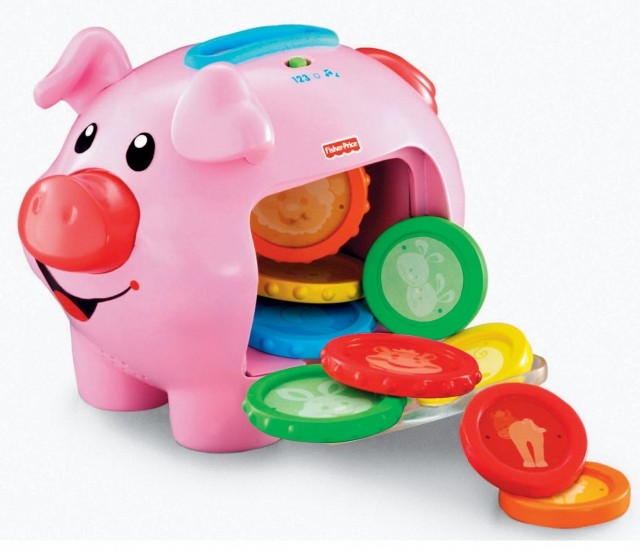 Fisher-Price Laugh & Learn: Learning Piggy Bank
4.  Fisher-Price Brilliant Basics Baby's First Blocks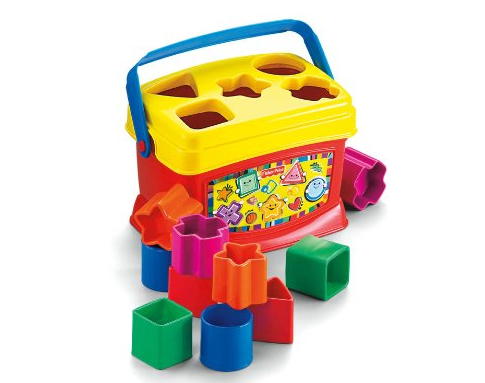 Fisher-Price Brilliant Basics Baby's First Blocks
5. Fisher-Price Go Baby Go! Poppity Pop Musical Dino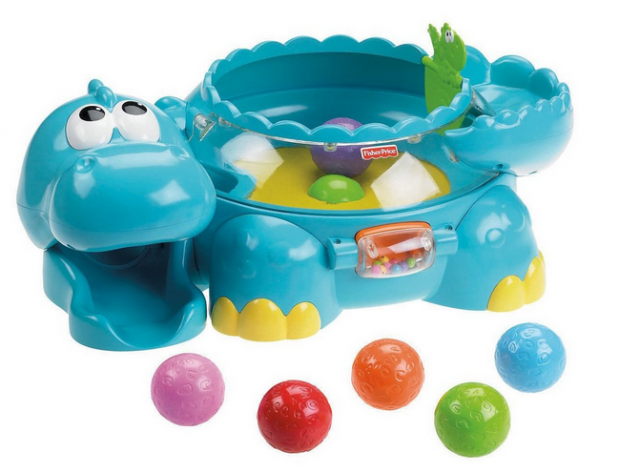 Fisher-Price Go Baby Go! Poppity Pop Muscial Dino
6. Laugh and Learn Table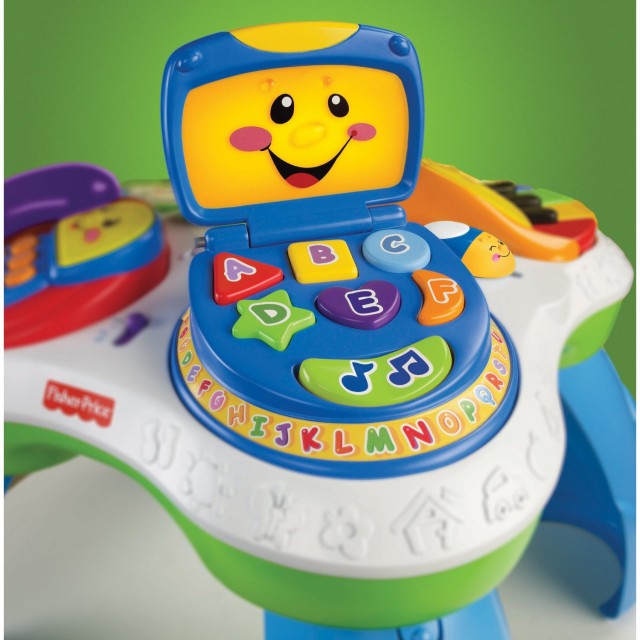 Fisher-Price Laugh & Learn Fun with Friends Musical Table
7. Fisher-Price Brilliant Basics Little Super Star Classical Stacker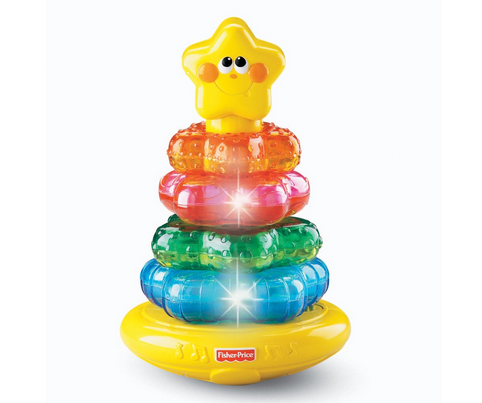 Fisher-Price Brilliant Basics Little Super Star Classical Stacker
Looking for more toys?
We mentioned many of these toys on our list of the top 10 Christmas gift ideas for a child with Down syndrome, but it's a post worth checking out. In fact, the comments have toy suggestions from other parents as well.
Have you used any of the toys on this list, if so what was your experience with them? What's one of your child's favorite developmental toys that I left off the list? Leave a comment and tell us about it!