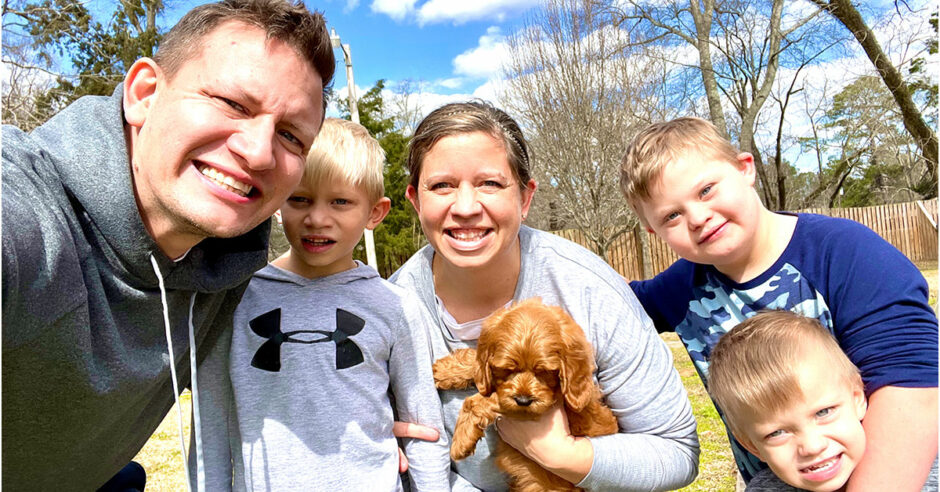 Years ago I introduced our blog readers to Jake, our beautiful goldendoodle, and have even posted a video of Noah training him in the past. We loved Jake, but sadly at the end of last year, on Noah's 10th birthday, and just days before Christmas, we had to put our beloved Jake to sleep. We believe he had a brain tumor which caused a lot of suffering for him. As much as we miss him, I'm thankful he isn't suffering any more. Here are a few pictures just moments before we took him to the vet to be put to sleep.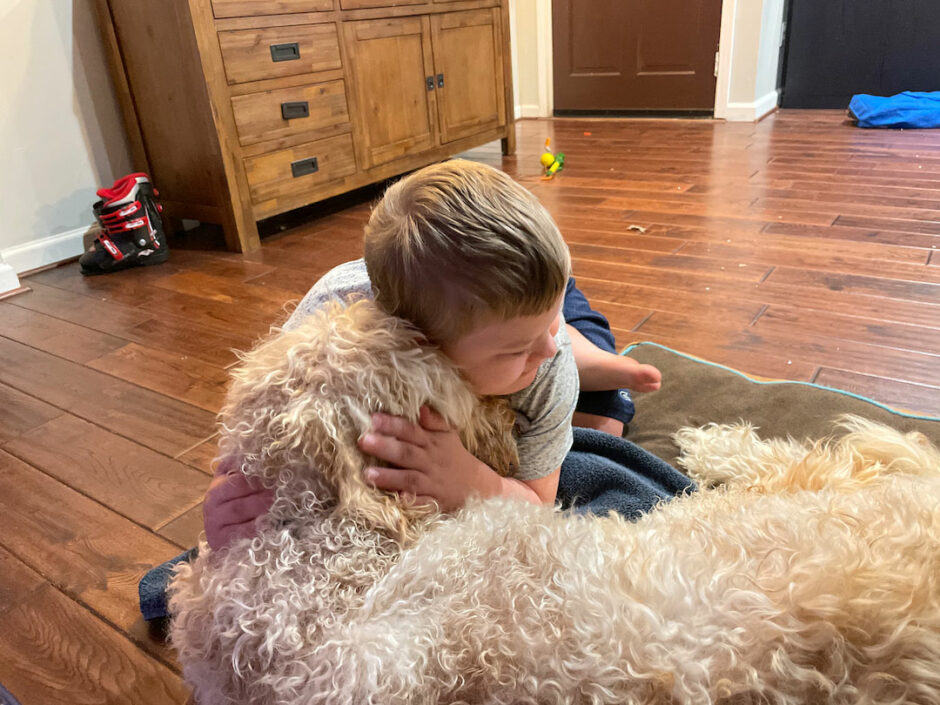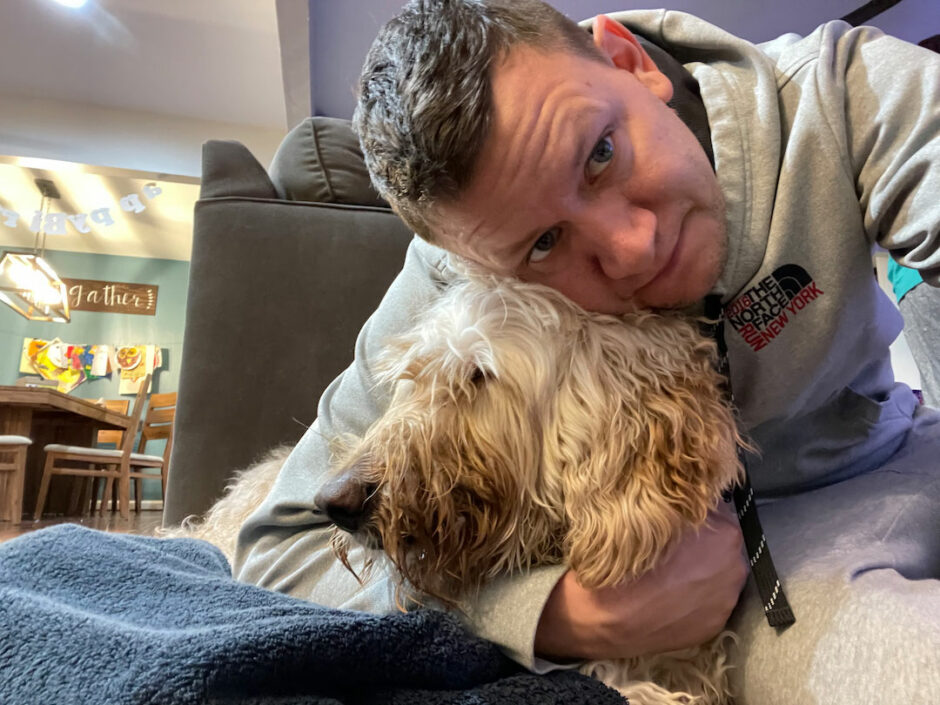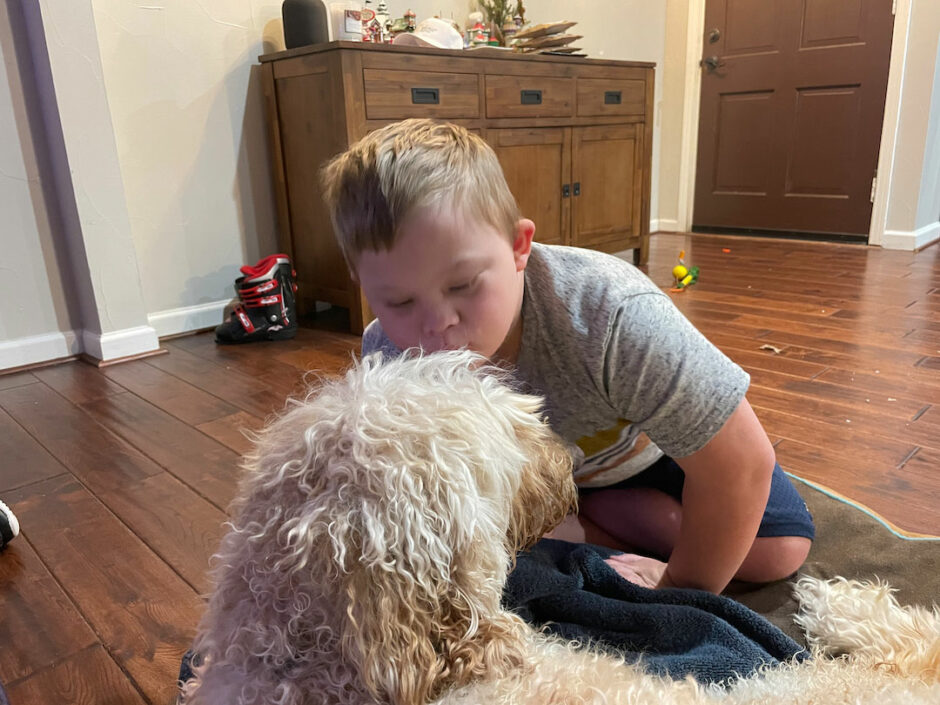 This was a tough day for our family, and we still miss our sweet dog Jake.
Santa Brings a New Doggy!
Since Jake had to be put to sleep so close to Christmas, "Santa" wanted to surprise our boys with a dog for Christmas, but doodle type dogs are hard to find on short notice, especially around Christmas time. However, "Santa" came across the wonderful people at Barksdale Labradoodle and they were about to get "Santa" on the list for a liter of labradoodle puppies that were going to be born later in the month and that we could pick up sometime at the end of February.
Thankfully the new puppies were born before Christmas and "Santa" was able to leave the boys this letter and picture on Christmas.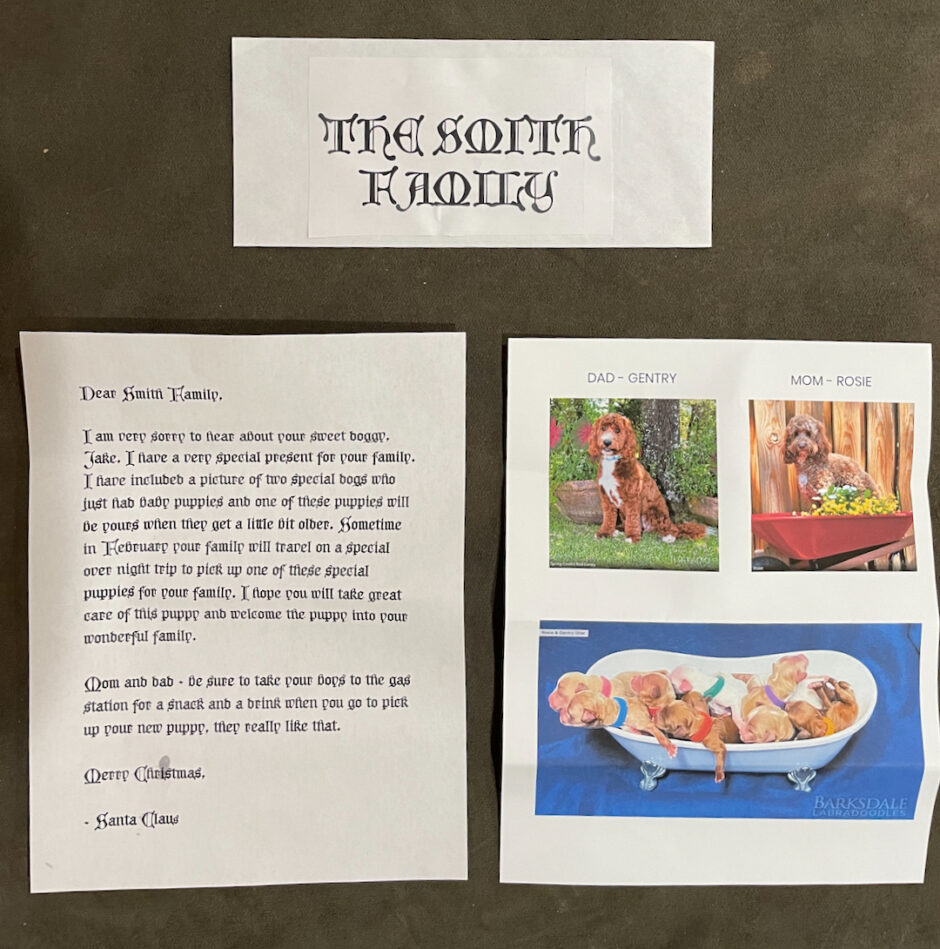 Here's a video of the boys opening up their letter from Santa on Christmas Day!
Time to Pick Up Our New Mini Labradoodle
After months of patiently waiting the day finally arrived where it was time to head to Mississippi (where Barksdale Labradoodles is located) and pick up our new mini-labradoodle, Ollie. It turns out the day we were set to leave Texas (where we live) we were at the tail end of one of the worst snow/ice storms in the history of our area. We ended up getting stuck in Louisiana on the way to pick up our dog (which is an entirely different blog post on its own) but thankfully we were able to make it there and back safely.
After a multiple day journey we finally arrived at Barksdale Labradoodles and met our sweet puppy in person for the first time! Let's just say it was puppy love at first site! Here's a picture of our family with our sweet doggy just minutes after we met him.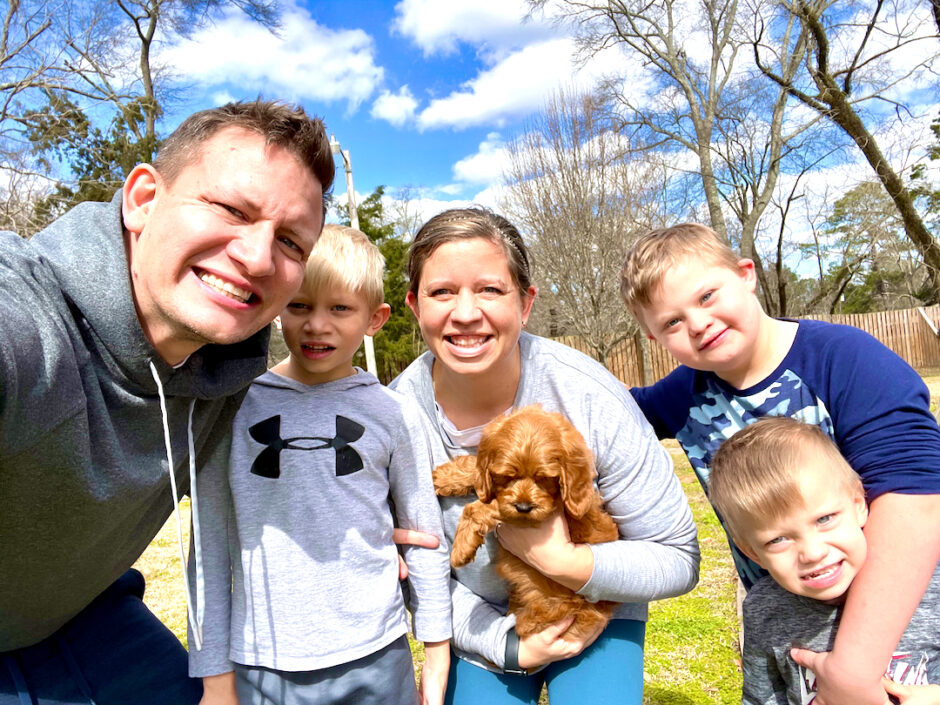 Here are some pictures of us with Ollie, our Australian mini labradoodle the day we got him. Isn't he a cute puppy? 🙂
Jake (our godlendoodle) was a full sized doodle (60-70 pounds) and we wanted to stick with a dog on the larger size so "Santa" got us on the list for a medium sized labradoodle. However after the litter was born it turned out we were only able to get a mini-labradoodle (which would likely only grow to no more than 30 pounds.) At first I was disappointed, but I didn't want us to have to go on a waiting list and the thought of having a smaller dog sort of grew on me.
Ollie is Growing Up
Ollie has become a loved member of our family. Here are some pictures of him a *bit* bigger than in the puppy pictures above. We think this will be about the size we will get. He is such a sweet dog. One reason we went with a Barksdale Labradoodle is because they help match your home with a dog who has a temperament that fits your family, and honestly Ollie is a perfect fit for our family.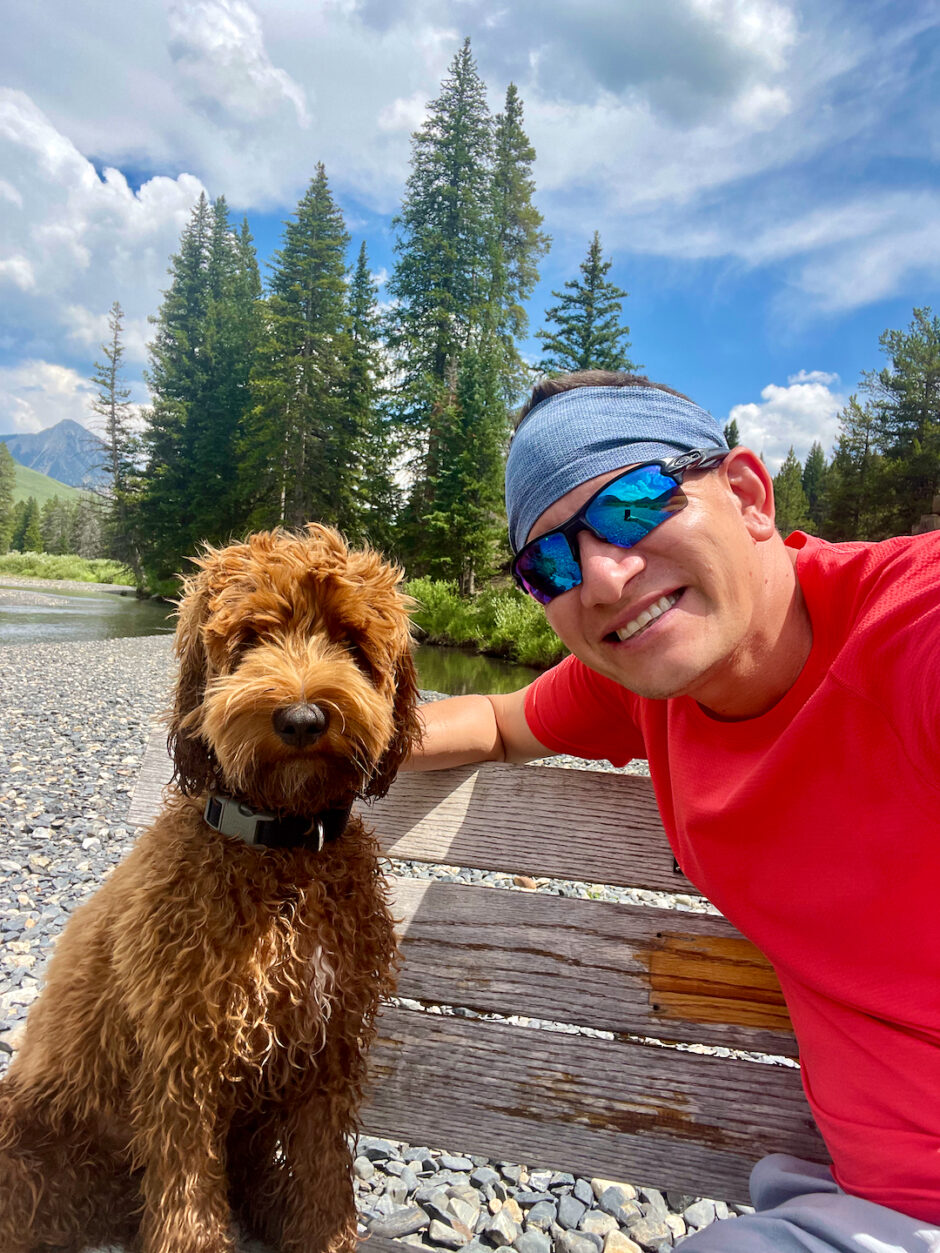 Here's a video of Ollie playing around this summer in Crested Butte Colorado. He loved the water!
He miss Jake, but we do love Ollie and are so thankful he's a part of our family. We are glad we get to make memories with him!
Does your family have any pets? Leave a comment and let us know. Bonus points for sharing a picture!