Although it may look like we're hanging out with Noah at his percussion practice today (although I'm not sure what a yellow balloon would be doing there?) we're not.
We're (well Noah is) actually working very hard.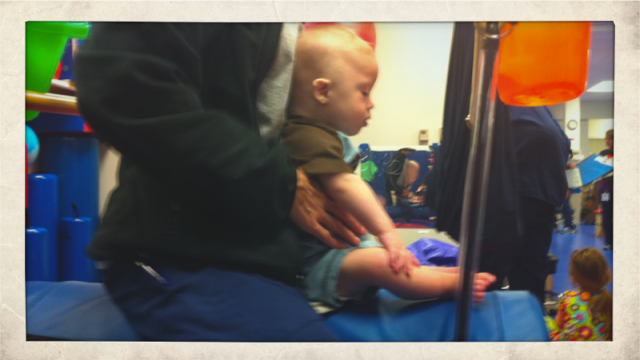 Don't Believe A Toy Is Just A Toy
We've spent countless hours at different therapy appointments since Noah was born, and I"m amazed at the creative ways the therapists come up with to help our little boy develop into everything that God has created him to be.
At first glance their office looks like an enormous playpen stocked with more toys, swings, and elephants then a 7 month old would know what to do with.
However, those toys, are tools.  Tools those therapists use to help our little boy get stronger.
Pretty neat, huh?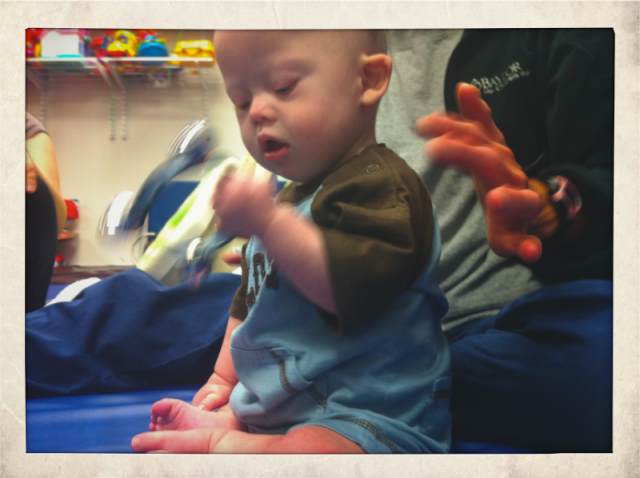 For instance, banging on the little toy drum helps Noah to develop tactile feedback and stimulation; important for any growing boy or girl.
And what looks like a fun swing with a yellow balloon hanging from it actually serves a much greater purpose.
As the swing gently moves from side to side, and back and forth Noah has to use his tummy muscles (his core) in order to keep his balance.
Adding the yellow balloon adds an even greater degree of difficulty to the exercise.
Now Noah not only has to work hard to maintain his balance as the swing moves, but also as he tries to reach for the bright, yellow balloon that's begging for his attention.
Sounds Fun, huh?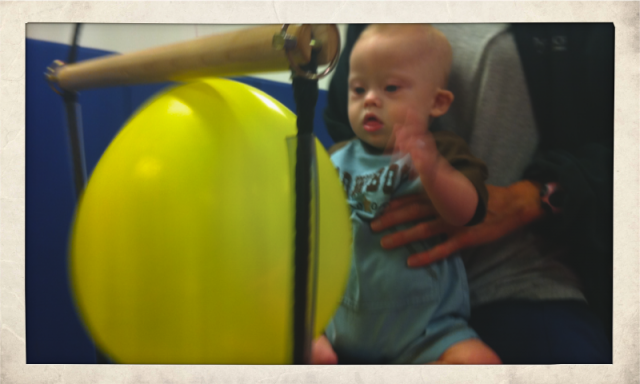 It's actually really hard work.
By the way, we are so proud of this little boy, and love him so much.
While other seven month old babies are napping, our little guy is working hard at physical therapy, or occupational therapy, or speech therapy.
And he does it all with a smile.
Gosh, we love this little guy.  God could not have given us a more perfect son.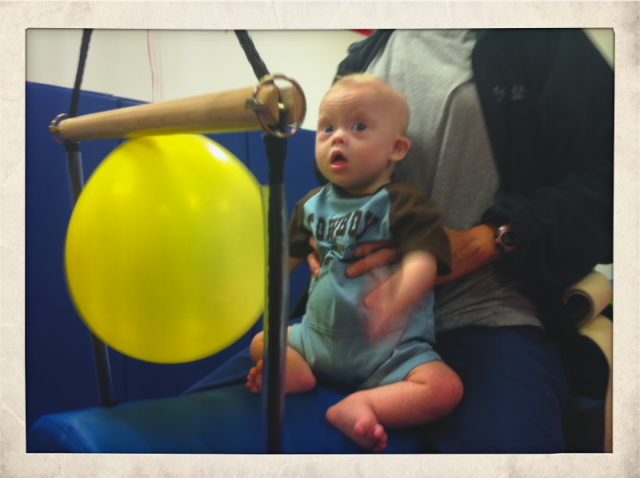 1 Minute Down, 1,439 Not To Show
It's true that we post a daily one minute video (yes, everyday!) giving the world a window into the life of our family.
Most of those minutes seem so awesome! So fun! Like we're the perfect family!
But  remember….there are 1,439 more minutes of our day that we don't post.  That you'll never see.
The one minute of video we post is usually one of the few minutes of the day where everything just happened to go right.
Those other 1,439 minutes are filled with outtakes. Filled with the kinds of pictures you don't put in the coffee table photo album.
Like yesterday for instance.
Some Days Go Like This.  And It's Ok.
Noah goes to physical therapy on Tuesdays and Wednesday every week, and yesterday I was going to be taking him to his appointment.
I also had a few errands I needed to run after the appointment so I asked my wife to trade cars with me for the day. (Her car is bigger then mine, and it's much easier to get the stroller and car seat in and out of.)
About forty-five minutes before Noah had to be at his appointment; I fed him, put a fresh diaper on him, dressed him, buckled him in his car seat (which we keep inside), prepared a bottle for him to eat after therapy, packed it in his little elephant cooler, got his diaper bag ready, and started to head out the door.
I slipped on my shoes, grabbed my wallet, and reached my hand in the small silver bowl by our door where our keys call home.
No keys.
No biggy. I started to look for the spare.
Not on the kitchen table.
Or the living room table,
or the mantel,
or the bathroom counter (either of them),
or….nowhere else.
I tried to call and text my wife, but she was seeing patients and I couldn't reach her.
All the while our two dogs are barking like it's the end of the world (as they always do whenever one of us goes out the door) and Noah is just hanging out in his car seat looking cute (as usual) and playing with his Sophie.
After spending twenty minutes in search of the key…my wife called.
She had both of her keys. (And mine.)
We didn't go to physical therapy, or run errands.
We cuddled. We played.  We ate dinner.
So it was a win regardless.
That's one minute you'll never see posted, but they happen.
Often.
And it's ok.
Stop Trying To Be This Family
You can't believe everything you read (and see) on the internet.
As you surf the web and read all of those blog posts, and look at all of those pictures (and videos) of all of those perfect families, remember this…
People are very selective about what the post.  They post the good, and skip the bad.
Don't spend time trying to become someone else's perfect family.  It'll never happen.
I promise.
Oh, and by the way;  your idea of what your family will look like, and God's idea of what your family will look like will be very different.
And it'll be ok. God knows what He's doing.
Trust me, I speak from experience.
What about you? Have you had a not-going-post-that-in-a-video moment this week? This month? Let's hear it.