(Quick note: We received a complimentary stay and a food and beverage credit in exchange for sharing about our experience. However, this doesn't change the fact that we think the Gaylord Rockies is fantastic!)
It's hard to believe that Summer 2021 has come to an end, but our boys enjoy school, and I'm glad they are back at school with their friends and learning. We had a great summer and were able to make a lot of memories. One of the places that we were able to spend some time at this summer was the Gaylord Rockies Resort near Denver (one of our favorite resorts!)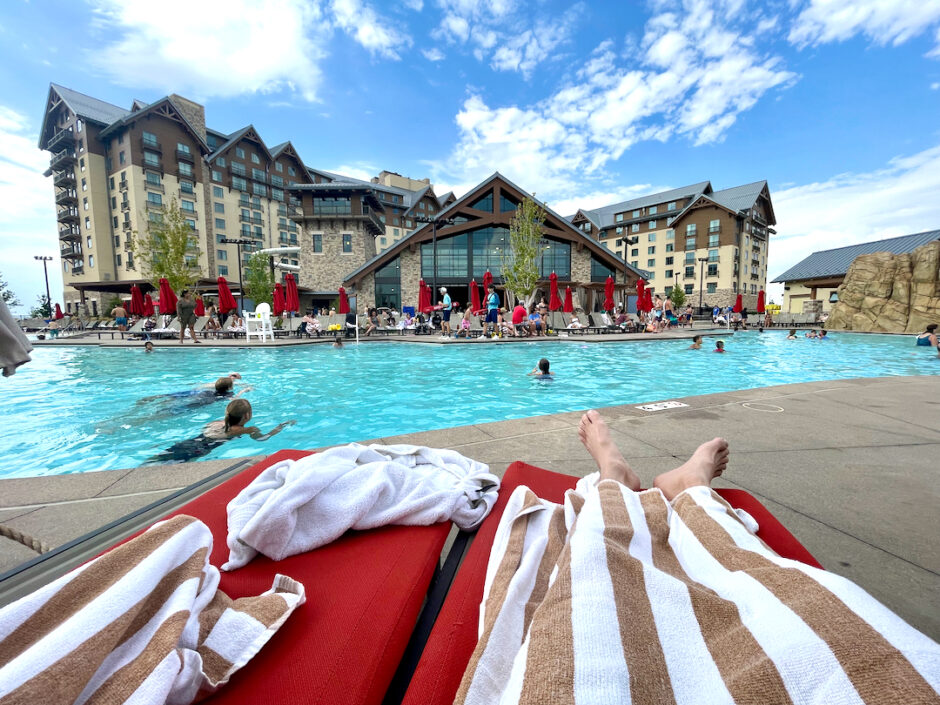 This is our third summer visiting The Gaylord Rockies Resort, which has become a bit of a family tradition. The Gaylord has several locations throughout the U.S., but this location is their newest property (and has the feel of a mountain lodge, which is nice.) We have stayed here in the winter and the summer, and it's hard to decide which season I like more at the Gaylord as they have such great activities during both seasons.
Since this was a summer trip, this blog with highlight our most recent stay, but I encourage you to check out our Instagram Highlights to see how excellent the Gaylord is during the winter.
First I want to highlight the rooms. They are new, modern, clean and SPACIOUS. On this trip, we stayed in one of their king bedroom suites. This room includes a kingsized bed with a living area that also has a fold-out bed. This was a win! I especially like that this room had a large table for the kids to eat at.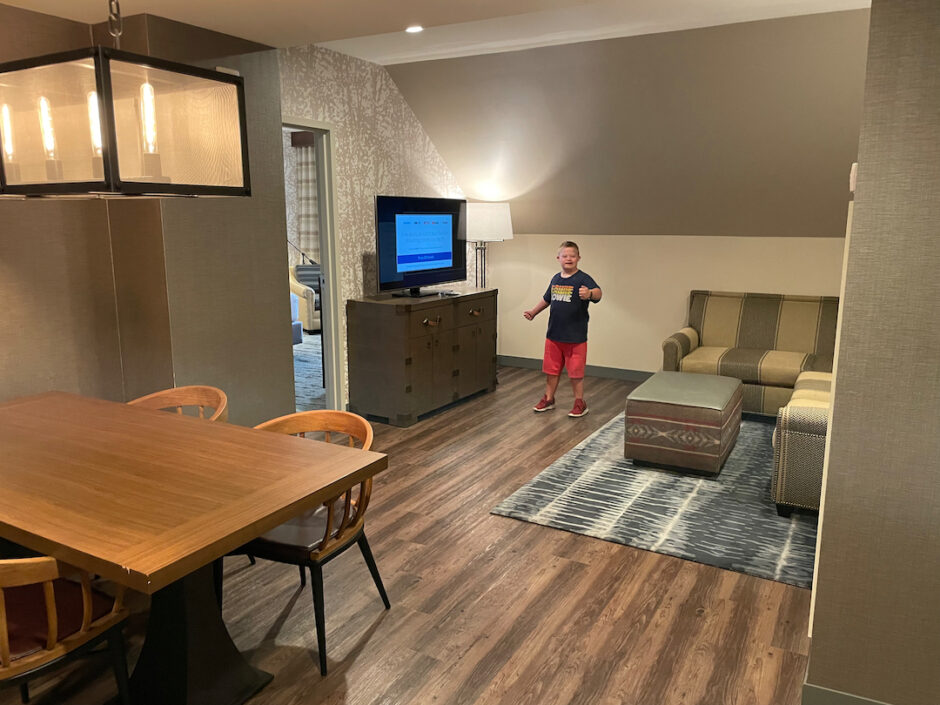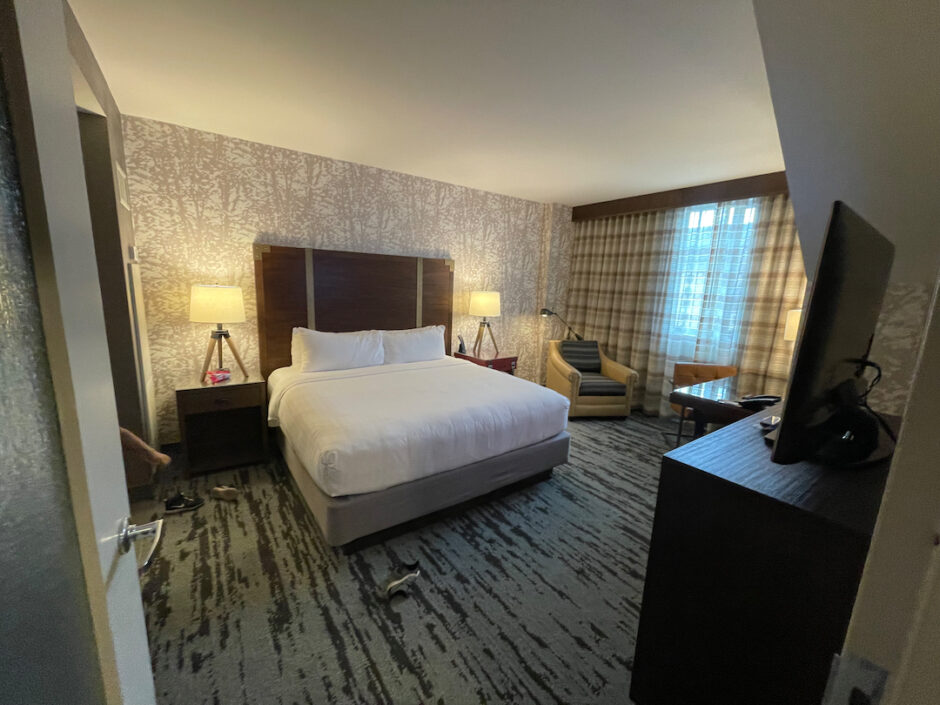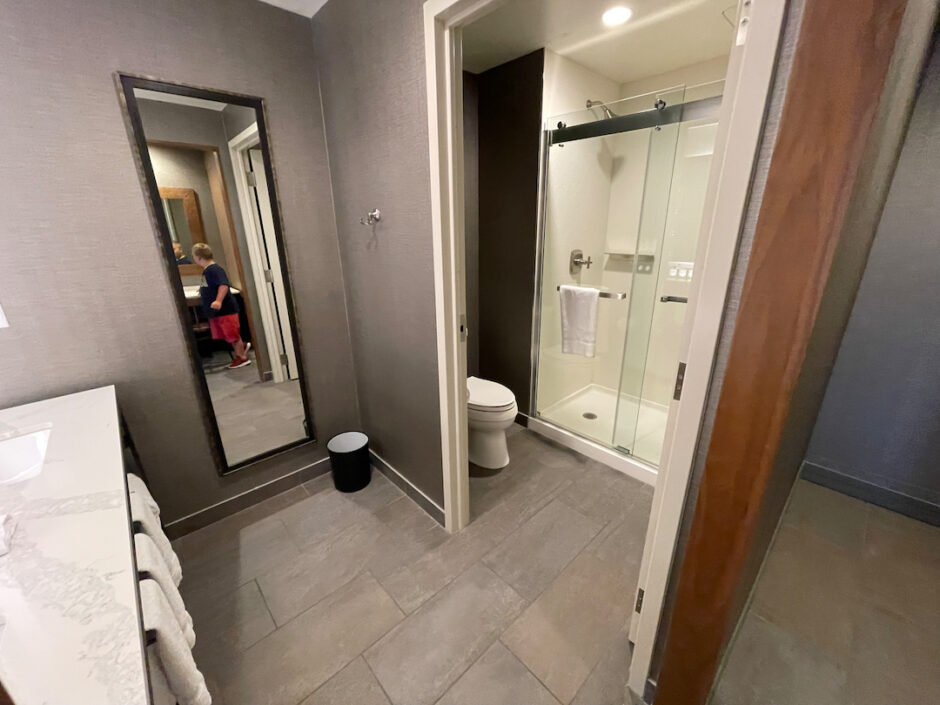 Our family doesn't go to hotels to sit in the room, so we wasted no time changing into our swimsuits and making our way to the "pool." I put pool in quotes because the Gaylord has a waterpark on their property and not simply a pool. This resort offers two indoor waterslides, an indoor hot tub, an indoor lap pool, and a large indoor pool (in addition to the fantastic water features outside.) One plus about this setup is in case of bad weather (which happened on our first night there), the resort can keep the indoor water features open while closing the outside.
Food is one of the most important parts of any vacation, and the Gaylord has multiple restaurants scattered throughout their property. After hanging out at the pool, we had dinner at their Italian restaurant, Vista Montagne. The menu offered a great selection of Italian items and a child's menu…and of course, we had dessert afterward (which didn't disappoint.)
My wife and I are runners, and the following day my wife went on a run in the quiet neighborhood nearby (which also has a great park that I took our boys to while she ran so they could "run" off some energy.)
The next day we headed to the outdoor pool (and hung out at one of the cabanas available to rent.) You can't tell from the pictures, but there is a beautiful view of the Rocky Mountains from the outdoor pool area. It's wonderful.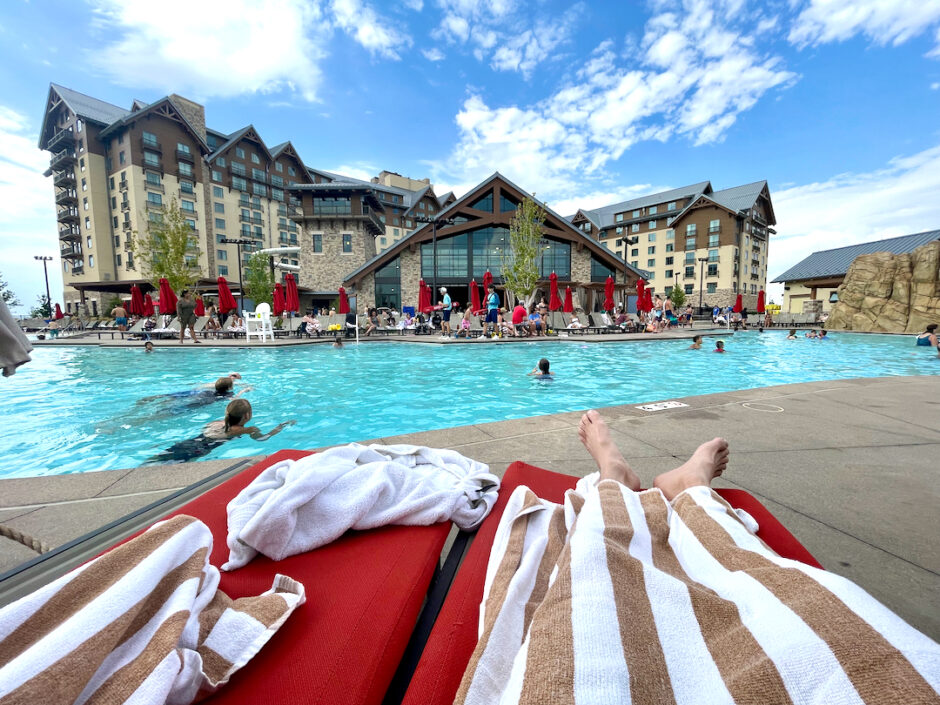 Later that evening, our kids played on the lawn, and we made some smores. The hotel sells little s'more packages and has several fire pits set up, making it very simple to make some s'mores with your family. (Also, can we agree that s'mores are so. tasty.)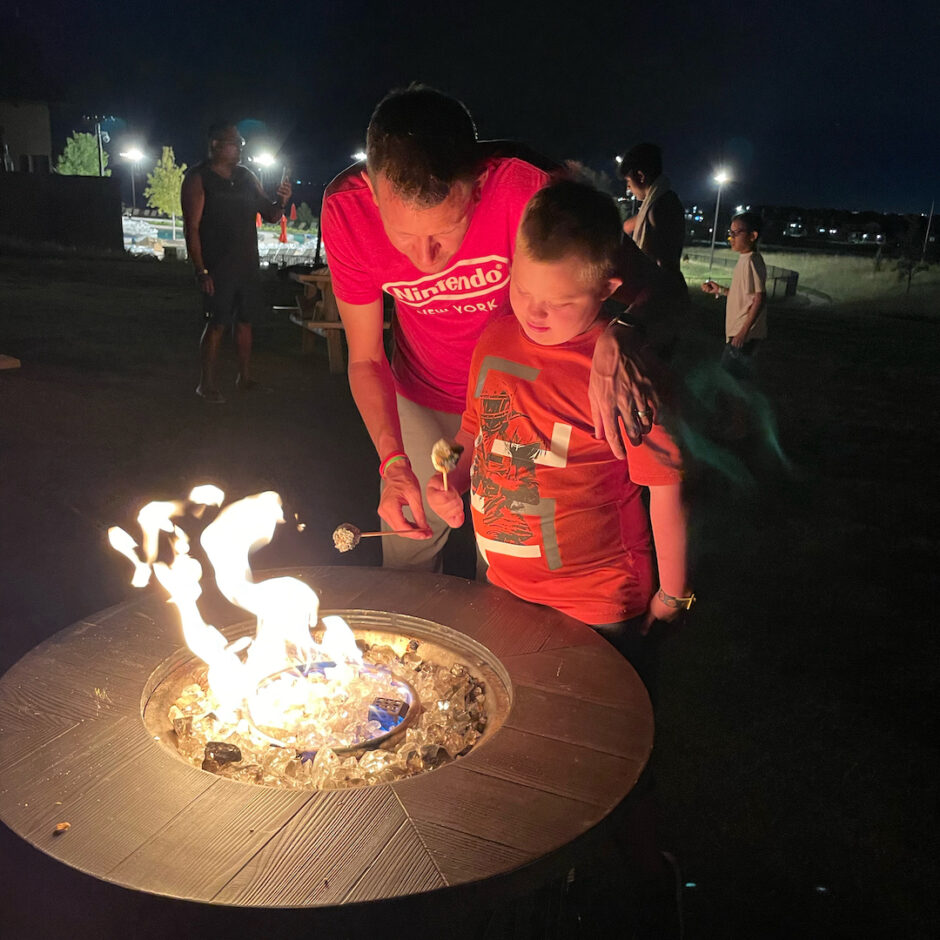 When we travel, we enjoy meeting friends, so we decided to have a little meet-up at a local park while we were there. We invited families out, fed them donuts, coffee, and juice, shared with them about our non-profit, Hope Story, and just had a great time hanging out! Of all the negative things the internet brings with it, I am thankful for how the internet has allowed us to meet and connect with others.
We had a blast hanging out and are so thankful for all of the families that came out to the park.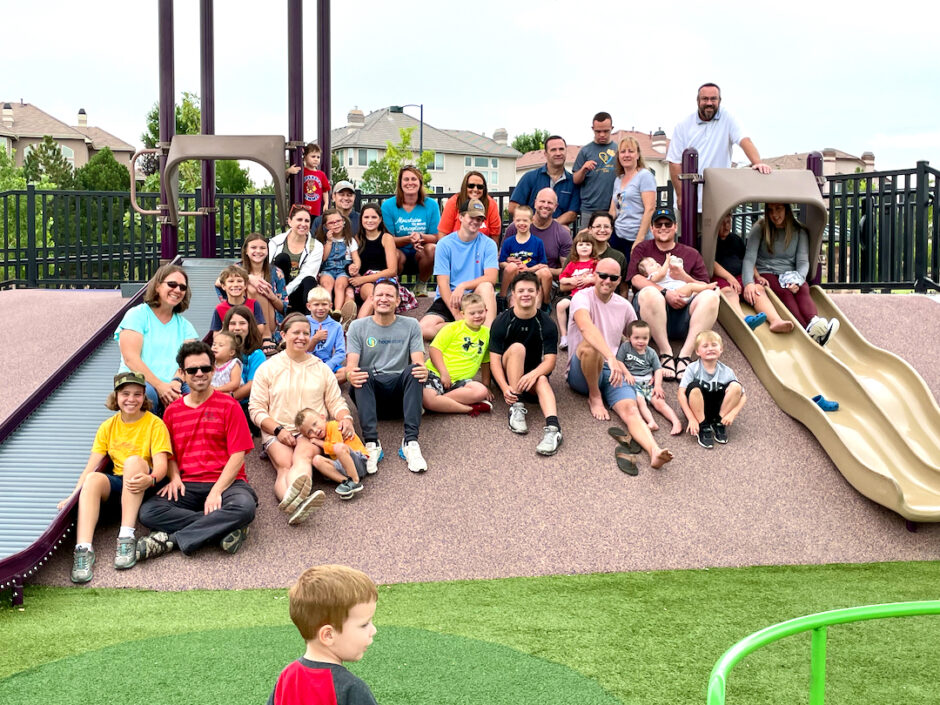 After the park, we went by Hammond's Candy which does free tours of their candy factory, and they also have a fantastic candy store with tons of tasty treats. If you are ever in the Denver area, this place is a must-stop! We have been to Denver many times, and this was the first time we have ever been to Hammond's Candy. That was our bad.
On the way back to the Gaylord, we made a pit spot by the Aurora Firestation next door to the resort. Fun fact, a fireman told me they built their fire station because the Gaylord was so large they needed a fire station near it! Amazing.
The firemen were so friendly and let the boys claim in/on the firetrucks. We had a blast stopping by. (We even got to give them lots of leftover donuts from our meet us earlier that morning!)
After arriving back at the Gaylord, we had the opportunity to participate in their art studio, where the kids got to practice their painting skills! (Who do you think did the best?) 🙂
We then headed to the pool, where we relaxed in the cabana, had some lunch, and got to spend some time with my wife's brother and his daughter, who live nearby. It was great to be able to see them while we were in town! (By the way, we have hung out with family several times at the Gaylord. The property makes for a great spot to have a family getaway weekend. There is lots of open-air seating, places to hang out, etc.
The following day we woke up super early and made our way to our home in Texas!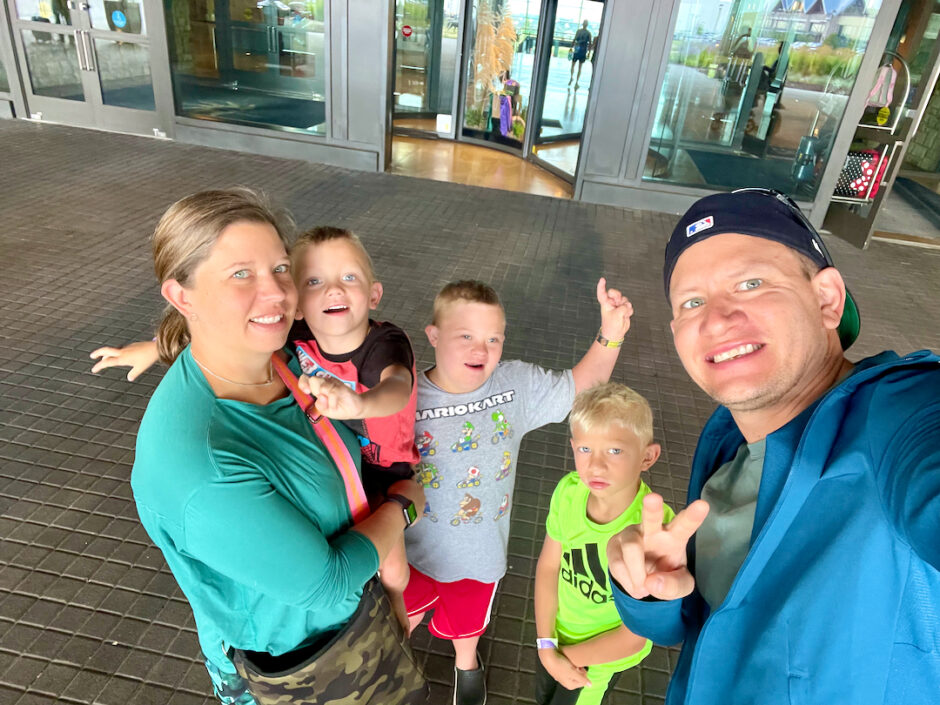 I can't say enough great things about the Gaylord. They had more activities for our family to do than we had time to do them! There is that much to do here! You really can stay at this property for a week and never leave.
I can't wait to come back in a little over a month to be a part of the Down Syndrome Diagnosis Network Rockin' Moms Retreat, where our non-profit, Hope Story, will be an exhibitor…and hopefully, we'll be back to enjoy some of their fun winter offerings!
If you are looking for a great place to have a family vacation, I can't recommend the Gaylord Rockies enough. The property and the staff are world-class! Have you ever been to the Gaylord Rockies? If so, what is your favorite thing about this resort?