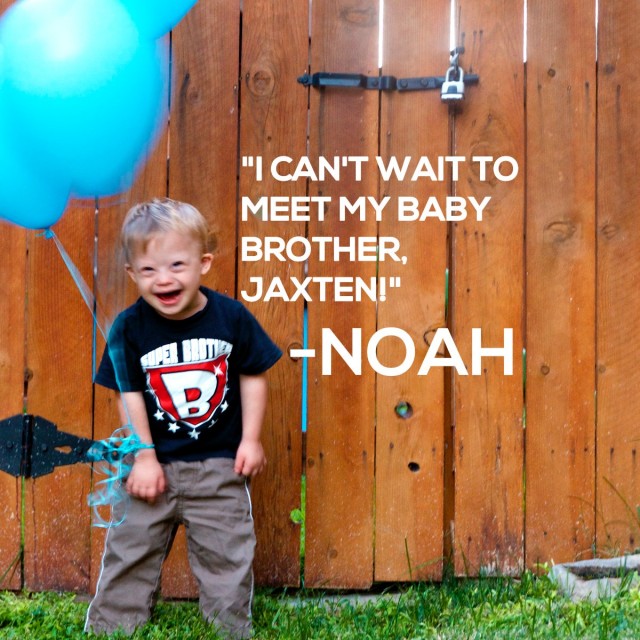 It's hard to believe we're only three weeks(!) away from meeting our second child, Jaxten Carl Smith! It seems like only yesterday Noah learned he was a big brother, and we learned we were having another boy.
But it wasn't! It was months ago and we're in the home stretch now!
Because my wife ended up having a surprise C section when Noah was born, she'll be having another one this time around, February 24th 2014, at 12 pm, to be exact.

It's sort of funny picking your child's birthday, and even  funnier scheduling the exact date and time of their birth, like you're scheduling a haircut appointment or work meeting. Modern medicine is awesome!
It goes without saying that our entire house is super excited to have a new baby in the house! Noah for sure is pumped to be a big brother, and can't wait to show Jaxten some of his awesome dance moves!
It's going to be interesting being a father to two children. (Both of whom you can find on Twitter!)  I love being a father and spending time with my child (children) and I'm trying to understand how I'm ever going to get anything done. Not because I'm afraid of all the extra work of having a second child, but because I know I'm going to want to play with them all the time and there just isn't enough hours in the day as it is. But such is life.


I think it's safe to say our world, and especially Noah's, is about to change…for the better!
T-minus 23 days…
To the parents of two or more children out there: What do you remember being different once you had your second child that you weren't expecting? I want to hear about your multi-child parenting experience in the comments below (bonus points for sharing a picture of your family / children!)