Dale Ulrich is the man behind treadmill training, in fact he is the one that helped develop the infant treadmills that are used to help our little ones walk sooner.    He has been known to lend out his treadmills for use to families with children with Down syndrome (hint, hint). If you do any research on the topic, the majority, if not all, of the articles are written by him.
High Intensity Helps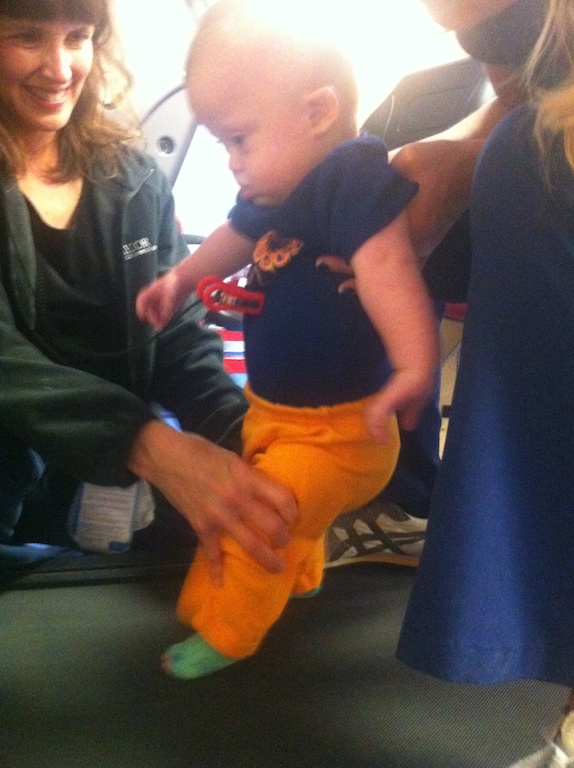 In our previous post we covered how treadmill training helps your child with Down syndrome walk sooner.  One of the more recent articles looked at the intensity of the workout. He assumed that if the child was on a higher intensity protocol that they would walk earlier. He was right. He looked at 8 milestones and moves forward using pre-walking methods, raises self to standing position, walks sideways/cruises, walks with help, walks alone and walks alone with good coordination; all had meaningful differences (notice I am not using statistically significant as was used in his previous article).Previous studies have shown that with physical therapy alone only 40% of children with Down syndrome walked prior to 2 years, however 94% of his high intensity group walked before 2 years of age when treadmill training was added to their regimen.  WOW!
How To Increase Intensity
His recommendation for increasing intensity on the treadmill was to increase the speed to increase steps per minute. They did other things in this study such as increasing time and putting weight on the child's legs. The increase in time was the most difficult for parents to adhere to because lets face it we are busy people. The weights took quite some time for the child to adjust to, so he felt that sticking to speed alone would be enough. He increased the speed once a child was able to take 10 steps per minutes, then 20, 30, etc.
What To Do With Your Home Treadmill
I am sure some of you have treadmills at home (we do not). We use a full size treadmill during our therapy sessions. Our therapist sits on a bench just above the treadmill and holds Noah so that his feet can touch the track. We set the rate at about 0.5 and away he goes for 8 minutes. We do use a harness the majority of the time as it is easier, but it is possible to hold your child over the treadmill. Imagine the arm muscles you would have doing that 🙂
We do recommend your child wear shoes or socks as the belt on regular treadmills is pretty rough. The majority of pictures in Ulrich's articles have children in socks or barefoot, I don't know what their treadmills are made of.

Take Home Message For Those Without A Treadmill
I think you can also take something else away from this article even if you aren't doing treadmill training. Our children are able and willing to work hard. We should expect and ask for higher intensity programs for our kids in their therapy sessions. It makes sense in the beginning to not have intense sessions; but if they do not increase your schedule from when the child was a few weeks old to when they are a few months old then you need to do something. Some early intervention programs will try to come as little as possible, so you need to speak up if you feel your little one can handle more. Not only that, but work hard in the sessions.  I have tagged along on some visits for early intervention and there is not a lot of intervention going on, just a lot of chatting.  We wrote a previous post on options for early intervention programs to make sure you getting the services you need.   Noah is nonstop in his sessions. I get tired just watching.
I also encourage you to be a hard-core player at home.  Don't focus on therapy moves or working on something, just play.  You will be surprised at what your baby will learn.  We are going to play and interact with Noah as much as we can, because lets face it, it's just plain fun.
Is anyone brave enough to try their home treadmill (or has your child tried it?)  What is your favorite non-therapy playtime activity?