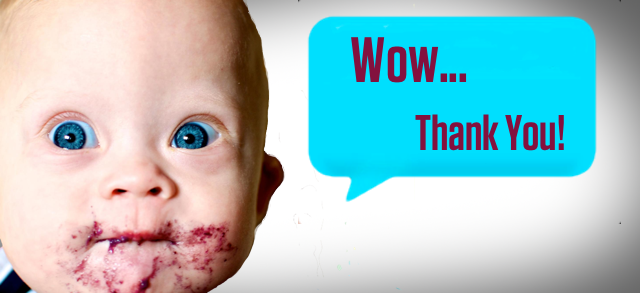 Wow, what a week!  Here's a quick timeline:
This past Monday at 4:30 in the afternoon I published a post about a Target ad that featured a model who was born with Down Syndrome.  Within thirty minutes I noticed an extremely high level of traffic on our blog and started looking into it.  Within an hour it was clear the post has gone viral.  The post quickly received coverage on several major sites including The Daily Beast, Reddit, AdWeek,  The Daily What, Jezebel, MSNBC,  and many others; it received over 16 21 thousand Facebook likes, and has been tweeted almost 3,000 times!  And the rest, as the say…is internet history.
A Thank You
To everyone who has read, shared, commented, liked, tweeted, emailed, and stumbled our site in the last few days I want to say thank you. I'll be sharing more details later, but I want each of you to know how much you have helped us get this important message out to the world.
The message that all people are due dignity, love, and a right to personhood.
From the bottom of my heart thank you for taking the time to tell someone about our site, and in turn helping to move this message of personhood forward.
An Introduction
If you are new to our site, hello and welcome.  We created this website to tell the
story
of our son Noah's life via daily one minute videos.   We wanted to give the world a look into what life is liking raising a child born with Down syndrome and thought video would be a great way to do it.
Our goal is to post a one minute video each day. During this video posts we share whatever happens to be going on in Noah's life that day…and sprinkle in lots of tips and advice that other parents may find helpful as well. We're telling his story in chronological order and you may notice we're a little behind on our daily videos, but don't worry. We're getting caught up, and I think you'll enjoy the story we're telling just the same. We invite you to be a part of this real time narrative we are sharing with the world.
10 Of Our Favorite Blog Posts To Get You Started
For those of you new here I wanted to give you a few of our favorite and most helpful posts to get you started.  At the bottom of every post you'll find additional posts that you may be interested in.  We encourage you to click around, share, explore.  If you have any questions about anything you read or see here, please don't hesitate to contact us.
1.  Noah's Birth Story: How Down Syndrome Changed Our Life….For The Better
2.  New Parent Guide To Down Syndrome
3.  3 Characteristics To Look For In Your Child's Physical Therapist
4.  Best Resources For New And Expecting Parents Of Children Born With Down Syndrome
5.  Celebrating Wins (Both Big and Small)
6.  1 Year Ago Today: Reflections On The Scariest Week Of My Life
7.   How My 9 Month Old (And My iMac) Taught Me That All Kids With Down Syndrome Aren't "Angels"
8.  1 Major Goal Of Physical Therapy For Children Born With Down Syndrome
9.  3 Free Gifts Your Child Will Like Better Than An iPad
10.  Four Cheap (But Effective) Child Developmental Tools
Bouns: Be sure to check out Noah's Milestone page to see (and stay updated) on some of his life highlights!
These posts will give you idea of what we are all about.  We encourage comments and give you full permission to ask anything you'd like.
We are thankful that you took the time to visit our site, and are honored to have you on this journey with us.  Please take a second to subscribe to our RSS feed, sign up to receive our daily videos by email, and join our growing Facebook community.  Please be sure to post a picture of your family on our Facebook page; we enjoy being able to learn about your story as well
How did you find out about our website?  Please leave a comment below and let us know.  Thanks! 🙂