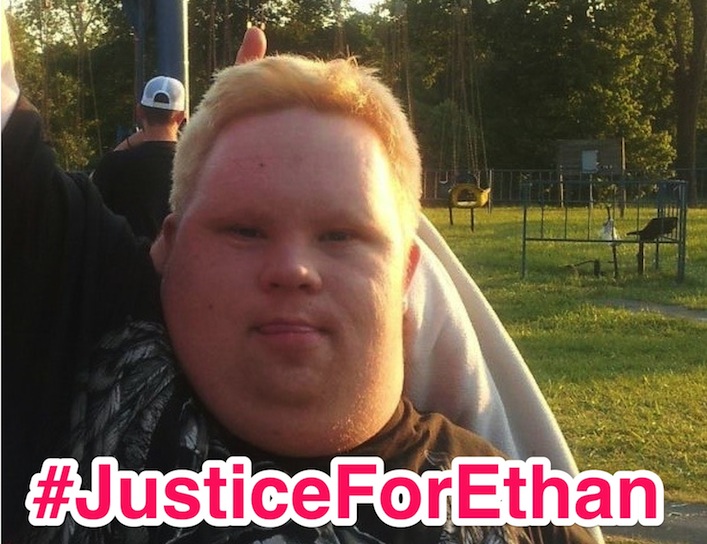 Back in February I wrote about Ethan Saylor; a 26 year old man with Down syndrome who was murdered by police over a 12 dollar movie ticket. Ethan Robert Saylor went to watch a screening of "Zero Dark Thirty," and after the movie was finished  briefly left the theater before walking back into the theater to watch the movie a second time.
The manager called three off duty police offers who were working as mall security guards to come and remove Ethan. The three officers quickly stormed in the dark theater screaming for Ethan to get out of his seat (which I'm guessing terrified  him; he wasn't sure what was going on, or who these men were yelling at him. Remember Ethan has Down syndrome which is a mental disability, and there's a good chance he didn't understand he was breaking a rule by entering that theater a second time.) He had no context who these three men were screaming at him in the dark theater.
While all of this was going on, Ethan's aide (caretaker) had arrived at theater to pick him up from the first showing, and tried to explain to the police officers that Ethan has a mental disability and to allow her to get Ethan out of the theater. Her pleas were ignored, and the deputies forcefully pulled Ethan out of his seat, forced him to the ground, and handcuffed him. He was terrified.
In fact, witnesses described hearing Ethan crying and calling out for his mom. The three police officer struggled with Ethan and held him down on the ground at the bottom of a 3 man dog-pile him so hard and so long that they fractured the cartilage in Ethan's throat (usually the result of manual strangulation) and choked him to the point he he stopped breathing and went into cardiac arrest.
Within minutes Ethan Robert Saylor was dead.
Let that sink in.
Three police offers working as mall security guards choked a 26 year old man with Down syndrome to death on a Saturday afternoon over a misunderstanding involving a ten dollar movie ticket.
Ethan's death was ruled a homicide by asphyxiation, but the grand jury failed to indict the officers involved and they were allowed to return to duty without any consequences. Ethan's family has a lot of questions.
And so do I. (As does the entire Down syndrome community.)
How The Power Of Social Media Is Helping Bring Justice To Ethan
After the police who murdered Ethan were cleared of all charges (even though his death was ruled a homicide) Ethan's family turned to the power of social media to help them find some justice.
They created a website telling their story. They started a hashtag (#JusticeForEthan) and asked people to tweet out specific quotes and a link to their site using the hashtag. Bloggers got behind it. And now they are harnessing the power of social media to help open up an independent investigation into Ethan's death.
Ethan's family has created a Charge.org petition, which as of today has 320,000 signatures calling for their Governor (Martin O'Malley) to conduct  an independent investigation into Saylor's death and for proper training for police.
Part of the problem is that police officers in Maryland aren't trained enough in how to deal with developmentally disabled people like my brother. I think training is an important next step in making sure that what happens to my brother never happens to anyone else. We need a comprehensive, independent investigation that will show all sides of the truth; unbiased and thorough. I want my governor and attorney general to get justice for my brother, and to implement training protocols so that no other family will ever have to experience the pain my family feels.
I love seeing so many people banning together and leveraging their social networks to make sure this story isn't forgotten.
And now it's time for me to do the same.
Will You Please Sign The Petition?
This blog, and our related social media accounts, has developed into a rather large platform over the course of the last several years. So large in fact we think together we (this means you!) can help the Saylor's get the rest of the signatures their petition needs.
Would you please mind taken 2 minutes to read and sign the petition? After reading it will you please email, tweet, or share this link on your Facebook page asking your friends to please sign the petition as well?  (If you are on twitter consider copying and pasting the following tweet: "Down Syndrome isn't a cause of death. #JusticeForEthan )
It Could Happen To My Son (Or Yours.)
I could write all night about why this matters, but here's the very short answer: Noah's going to grow up to be a 26 year old man with Down syndrome one day (God willing.) There will  be times when Noah doesn't understand something and there will be times when people don't understand him.
That scares me.
Would happened to Ethan Saylor could easily happen to Noah Smith one day. Most people don't know anyone with special needs, and most people certainly have never been properly trained on the specific characteristics of those various special needs. Some people may be afraid of Noah. Some people will probably call him names. Some people won't know how to act around him. Some people will feel awkward. Some people will probably mistreat him, or try to hurt him (either emotionally or physically.)
I'm not omnipresent so I can't always be there to protect him. I also want Noah to be able to be as independent as he can. I want him to hang out with his friends. To go to high school football games. To the mall. To the movies. To do some of the typical stuff that we all do…without worrying about him being hurt (or murdered!) by three over zealous police officers who want to be  tough guys.
As I've said before things have to change. This has to stop. Signing a petition won't stop it. Only God changing the hearts of people will.
But it will help.
By signing the petition you are helping stories like this stay in the public eye. You're helping to bring accountability to those you need it. You're helping to provide training so that hopefully when my son (or yours) misunderstands the rules at a movie theater he won't end up on the ground under three grown man and choked to death.
Signing the petition won't make everything better, but it 'll help.
Not All Stories Have A Happy Ending (This Side Of Heaven.)
Ethan was someone's son. Someone's brother. Someone's friend. He was created in the image of God, and God loves him. His family family loved him. He was a human being worthy of respect and dignity. My mind keeps trying to reply the day Ethan died. I can't even imagine how heart breaking that scene must have been.
Ethan crying out for his mom, terrified as three strangers burst into a dark movie theater screaming and yelling, threw Ethan to the ground and put their hands around his neck so hard he couldn't breath. Ethan's aide screaming for the three police officers to 'PLEASE STOP!" The young movie theater employees that called the police snickering outside the theater about the "weird guy who is getting arrested for sneaking into the movie theater." The people sitting in that dark theater watching and listening to all of this; scared to speak up because they didn't want the same thing to happen to them. Those three cops treating Ethan with no dignity. Beating him up. Not caring that they were about to take the life of a son who would no longer be coming home to his parents.
And then there's Ethan's parents. I can't even imagine how they must have felt when that got that call. When they learned the details that their son died at the hands of the very people whose job it is to serve and protect us. When they found out their son's death was a homicide, that he was choked to death. And then when they found out that the tree men who murdered their son were cleared of any wrong doing (by the local sheriff's department who certainly wasn't unbiased)  and allowed to go back to work like the whole thing had never happened.
It literately makes me sick.
It makes me sick that it could happen to my son. That it could happen to your son.
I'm thankful that even though we live in a world filled of evil, God still holds the whole world in His hands, and we can trust Him.
I hope you'll take a few minutes to sign the petition and help Ethan's family get the number of signatures they need to open up an independent investigation regarding their son's death. But as I mentioned, that won't fix the real problem. Only God can truly provide the remedy we're really looking for.
So I pray tonight. For my son. For Ethan's family. For our world to come to see all people as people created in the Image of God and deserving of love.it.
I hope you'll  pray with me.
(And sign the petition.)
P.S. Check out this video….