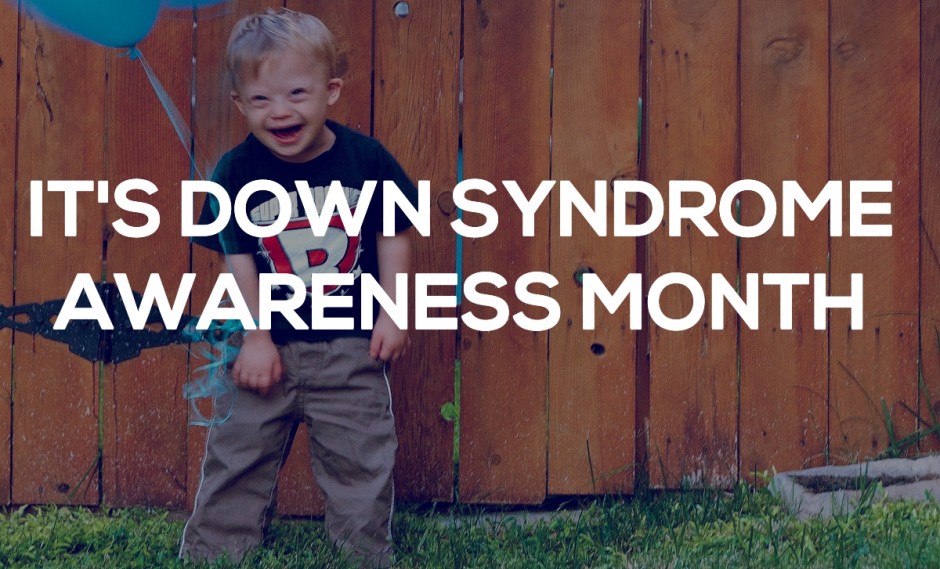 *Quick Note: You are more than welcome to link to this post on your blog, and share it across your social media channels by clicking one of the share buttons above or below the post. If you do mention it on your blog please leave a comment below with a link so I (and others) can check out your blog!*
Today kicks off National Down Syndrome Awareness Month which is an entire month dedicated to helping the world see what it's like raising a child with Down syndrome (don't worry if you didn't know there even was such a thing as "down syndrome awareness month," I didn't either until after Noah was born.) 🙂
I personally believe every day is a great day for parents like myself to help others learn about some of the unique challenges of raising a child with Down syndrome as well as how much children with Down syndrome have in common with typical children.
However, I do think having an entire month specifically dedicated to raising awareness about Down syndrome is a fantastic jump start to help us all remember that every day an great opportunity to rise awareness.
16 Ideas To Help You Make The Most Of Down Syndrome Awareness Month
For those of you who have ever wondered, "How can I help raise awareness for Down syndrome?" I wanted to give you a few suggestions to help you make the most of National Down Syndrome Awareness Month and help people understand what it's like having a child with Down syndrome!
I hope these ideas help you, and I'd would love to hear what are you doing as well. So please be sure to leave a comment after reading this post and let me know what you're doing for Down syndrome awareness month!
By adding your own ideas in the comments you'll help turn this post into a great list of Down syndrome advocacy resources!
1. Tell Your Story! Tell Your Story! Tell Your Story!
Did I mention you should tell your story? 🙂 Telling your story is without a doubt the most significant way you can create awareness about Down syndrome and make a difference in your community (and quite possibly the world!)
What I mean by "tell your story" is just that…tell your family's story to others every chance you get. Now don't cram it down their throat, but as you build relationships with others, just take the time (and get over any awkwardness you may feel or worry about creating) to talk with them. Let others have a window in to your life, let them know how you felt when you first received your child's Down syndrome diagnosis, what sort of challenges you face, and most importantly all of the great things your child is doing.
I've already wrote about how your story how tremendous power, but only when you tell it! As I mentioned you should tell your story every chance you get, not just in person, but through your social media channels and blogs also. You never know how much of an impact you can make when you take the time to tell (or write) about your story.
Heck, I had no idea when I wrote this post it was going to help millions of people learn about Down syndrome, and be written about by press all over the world wide Time, The Huffington Post, ABC, Headline News, Life News, and many others.
We even had the opportunity to tell our story on a few television interviews as well. Here's a couple of them.
Now this isn't going to happen every time to everyone, but if you impact 1 person or 1 million people, you are still making an impact and thats what counts!
So this month especially be sure you take time every chance you get to tell your story! You never know how you could change the world just by taking the time to let others in to your world, so go for it!
2. Make A Informational Down Syndrome Video
Another great idea to help rise awareness and tell others about Down syndrome is to create a simple informational video. I made the video above with my Nikon D7000 and cheap lighting set up I bought from Amazon, but your video doesn't even have to be this "good." Heck, today almost everyone has a video camera on their cell phone or computer so pull it out and give it go.
Just speak from the heart, have some fun, and be yourself. Don't worry about getting everything right. (As you can see from my example I sure didn't.) After recording your be sure to email it to your friends, share it on your blog, Facebook, and any other social media channel that you may have. (And don't forget to come back to this blog post and share your video in the comments below because I want to see it!!!
By the way, feel free to post the video I made on your blog as well if you'd like. All you have is click the "embed" button above and past it on your site. Be sure to let me know if you have any questions, I'd be glad to help!
3. Use Your Facebook Community As A Way To "Crowd Source" Helpful Down Syndrome Information
I asked our Facebook community what they would want to tell someone about what it's like to rise a child with Down syndrome and just look at all of these responses! So much great info here! Try asking your Facebook community a question and see what happens.
4. Create A Down Syndrome Resource / Achievement Board On Pinterest
It seems like everyone is jumping on Pinterest these days, which makes it an awesome place to tell your story, and give people a window into your wold. We created a board of Down syndrome resources, but you could create one that highlights achievements by people with Down syndrome, a list of Down syndrome blogs, or something entirely different.
If you end up doing this, be sure to leave a comment with a link to your boards because we want to check them out!
5. Have A Party!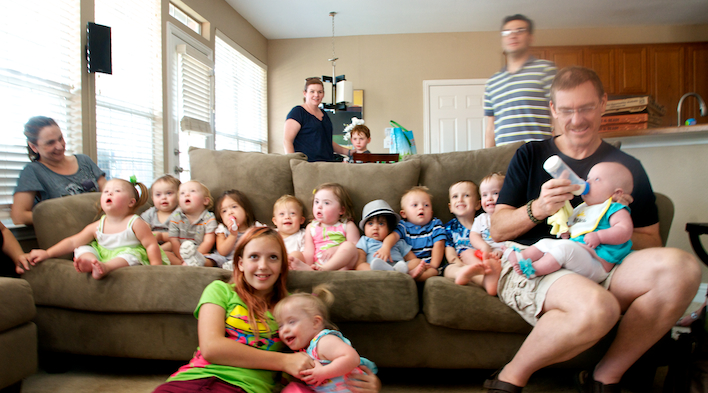 We realized there were a lot of families in our area raising young children with Down syndrome and while our local Down syndrome guild (support group) is great, most of their activities are aimed at older children (teenagers) with Down syndrome. So my wife and a few of her friends decided to throw a monthly party where families raising a baby / toddler with Down syndrome could get together and have fun!
We've done this for over a year now, and it's one of the very best ways to build friendships with other parents in the same life stage as you rising a child with Down syndrome. If this is something you're interested in doing, I would suggest talking with your local Down syndrome organization; we've found that ours has been extremely supportive of what we are doing!
6. Talk To Your OB/GYN
If you're a women talk to your OB/GYN about what it's like raising a child with Down syndrome. Be sure to them know that if they have a patient whose baby is diagnosed with Down syndrome that you are available and would to connect with them and tell them your story!
By the way, our OB/GYN actually asked us if she could give our contact info to a patient she had whose baby was diagonised with Down syndrome….how quick do you think we said YES!?
7. Tell A Down Syndrome Fact A Day On Your Facebook / Twitter Account
Lots of people are doing this. Just share one fact a day about Down syndrome on your twitter and / or Facebook page. You never know what sort of conversations you are going to start just by doing this one simple thing!
8. Allow People To Ask Questions About Down Syndrome On Your Facebook (And Be Sure To Answer Them)
Check out all of these great questions people asked!
9. Volunteer With Your Local Down Syndrome Support Group
My wife and I are on the new parent committee of our local Down syndrome support group. This is a great opportunity for us to meet new parents of a child with Down syndrome and once again…tell our story! 
Your local Down syndrome group probably has lots of ways for you to volunteer your time. Why not give them a call this week and ask them where you can plug in? Be sure to leave a comment below and let us know if this is something you end up doing!
10. Share Pictures Of Your Life Via Instagram
Instagram is blowing up. What a great way to tell your story via quick snapshots. We're on Instagram, are you?
11. Start A YouTube Channel
YouTube is another great way for you to tell your story via videos. Videos are powerful. In fact, watching videos about children with Down syndrome is one of the reasons I started this site!
Youtube is a great way to take and share quick moments from your life to give people a window into just how normal your life really is. The videos don't have to be long, and you don't have to be a professional videographer to change the world via Youtube.
In fact we like to share fun moments from our life like this:
Check out our YouTube channel for some ideas, and be sure to let us know if you end up doing this, because we want to see your videos!
12. Do A "Top Ten Blogs By Families Raising A Child With Down Syndrome" Post On Your Blog.
This is an easy one. If you have a blog, do a simple blog post where you list 10 families raising children with Down syndrome. Feel free to include ours, and check out this list of Down syndrome blogs for other families you can include on your list. By the way we also have a "blog badge" on the bottom of our side bar that we'd love for you to grab and share on your blog! If you end up doing this let us know!
If you don't have a blog, you could post one family's blog per day on your Facebook and/or twitter account!
13. Start A Google Plus Page That Talks About Down Syndrome (And Allows You To Tell Your Story!)
Another easy one. Check out our Google Plus Page for some ideas, and be sure to click the button below to follow us on google plus! We'd love to connect with you there as well!
14. Sign Up For Our Posts Via Email And Stay Connected!
Ok this is a bonus one, but please be sure to enter your email address in the box below to be the first to know when we publish a new post. We want to stay connected to you!
Please be sure to help us spread the word by linking to this post on your blog, and sharing by clicking on the social media icons above or below this post!
Ok, that's a few of our ideas to help you create awareness for Down Syndrome awareness month. We'd love to hear which of these ideas you are already doing, and which ones you are going too do. We also know there are countless ways to get involved in Down syndrome awareness month and we'd love to hear what you are doing. Be sure to leave a comment below and tell us about it!