Ok, so maybe this push toy isn't the best one in the World, but the Stride to Ride Dino is the best push toy I've ever seen for a child learning to walk on their own. After you read my little 'mini-review' at the end of this post, be sure to let me know if you agree, or disagree.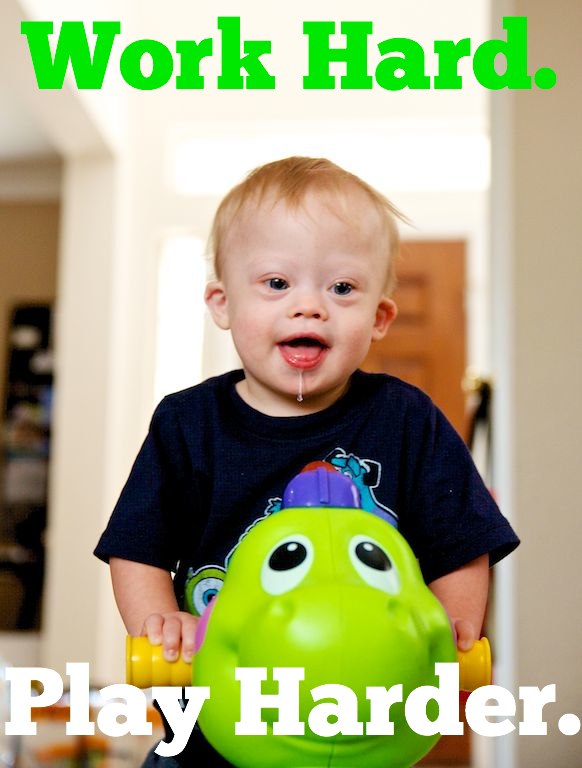 Bumps, Bruises….and Leukemia.
Noah's 13 months old in today's video, and developmentally he's in that in that  getting-so-many-bumps-and-bruises-I-hope-our-pediatrician-doesn't-call-cps-on-us stage that's just between learning how to crawl inchrworm, and learning how to walk. It's amazing how quick babies are. I can seriously be sitting right next to him, on guard and ready to catch him when he falls, and he can still find a way to bump his head, leg, arm, you name it. (And let's not even talk about how many times I've had this conversation with my wife:
Me: Oh my gosh, I'm so worried! Why does Noah have all these little bruises all over his body? You don't think he has cancer do you? 

My wife (a pediatrician): No Rick. He's just a curious little boy. Small bruises like that are normal.

Me: Are you sure.

My wife: Yes, 100% sure.

Me: You don't think we should ask our pediatrician to run a CBC on him, just to make sure.

My wife: No.

Me: Are you sure.

My wife: Yes.

Me: How do you know it's not leukemia though? Don't you get bruises like that when you have leukemia?

My wife: Rick, stop. 

Me: Ok. 
Ha,ha, I don't know what I would do if I wasn't married to a pediatrician (who isn't a worrier, like I can be sometimes.) Oh wait, I do. I'd be in the ER every other day with a silly question. Yelp, I'd be that parent. (And I'd be totally cool with it!) 

 By the way, we actually both got a little worried that Noah had Leukemia once, but he didn't. But, boy did I learn a few things after going through that little scare.
Anyway, it's been a lot of fun watching Noah start to pull up on stuff, and inchworm all over our house. It's seriously one of the cutest things I've ever seen. On top of that, newmilestones means getting to buy new baby toy! Which is always fun…for both Noah, and I! 

Our Search For The Best Push Toy…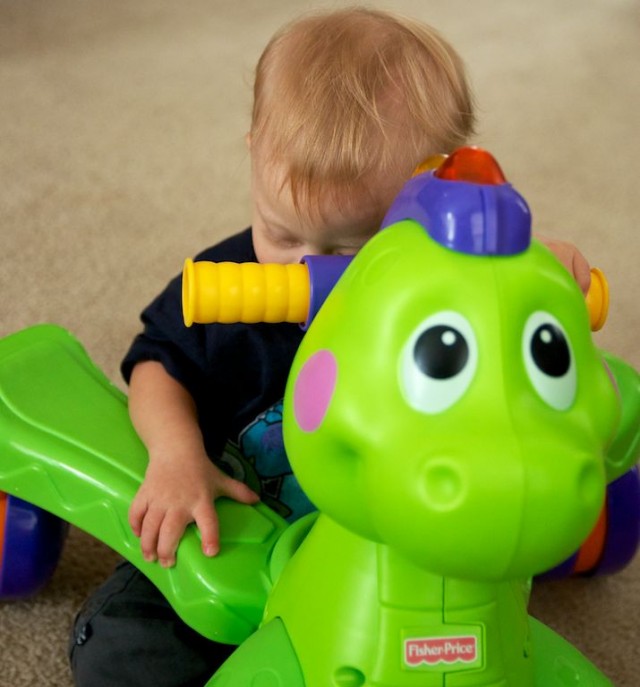 Noah likes his little friend, Mr. Dino!
Noah's been going through treadmill therapy to help him learn to walk, and we've been seeing some great results. In addition to the treadmill, his therapist uses a gait trainer as well as a variety of different push walkers to  help him learn to walk.
Every parent of a child with Down syndrome knows that true developmental gains don't happen during your child's short weekly physical therapy visits, but from all the fun play time they have at home. We call it "intentional play." (In fact my wife wrote a great post explaining how occupational therapy helps your child learn to play.)
Since we do a lot of intentional playing at our house we wanted to find Noah the best push toy / walker we could find. We tried (and returned) several. Some (like the toy shopping carts) weren't heavy enough on the front end (even if we loaded the basket up with stuff to weigh it down) and they would flip over on him.
Instead of listing all the ones we tried and what we didn't like about them I thought I'd just tell you about the one push toy that we like the best….and is helping our son learn to walk on his own. (Which, is probably what you're really interested in.) 

The Fisher-Price Go Baby Go! Stride-to-Ride Dino: Our Favorite Push Walker!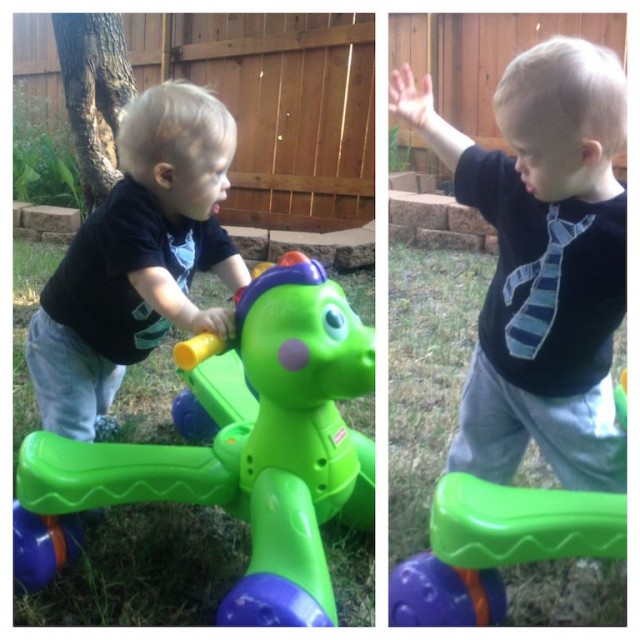 Out of all of the push walkers we tried the Fisher Price Stride to Ride Dino
 was without a doubt our favorite. (In fact it even made our list of top toys!) If you are looking for the best walker for your child (regardless of if they have Down syndrome or not) I can't recommend this one enough. As you can see in the video Noah's able to pull himself up on it, and even takes some tiny first steps!
There's a lot of reasons why I like this Dino walker, but let me give you just a few.
1. It doesn't flip over!!
The best thing about this walker is, it doesn't tump over when Noah pushes it. Most push toys (like the toy shopping cart) are built so that a child gets behind it and pushes. The Stride to Ride Dino is different.
As you can see in the video, the legs of the dino spread apart, which allows a child stand to between them and push it; this keeps it from turning over. Hello? Can you say awesome! t's a little hard to explain, but let me just tell you, we've tried a lot of toy walkers, and this was the only one that didn't flip over! Which make it a keeper!
2. It lights up and plays fun music!
When it comes to toys, the brighter the better as far as Noah's concerned! Most of the other toy walkers I've seen don't really have any "electronics" in them. The Fisher Price Dino on the other hand, does. As the child pushes the walker, the dino's horns light up and it plays fun music; and since this the horns are in front of the child, the flashing lights and fun music become a fantastic developmental motivator!
3. It's grows with your child!
Toys aren't cheap, and as a parent I'm also looking for good deals on toys; and the longer life a toy has, the better value! This push toy is a great value because it's really two toys in one; it's not only a great push toy, but it's also a fun riding toy.
The legs of the dinosaur can be pushed together and locked (this prevents them from opening while your child is playing with it) which transforms the dino from a "stride" toy, to a "ride" toy! (Hence the name "Stride-to-Ride!" 

So not only can your toddler use this toy to learn to walk, they can also have some fun being pushed around the house. (However, Noah's legs are to short to push himself around at this point.) 

4. It just looks fun!
The dino push toy just looks a lot more fun and colorful than a lot of the other walkers out there, don't you agree! And who doesn't like cute, fun stuff!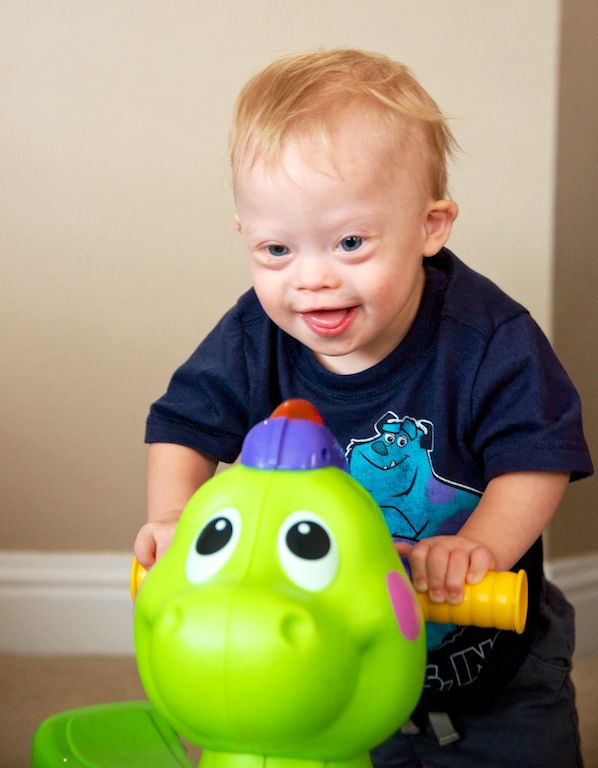 Just look at that cute little face!
If you're looking for a great push toy, this is the one to get. Trust me. It's that good. 

I can honestly say Noah gets a lot of use out of it, and if you are looking for a fun, easy to use, push toy that won't turn over, this is the one to get. You can find this walker at Babies R Us, Target, or my personal favorite place to find good kids deals online; Amazon
 (who, by the way, offers free shipping on this toy if you live in the United States! – Sorry friends outside of the U.S.)
By the way, be sure to check out our post on the top developmental toys, and let us know some of your favorites as well.
Which push toys have you tried and liked (or didn't like?) Have you tried out the Stride-to-Ride Dino Push toy? Leave a comment below and tell us about it.